The Adult Swim Comedy Series You Can Find On HBO Max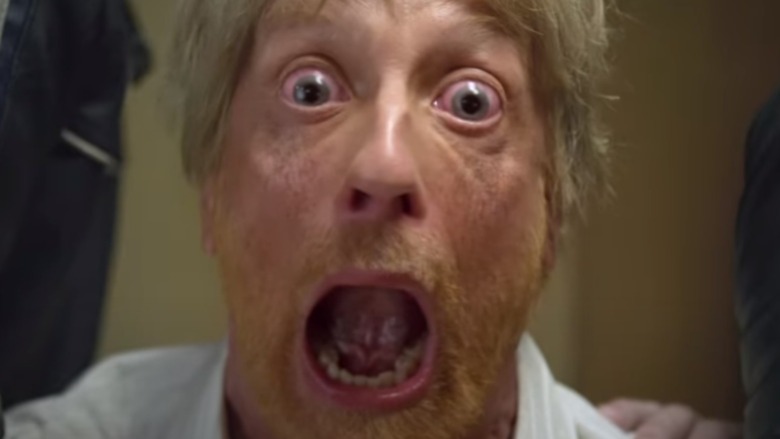 Adult Swim
Do you need a refresher on how law enforcement's jurisdiction works at 20,000 feet? Do you have questions about the best way to defuse a hostage situation with nothing but a shotgun, a shotgun-sized hoagie, and a sandwich delivery driver's uniform? Or are you just looking to brush up on the finer points of the traditional U.S. Marshal death punch? Whatever the case, you should probably check out "Eagleheart," the wildly underappreciated Adult Swim series that's currently available to stream on HBO Max.
"Eagleheart" tells the story of Marshal Chris Monsanto, played by "SNL" and "Schitt's Creek" star Chris Elliott, and his uncompromising brand of American justice. If you've ever watched "Walker, Texas Ranger" and thought, "This is 8% too restrained for me," then "Eagleheart" is your jam. All of the classic police moves are on display, from the elegant leapfrog maneuver to the criminally underutilized "human baseball bat." Mixed in with mysteries like "where do all the other marshals keep going?" and "why is this chili with a marshal's badge in it so delicious?" and you've got a recipe for a good old time. Also, a recipe for morally objectionable chili.
Eagleheart is equal parts brilliant, hilarious, and horrifying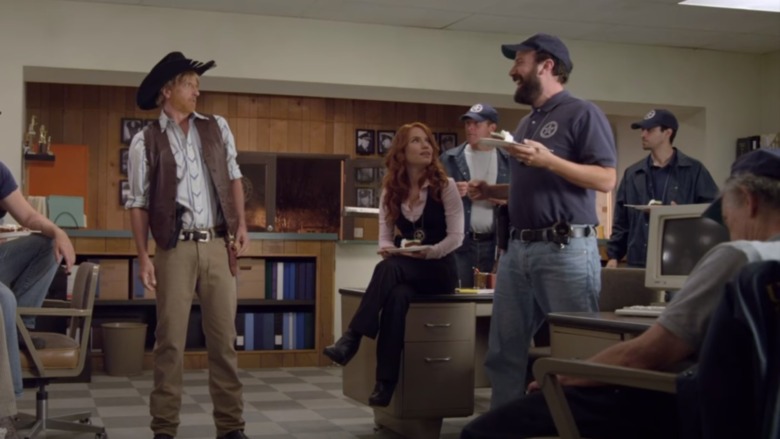 Adult Swim
Chris Elliott's co-stars in the series are outstanding. Maria Thayer, a.k.a. Tammi from "Strangers with Candy" and Tracey Bluth on "Arrested Development," plays Susie Wagner, Monsanto's long-suffering partner and sometimes animal shredder. "Fleabag's" Brett Gelman portrays Brett Mobley, the third member of the team and your new favorite television character: a treacherously stupid lawman with an uncomfortably sketchy understanding of human mortality.
Produced by Conan O'Brien, "Eagleheart" also landed a retinue of impressive guest stars during its three-year run. O'Brien cameos in an episode, playing himself. Ben Stiller makes an appearance as Silly Sammy, a children's entertainer whose rise to prominence coincides suspiciously with a local rash of organ harvests. Bud Cort, star of 1971's "Harold and Maude," shows up playing an avant garde artist whose medium of choice is blood spatters.
With a shoestring budget and episodes generally clocking in at an easy-to-digest 11 minutes apiece, "Eagleheart" is classic OTT Adult Swim content at its finest. Fair warning, it also features some of the grossest plot points currently on offer, including but not limited to an episode that'll have you frantically googling "wait, are bezoars real?"