Anthony Mackie Breaks His Silence On Captain America 4 Announcement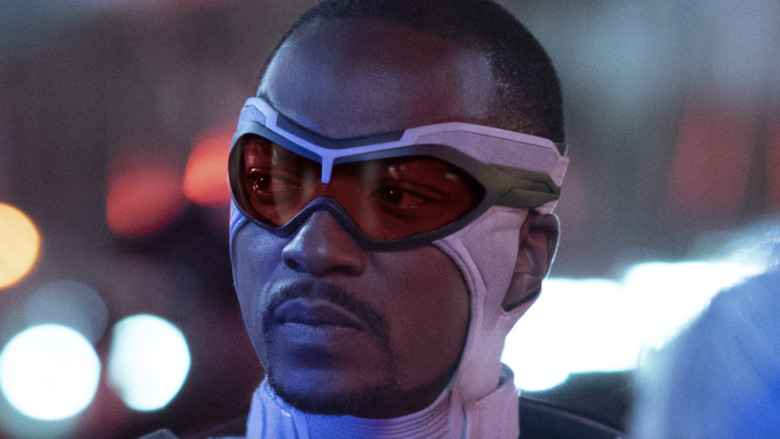 Marvel Studios/Disney+
Contains spoilers for "The Falcon and the Winter Soldier"
The Marvel Cinematic Universe has a new Captain America. In the finale episode of Marvel's Disney+ show "The Falcon and the Winter Soldier," Sam Wilson (Anthony Mackie) takes on the superhero mantle after grappling with the merits and complexities of the Captain America legacy in the series' first five episodes. Anthony Mackie's on-screen assumption of the title was a momentous moment for the MCU — and for the comic book genre in general — and has been received with widespread acclaim and excitement from Marvel fans everywhere.
It wasn't long after the series debuted its final installment that it was confirmed that a fourth "Captain America" film is in the works with "The Falcon and the Winter Soldier" showrunner Malcolm Spellman as its co-writer (alongside Dalan Musson). While nothing about the plot of "Captain America 4" has been officially confirmed yet, it's presumed that Mackie will lead as the MCU's newest Captain America. The actor acknowledged the project for the first time in a recent interview with Entertainment Weekly. 
How Anthony Mackie found out about Captain America 4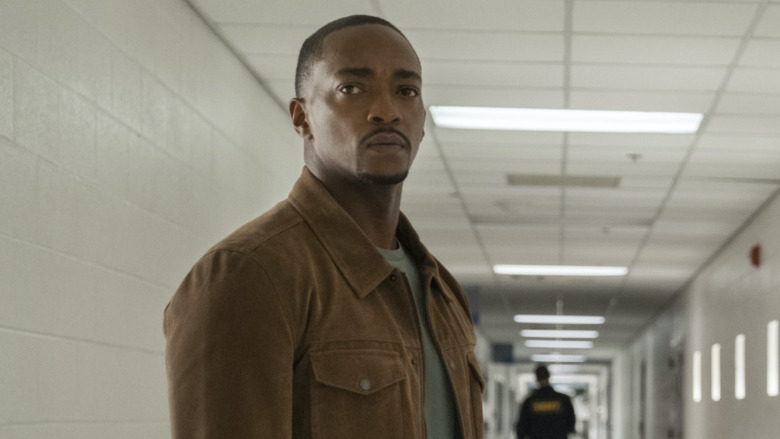 Marvel Studios/Disney+
Chatting with Entertainment Weekly on Tuesday, April 27, Anthony Mackie revealed the hilarious way he learned that "Captain America 4" was in the works. He found out after everyone else did while he was out shopping for groceries.
"I literally found out yesterday in a grocery store. The checkout guy named Dwayne, a cool cat, he's like, 'Yo, man. Is this real?!" [holds up a cellphone] "I'm like, 'I haven't heard anything," Mackie said. 
The new Captain America went on to note that being kept in the dark and learning Marvel's plans in unique ways is actually one of his favorite parts of working with the studio. "That's what I love about working for Marvel. They call you, they're like, 'Come to L.A. We wanna tell you what's going on.' So, I'm excited to see what happens, but I haven't heard anything," he explained.
Anthony Mackie shares how Sam Wilson's Captain America will be different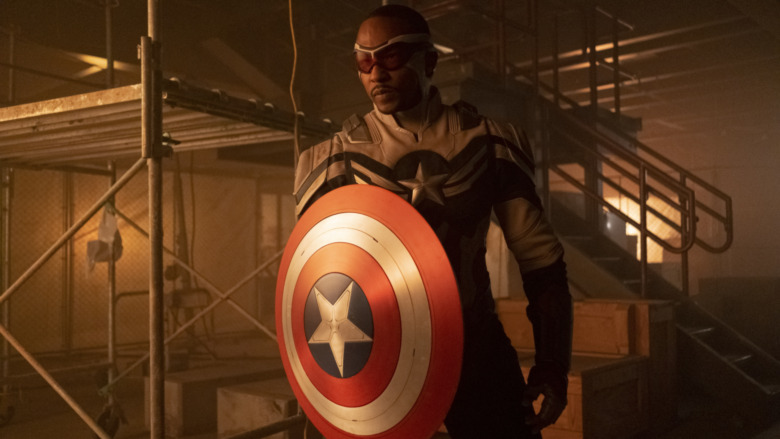 Marvel Studios/Disney+
Though the character's time as Captain America has been limited up until this point, "The Falcon and the Winter Soldier" finale made it very clear that Sam Wilson's Captain America will be different from Chris Evans' Steve Rogers. In particular, the scene in which Sam gives a speech about responsibility and unity in front of a group of powerful U.S. senators and the press feels very much like a mission statement for the character. It looks like that's exactly what fans should take away from that scene as well.
In the same interview with EW, Mackie noted that Sam's finale speech is the key to understanding his version of Captain America. The actor said that the scene was about Sam "talking them down and trying to communicate with them what they were doing was right, but the way they were doing it was wrong." He also pointed to Sam's backstory in the MCU, saying, "He's a counselor and he's a regular guy who just happened to become an Avenger. There's no superpowers, there's no super-suit, there's no super-serum. He's just a guy. I love the idea of him moving through life as Captain America, as someone who brings peace and change instead of destruction and physical force."
Mackie went on to reveal that he hasn't "heard anything about season 2" of "The Falcon and the Winter Soldier," but did say that it "would be fun as hell to do," since he loves working with his co-star Sebastian Stan and director Kari Skogland. Marvel's fourth "Captain America" movie may very well be the next time fans get to see Mackie's Captain America on screen. But even if that's not the case, fans should still look at Sam's speech in the "Falcon and Winter Soldier" finale for an idea of what to expect from the character moving forward.