Don't Breathe 2 Release Date, Cast And Plot - What We Know So Far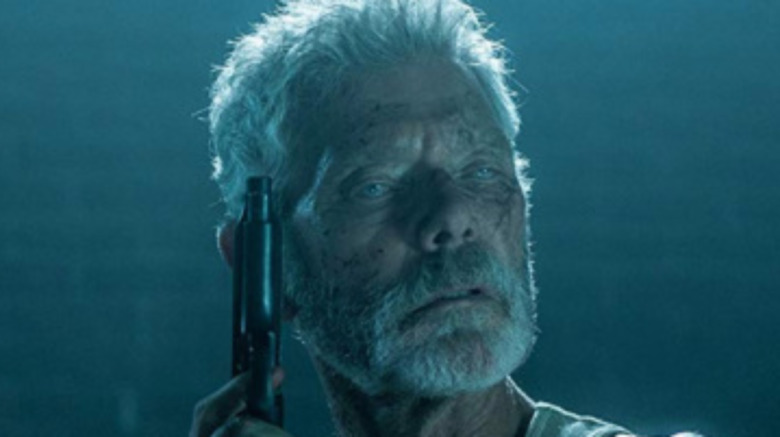 Sony Pictures
Fede Alvarez' "Don't Breathe" became a huge hit for Ghost House Pictures and Sony Pictures in 2016. A thriller-slash-crime drama, the movie focused in on Rocky (Jane Levy), a down-on-her-luck (and down-at-the-heels) girl who makes money stealing and reselling items. She dreams about escaping Detroit for California with her young sister, and the temptation of one last heist with her gang of friends (Dylan Minnette, Daniel Zovatto) is too much for her to resist. What seems like an easy score — breaking into a blind man's home in the dead of night to steal his stash of hidden money — turns into a nightmare when Norman Nordstrom (Stephen Lang) reveals himself both to be a highly capable combat veteran with a heavily booby trapped house, and a man harboring an incredibly dark secret.
After the movie topped $157.8 million on a $9.9 million budget at the box office, rumors circulated of a sequel — and this was soon confirmed by Alvarez himself (via Bloody Disgusting). The movie went on to be secretly filmed during the pandemic in 2020, according to Collider, and now that it's set to be released later this year, let's take a look at what we know about "Don't Breathe 2" so far.
When will Don't Breath 2 release?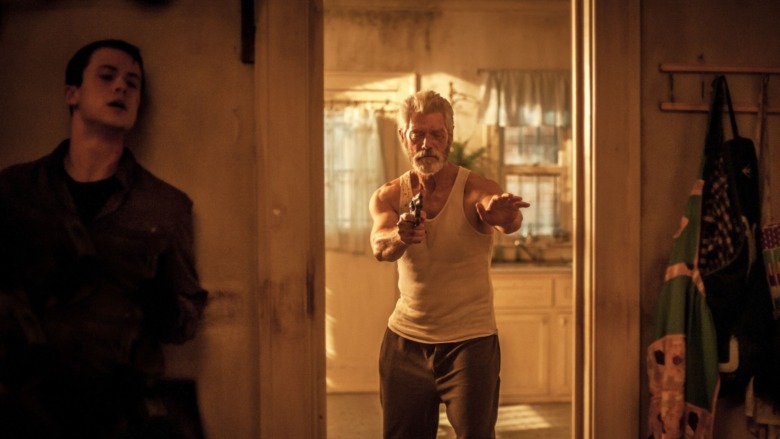 Sony Pictures
"Don't Breathe 2" is set to be released on August 13th, 2021, according to Variety. There is no word currently on if the movie will be placed in the public arena concurrently through digital and theatrical platforms simultaneously, as many movie studios have been doing lately. There is also currently no confirmed title.
Interestingly enough, Fede Alvarez did not direct the film — but he did co-write it with his longtime collaborator, Rodo Sayagues, according to SyFy Wire, who also served as director. Alvarez is one of the film's co-producers, along with Sam Raimi, who co-produced Alvarez' "Evil Dead" remake as well as the first "Don't Breathe" film. Producer Alvarez described the film as "fantastic" after seeing it in its final state to MovieWeb. He also described both it and the "Texas Chainsaw Massacre" sequel he is producing as "crazy," "out there" and "insane." The movie's quiet shoot occurred over the mid-summer and early fall of 2020 in Serbia (via The Hollywood Reporter).
Who's in the cast of Don't Breathe 2?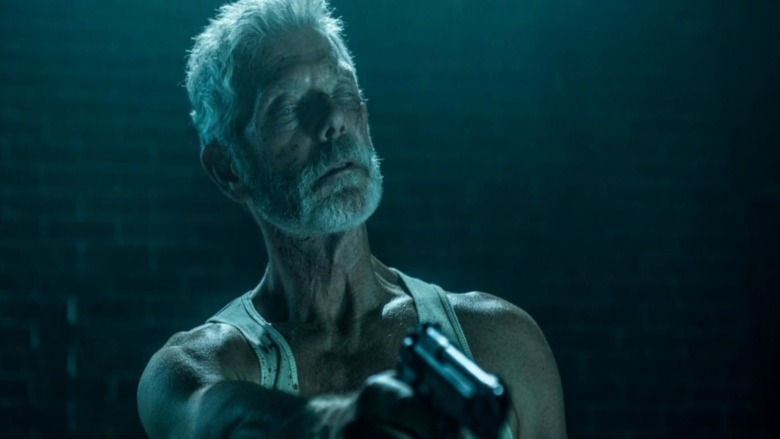 Sony Pictures
This Slide Contains Spoilers for "Don't Breathe"
While the film's plot has been confirmed, the cast hasn't been announced aside from one crucial member — Stephen Lang as The Blind Man, AKA Norman Nordstrom. 
Nordstom, a war veteran who had sealed himself away in his Detroit home in pursuit of a dark revenge upon a woman who had wronged him, became the original film's main antagonist, and the source of fear and tension for Rocky.
One important surviving character from the first film won't play a heavy part in it, apparently, as current information implies we won't see Jane Levy's Rocky, or her sister, Diddy. This is an interesting choice, as the final scene of "Don't Breathe" features Rocky and Diddy boarding a train to Los Angeles. While this may seem like a fulfillment of Rocky's long-held dream, it may become a nightmare for her — Nordstrom, whom she thought she had killed in the movie's climactic battle, managed to survive. This is a crucial dangling narrative thread that may or may not be fulfilled by the film to come. For now, though, the cast (other than Lang) is being kept underwraps. 
What is the plot of Don't Breathe 2?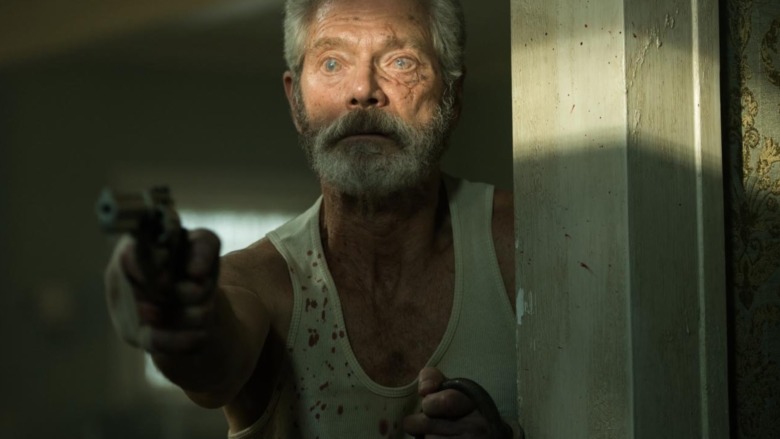 Sony Pictures
This slide also contains spoilers for Don't Breathe. Content warning: sexual assault. 
The film's logline reads as follows: "The Blind Man has been hiding out for several years in an isolated cabin and has taken in and raised a young girl orphaned from a devastating house fire. Their quiet life together is shattered when a group of criminals kidnap the girl, forcing the Blind Man to leave his safe haven to save her," according to Bloody Disgusting.
If this blurb is true to the film and not an attempt at keeping the plot under wraps, this is a rather drastic — and yet, in-character — shift for the Blind Man. In the first movie, the character's dark secret turned out to be that he was holding Cindy Roberts — the woman who killed his daughter in a car accident — hostage after kidnapping her, and then inseminating her with his own sperm via turkey baster. When Rocky's actions results in Cindy's death, The Blind Man captures Rocky and plans to impregnate and hold her hostage until she gives birth to the replacement daughter he so longs to have.
Building an entire film around the antagonist of its previous volume is an interesting choice — especially one who has committed such unspeakable acts. It feels very much like Rob Zombie's attempts at humanizing the monstrous Firefly family, Introduced in "House of 1,000 Corpses," which he did successfully in "The Devil's Rejects," and his Halloween remakes, which put a name to Michael Myers' homicidal issues. 
Will the Blind Man arouse enough sympathy in the film's audience to make him a tolerable protagonist? How will this pay off for Alvarez and Sayagues? We'll all find out in August.