The Underrated Crime Comedy Series You Can Binge On Amazon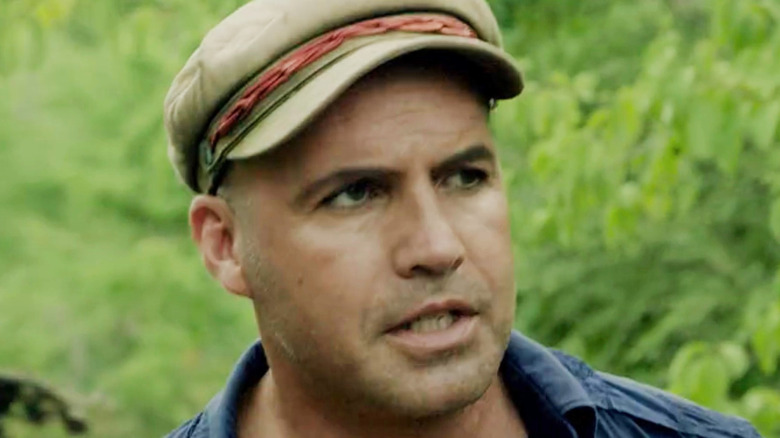 Amazon Prime Video
If you're looking for a limited series to binge that has dark comedic aspects along with murderous thrills and deceptive elements, you might want to check out an Amazon Prime Video show that's been around since 2015. 
It's called "Mad Dogs," a 10-episode miniseries that sadly didn't get much promotion when it was released but still did well enough that Amazon considered turning the limited run into a full-on show by ordering a second season. Ultimately, however, that didn't happen.
At the time of the show's cancellation, "Mad Dogs" executive producer Shawn Ryan wrote about the series on Twitter in a multi-tweet thread. "We were lucky to be one the best reviewed dramas on Amazon, if not the best," he said. "A lot of critics got what we were going for, so thanks. Some Amazon employees told me that 'Mad Dogs,' after only four weeks, already had better streaming stats than many other Amazon shows. So, thanks to the viewers for finding, embracing and binging the show. It's been a blast to read your joy and shock on Twitter." He pointed out that the show was originally intended to have only 10 episodes, and the concept wouldn't have worked as well with multiple seasons. 
On Rotten Tomatoes, "Mad Dogs" has a Tomatometer score of 67 percent, which isn't bad, and an average Audience Score of 81 percent, which is pretty darn excellent. The show remains pretty low-key, making it the perfect pick if you're looking for a hidden gem. 
Mad Dogs is a super-tense thriller featuring five middle-aged men in Belize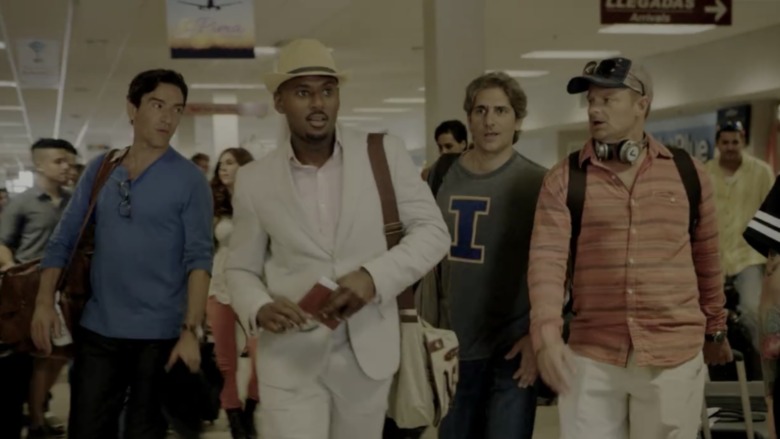 Amazon Prime Video
"Mad Dogs" is based on a British TV series created by Chris Cole that ran for four truncated seasons (a total of 14 episodes) from 2011 to 2013. In it, four middle-aged men visit Mallorca, Spain for a friend's early retirement and soon find themselves on the run from law enforcement — experiencing wild events and encountering one obstacle after another, including some implausible coincidences. 
The American version of "Mad Dogs," which debuted in 2015, was adapted by Cole and Shawn Ryan ("The Shield") and takes the five men to Belize instead. It's a lush, cinematic production that features the star power of Ben Chaplin, Michael Imperioli, Romany Malco, and Steve Zahn as the four reuniting underachievers. Billy Zane also stars as their wealthy, predatory friend Milo, a role that Chaplin actually played in the original U.K. project.
In a 2015 interview with Hitflix (via FilmBook), Ryan discussed what attracted him to the project. "I loved the tone of it, the unpredictability of it, the way that the character work grew and grew each episode," he explained, saying that Sony purchased the company that produced the U.K. version and asked him and Cole if they'd like to do the U.S. version. "He liked the idea of starting with the original premise and then quickly splintering off into a completely new version. We also talked about how American men were different than British men and how that might affect the show. He started to get really excited about the notion, which made me really excited." 
Ryan also USA Today that, in addition to the British-American dichotomy, there's more of a "blue sky" aspect in the American, Amazon Prime-distributed version — represented literally by the sky in Puerto Rico where the series was filmed. 
RogerEbert.com called the series one that's perfect for binge-watching "because each episode builds on the one that came before." Basically, if you love the mounting momentum of a super-tense, anxiety-inducing plot, you may love this show. Check it out on Amazon Prime Video today.