Why Mrs. Kingsley From Wild Child Looks So Familiar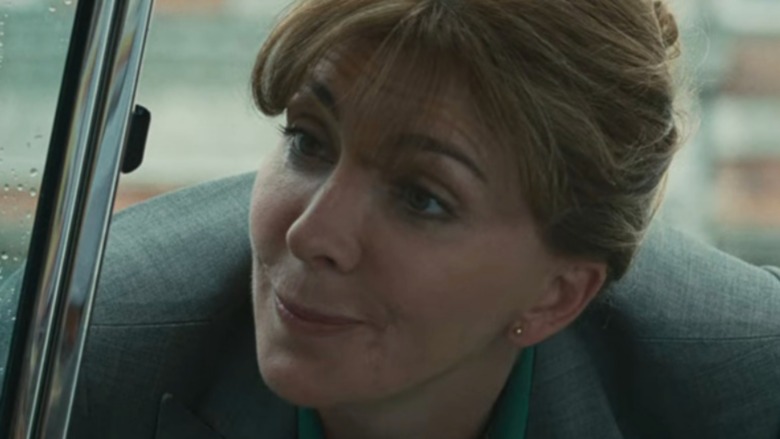 Universal Pictures
The 2008 teen comedy "Wild Child" is heating up on Netflix, starring Emma Roberts as a spoiled rich kid whose out-of-control antics land her in an English boarding school. Although she may have been top dog with her friends in Malibu, Poppy Moore (Roberts) will have to learn to adjust to the new hierarchy in place, going up against the head bully and the strict regime of her new school. With the help of some new friends, Poppy attempts to get herself kicked out and sent back home, but in time, comes to realize that the boarding school may be the best place for her to rethink her selfish ways.
Poppy's love interest in the film is Freddie (Alex Pettyfer), the son of the school's headmistress, Mrs. Kingsley. Although Mrs. Kingsley's position makes the other girls of the school reluctant to romance the handsome Freddie, that doesn't stop Poppy. Longtime film buffs will recognize Mrs. Kingsley as Natasha Richardson, a British actor who had an impressive career both on stage and screen. 
Sadly, Richardson died in 2009 from an epidural hematoma following a skiing accident. "Wild Child" was Richardson's final on-screen appearance, yet fans of her work can still admire her through her many various film roles.
Natasha Richardson met her soulmate while filming Nell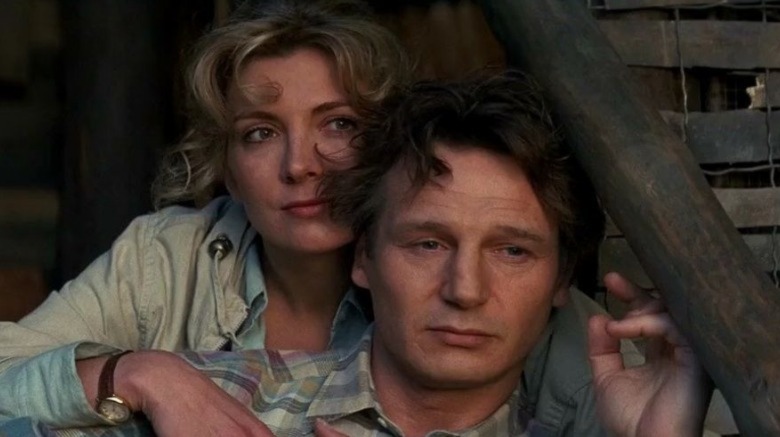 20th Century Studios
The 1994 drama "Nell" tells the story of a woman living in the North Carolina wilderness, sheltered for her entire life from modern society. When she is discovered by the town doctor, he finds that Nell is something of a "wild woman," with no formal upbringing and only able to speak in her own invented language. Jodie Foster plays the title character, and was praised by critics for her powerful performance. Foster received a number of accolades for her role, including a nomination for Best Actress in a Motion Picture at the Golden Globes.
Natasha Richardson plays Dr. Paula Olsen in the film, a research psychiatrist who teams up with Dr. Jerry Lovell (Liam Neeson) to study Nell's behavior and determine whether or not she needs to be institutionalized. The on-screen romance between their characters also manifested off-screen: Richardson and Neeson met on the set of "Nell," and were later married.
Natasha Richardson fell into The Parent Trap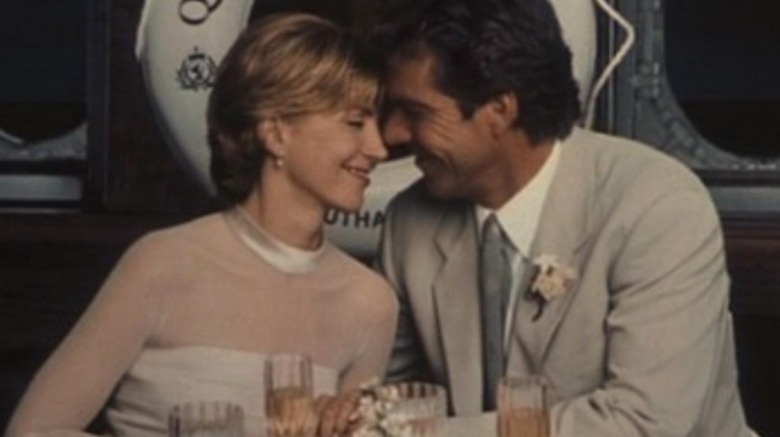 Disney
In 1998, Disney Pictures updated its classic family comedy "The Parent Trap," starring Lindsay Lohan in her film debut as both twin sisters Hallie Parker and Annie James. Having been separated at birth after their parents' split, the sisters are unaware of each other's existence until they meet at summer camp. Although at first they take an instant dislike of one another, the identical twins decide to pull off the ultimate scheme by switching places, so that each of them can get to know the parent they never knew.
What begins as a case of mistaken identity soon turns to romance, as both Hallie and Annie hatch a plan to get their mother and father back together. Dennis Quaid plays Nick Parker, the father and a successful vineyard owner, and Natasha Richardson plays Elizabeth James, the girls' mother and wedding gown designer. Although Nick has plans to remarry a vile woman named Meredith (Elaine Hendrix), the machinations of the twin sisters prove to be successful when Nick and Liz find themselves falling in love once again. "The Parent Trap" not only launched Lohan's career, but became an instant classic for those who grew up with the film.
Maid in Manhattan made Natasha Richardson a villain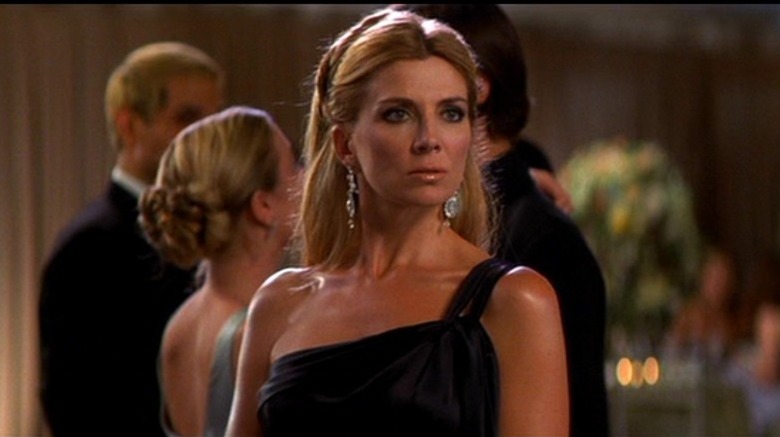 Sony Pictures Releasing
The 2002 romance "Maid in Manhattan" is a modern Cinderella story starring Jennifer Lopez as Marisa Ventura, a hotel maid and single mother, who falls in love with a handsome political candidate played by Ralph Fiennes. When Marisa indulges in trying on a Dolce & Gabbana coat belonging to a wealthy hotel guest, she is mistaken for a well-known socialite by Chris Marshall (Fiennes), who sees her wearing the coat as he walks into the room and is immediately smitten with her. Marisa, against her better judgement, decides to keep up the charade and pretend to be someone she isn't in order to go on a date with Chris. When Marisa's secret is discovered by her boss, her whole world comes crashing down as she is forced to decide between love and stability for herself and her son.
The wealthy socialite is played by Natasha Richardson, this time taking on the role of snooty, spoiled Caroline Lane. Caroline is instantly marked as a detestable snob who is not above ruining Marisa's chances with Chris simply out of spite — proving Richardson's own talent at playing roles outside the ones she usually took.
Natasha Richardson fell in love with Ralph Fiennes in The White Countess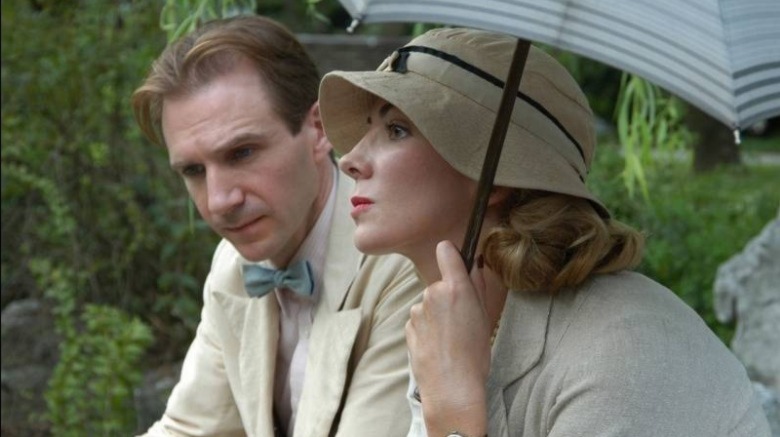 Sony Pictures Releasing
Natasha Richardson and Ralph Fiennes worked together again in the 2005 romantic drama, "The White Countess" — and this time, Richardson was able to take on the role of Fiennes's love interest. The film was helmed by director James Ivory, who has directed other sweeping period romances such as "The Remains of the Day" and "Howard's End," along with penning the screenplay for "Call Me By Your Name." The movie takes place in Shanghai in the 1930s, and tells the story of Sofia Belinskaya (Richardson), a former countess whose family was forced into exile following the Bolshevik Revolution in Russia. 
Struggling to make money to send back to her family and her daughter, Sofia is a taxi dancer — a woman who is paid to be a dancing partner at clubs, although sometimes she must take on the role of a prostitute as well. Sofia meets and falls in love with Todd Jackson (Fiennes), an American official who was blinded by a terrorist bomb that killed his family. When Jackson opens up a nightclub of his own, he asks Sofia to become the club's hostess — however, this means that the two must put their personal feelings aside in order to maintain a professional relationship. Although critics faulted "The White Countess" for having a thinly written story, the movie was praised for its production value and for the performances of its stars.