New Images From Netflix's He's All That Are Lighting Up Twitter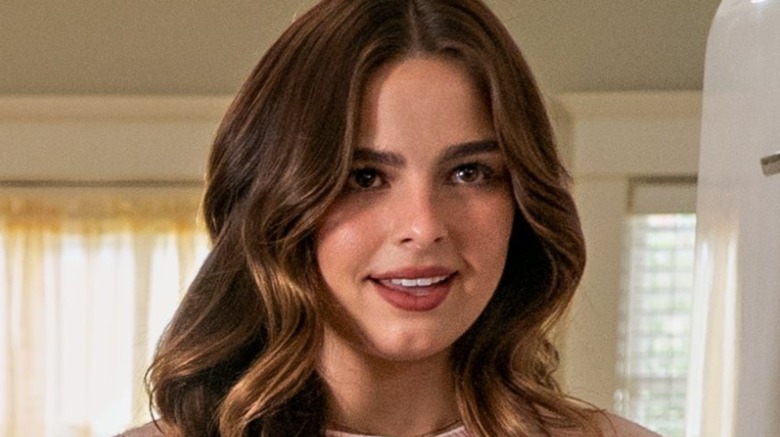 Netflix
Take off those big glasses and shake out your hair, because a remake of the iconic teen comedy "She's All That" is on the way courtesy of Netflix.
"He's All That" will utilize the premise of the '90s classic — a nerdy high schooler is transformed into a heartthrob by one of the popular kids at school — while doing a gender-swap, as well as some other updates to make the story feel more modern. That premise has its origins in the Greek myth of Pygmalion, which has served as the inspiration for other popular works, including one of the most critically acclaimed movies available on Netflix, "My Fair Lady" (via Encyclopedia Britannica).
Tanner Buchanan of "Cobra Kai" and "Designated Survivor" fame will star as dorky Cameron. TikTok sensation Addison Rae will take on the role of successful social media influencer Padgett, who is challenged to turn unpopular Cameron into the school's Prom King. Rae's role is based on the one played by Freddie Prinze Jr, while Buchanan's draws inspiration from the one originated by Rachael Leigh Cook, who will appear in the remake as Padgett's mom. The movie will be penned by R. Lee Fleming, who wrote the original film's screenplay, and helmed by "Mean Girls" director Mark Waters (via Variety).
On April 27, Netflix released a new batch of teaser images from the movie, which show Cameron in the midst of his makeover, as well as Padgett hanging with her group of friends. As is to be expected, the images resulted in a flurry of responses from Twitter users. In the case of "He's All That," it seems that Netflix viewers are at odds about how they feel.
Twitter had a mixed reaction to the latest batch of "He's All That" images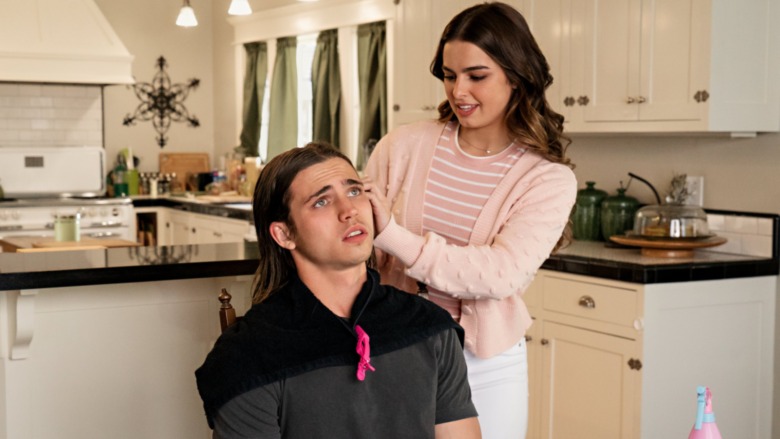 Netflix
When Netflix released the new cache of images from "He's All That" onto Twitter, users weren't shy about sharing their opinions. The reactions were a mix of people curious about the upcoming remake and those who would have preferred this story remain in the past.
User @SLaw57526019 was one of those who expressed enthusiasm for the project. They tweeted, "Cannot wait for this ... We love Tanner from ["Cobra Kai"] and Mean Girls is one of our favourite films.." Similarly, @daroachel embraced the look of the new movie, saying, "i'm not even gonna hate watch like i'm actually interested..."
The sentiments of many who seemed curious to get their eyes on the project were summed up by @castiels_angel, who tweeted, "didn't ask for it, didn't need it but definitely watching."
On the other side of the coin, @Chris43912315 responded to the images by tweeting, "Nostalgia is ok but this is just lazy." Meanwhile, @Croakcamel questioned whether a "She's All That" remake is needed at all. They tweeted, "Why are you still making movies like this? Why must people change in order to be cool."
For many, there was a sense of disappointment that "He's All That" is moving forward while other fan-favorite Netflix properties are not. User @Katie_Ottaway_ was one of many who expressed that frustration. They wrote, "all we want is another season of ["The Society"] and ["Santa Clarita Diet"] is that too much to ask."
"He's All That" will be released on August 27, 2021.