The Ending Of Cam Explained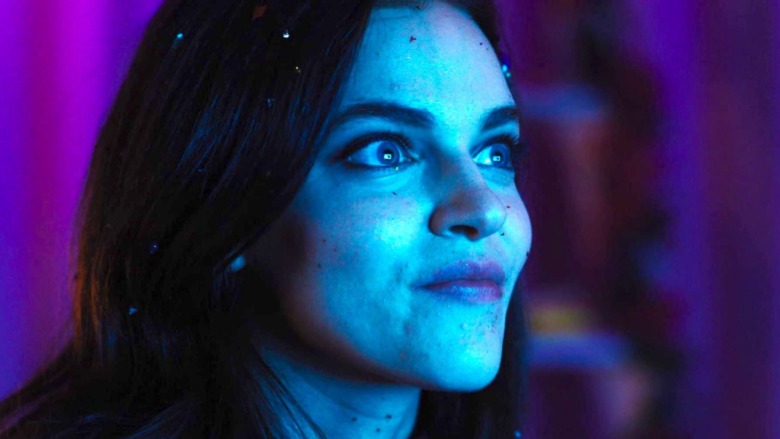 Netflix
In 2018, Netflix released a new horror film called "Cam" starring Madeline Brewer ("The Handmaid's Tale") as Alice Ackerman, a young woman who works as a "camgirl" under the username "Lola_Lola." Alice enjoys her job and is able to curate each show, performing in a studio in her home. She dreams of breaking through the ranks to be the top girl on the site, and soon enough she's rising quickly. That is until one day when she can't log into her account and someone else is streaming as "Lola."
Confused, Alice logs into a spare account to find this new Lola putting on a show. At first she thinks it's old recordings, as the girl on screen looks and acts just like her, but then Lola responds directly to her during a stream, proving that there's more going on. Investigating, Alice learns that many fellow camgirls have gone through the same thing. When they start getting popular, a doppelgänger, or "replica," takes over their account and starts streaming in their place. But Alice won't give up easily, and she's determined to take on Lola and get her channel back no matter what it takes.
"Cam" also stars Imani Hakim, Jessica Parker Kennedy, Patch Darragh, and Samantha Robinson, and the film really impressed critics and audiences upon release, earning a Certified Fresh 93% rating on Rotten Tomatoes.
Here's the ending of the "Cam" — explained.
What happens to Alice and Lola?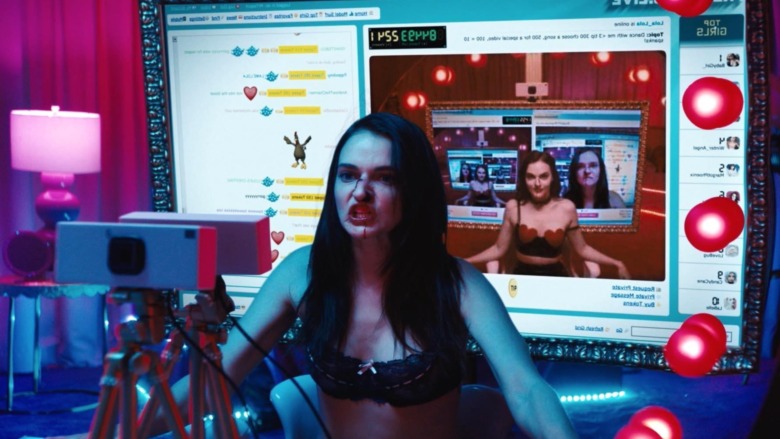 Netflix
Alice continues to pursue Lola to get her account back, contacting other camgirls on the site who went through the same thing. Soon enough, Alice finds out that the top camgirl on the site, BabyGirl — whose real name is Hannah Darin — died in a car accident months earlier, and since then her account's been run by a replica. Many of the other top camgirls are also replicas.
Despite this unnerving new information, Alice is still driven to take the fake Lola down. She sets up her home studio and goes on a private video call with Lola. The replica doesn't appear to recognize that they are the same person, and Alice manages to convince her that they should go live together. With her original audience watching, Alice challenges Lola to a game. The two versions, Alice and Lola, must imitate each other and the viewers will choose a winner. If Alice wins, she can ask anything she wants of Lola. The replica enthusiastically agrees, and the battle begins.
Although Lola keeps up with Alice through round one, Alice then turns to her human nature to prove that she's the real "Lola," breaking her nose on screen. This causes the fake Lola to glitch out, and the fans vote Alice as the winner. Alice then asks for Lola's password, deletes the account, and starts a new one, finally returning to the job that she loves.
What are the cam replicas?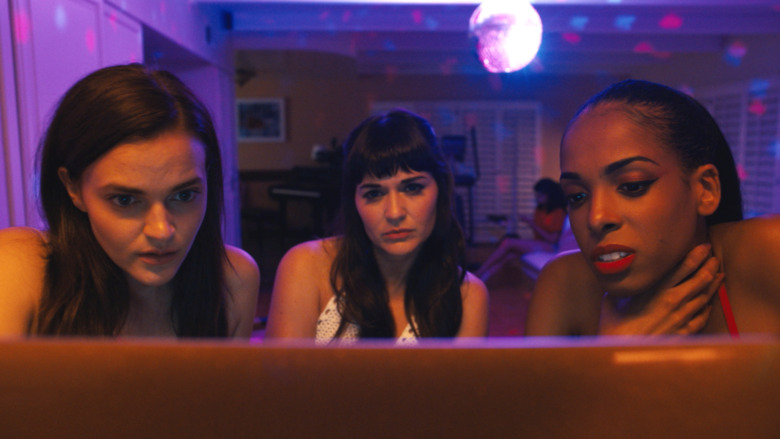 Netflix
When Alice first finds out about her account being taken over by the fake Lola, she searches high and low for answers, even contacting the police. She finally gets some information from one of her viewers named Tinker (Darragh), who shares as much as he knows about what's going on, saying, "I found it just like you. I think it can take anything it can find of you online." Still, Tinker has no idea where it's coming from or how to stop it, whatever "it" is. Some of the trademarks of an account that's been taken over by a replica are that it's a very high ranking camgirl, and there's a lot of shared dialogue and livestreams between all the replicas online.
The film "Cam" leaves much of the mystery of what the replicas really are to the audience's imagination. It's unclear whether it's simply a very advanced hacking, or something more sinister and supernatural. The replicas look and act exactly like the girl they replace, so there's no way that it's a random, really talented actor. Rather, it's something created online. The film hints that these women are artificial copies, created to take over rising accounts on cam sites. It's a form of exploitation to remove the real camgirls trying to make a living from the equation, but it's still unclear in the end who is behind the whole thing.
Why does Alice go back to cam work?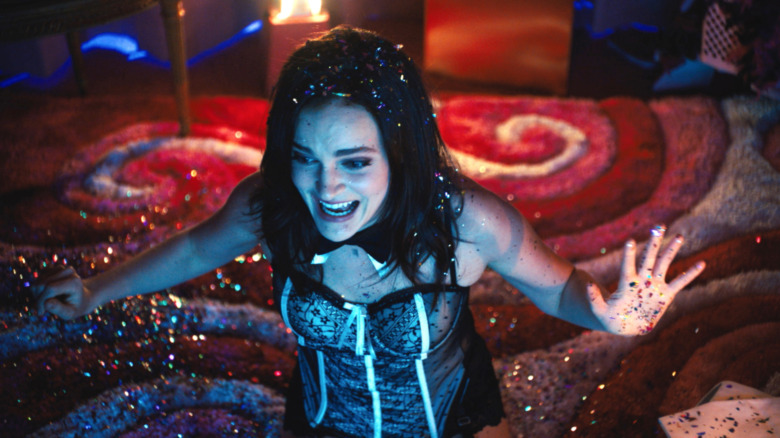 Netflix
You'd think that a traumatic experience like the one Alice goes through — having someone or something pretend to be you online, taking over your career — would put her off the camgirl lifestyle. But no matter what happens to her, Alice loves her job and wants to keep doing it. She doesn't care about the risks. For Alice, her cam work is a form of creative expression, where she can have a self-sustained, self-curated work life doing something she truly enjoys.
After shutting down the Lola_Lola account, Alice rejoins with a new look and a new username — EveBot. Basically taunting the replicas who are in the top spots, Alice flaunts the fact that she's human, real and capable of so much more than the constructed personalities. Even so, Alice understands that it's very possible that the situation with Lola will happen again, but she doesn't care. When her mother brings this up, Alice says that she'll just delete the account and start over again. Considering one of the main things she likes about her job is how she can put on a show and pretend to be anyone or anything she wants, the possibility of this might even be exciting for Alice.
Along with the themes of identity and determination, "Cam" showcases sex workers in a respectful, honest, and enlightening way, with screenwriter Isa Mazzei taking inspiration from her own past experience working as a camgirl. Through Alice, "Cam" showcases a woman who enjoys her work and sees it as a career, bringing a fresh, positive perspective to the sex work industry.