New Trailer For In The Heights Is Lighting Up Twitter
Director Jon M. Chu's "In the Heights" was originally slated to premiere in 2020, but was unfortunately one of the many films that had its release date delayed due to the COVID-19 pandemic. Based on Lin-Manuel Miranda's Broadway musical of the same name and its accompanying book by Quiara Alegría Hudes, "In the Heights" centers around characters living in the predominantly Dominican neighborhood of Washington Heights in Upper Manhattan, New York. After the film made stops at Universal Pictures and the Weinstein Company, Warner Bros. won its rights in a bidding war in May 2018. Production began and completed in 2019, and two trailers rolled out that same year.
Updates on the film's release were few and far between once the pandemic hit. However, during the 93rd annual Academy Awards on Sunday, April 25, patient fans were rewarded with a new trailer for "In the Heights," which is currently lighting up Twitter.
The hype for In the Heights — and another upcoming movie musical — is real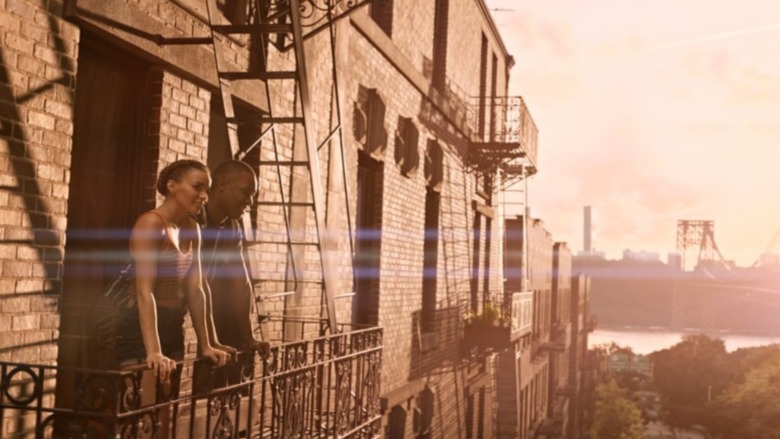 Warner Bros. Pictures
As soon as fans got their latest look at "In the Heights," the quickly ran to Twitter to express their excitement for the upcoming film. 
"I continue to absolutely lose my mind at every single In The Heights trailer. Can't wait," wrote one user. Another added, "#InTheHeights trailer just gave me chills, can't wait til the whole movie gives me uncontrollable sobs."
The musical's newest trailer actually came shortly after the Oscars also presented a sneak peek of the forthcoming Steven Spielberg musical "West Side Story," based on the Oscar-winning film before it and the Broadway play before that. Fans on Twitter excitedly forecasted their considerations for next year's Academy Awards based on both trailers.
"I just had a thought – In the Heights and West Side Story are going to duel for all the awards next season," theorized one user. "In the Heights is here to sweep!" predicted another user in regards to the 2022 Oscars. One fan echoed the excitement of Latino and Latina fans of film and musicals by tweeting, "Latinos got West side story & In the heights coming next year, vamos a comer bien [we're going to eat well]. #Oscars."
"In the Heights" stars Anthony Ramos as lead Usnavi de la Vega, Corey Hawkins as Benny, Stephanie Beatriz as Carla, Leslie Grace as Nina Rosario, Jimmy Smits as Kevin Rosario, Melissa Barrera as Vanessa, and more. Singer Marc Anthony and Lin-Manuel Miranda himself are featured in the new trailer as well, as Mr. de la Vega and "Piraguero, the Piragua Guy," respectively.
Now that theaters have begun re-opening, the creative team behind "In the Heights" can safely say that the movie will premiere on the big screen on June 11. Start counting down the days until then.