Why Twitter Can't Stop Talking About The Oscar-Nominated Live-Action Pinocchio Film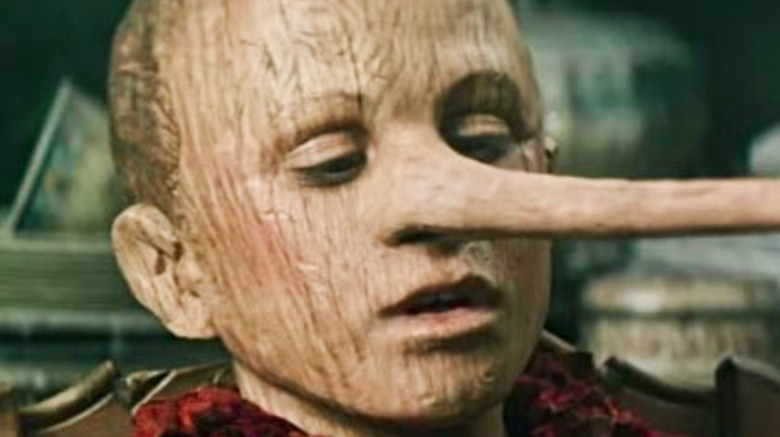 01 Distribution/Vertigo Films
In 2019, Italy produced the second of its two live-action "Pinocchio" adaptations featuring Roberto Benigni as the carpenter and woodcarver Gepetto. Directed by Matteo Garrone, the film was warmly received in its native country, receiving critical acclaim and more awards than most attempts to retell the story of Pinocchio could ever dream of. It eventually landed a release date stateside, premiering in the U.S. in December 2020. Helpfully, this put it in the running for an Academy Award in 2021, and the film managed to attract two nominations — one for Best Costume Design and another for Best Makeup and Hairstyling.
There are plenty of reasons that this is worth bringing up. Any piece of art deemed worthy of recognition by the community of creators surrounding it is deserving of appreciation. As a matter of public safety, every time that Oscar winner Roberto Benigni approaches the "Pinocchio" name, the population deserves a heads up. But most importantly, according to social media, not a lot of people were aware that a new "Pinocchio" movie even existed, or that the special effects were so ... visceral.
That's a hard Pin-no-cchio from me, dog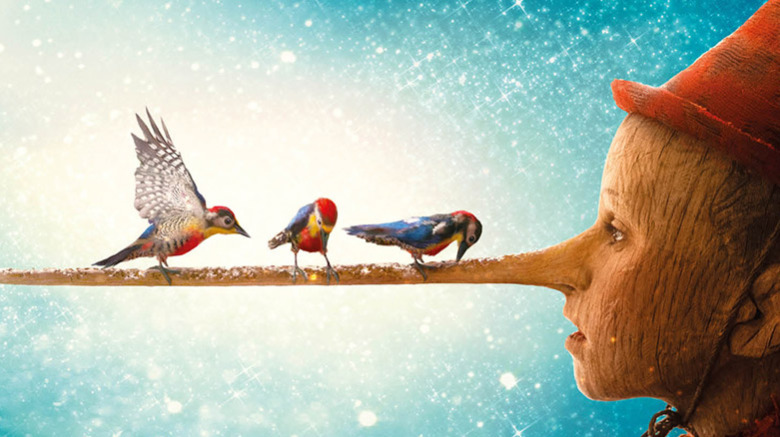 01 Distribution/Vertigo Films
The story of Pinocchio is a classic and beloved one — in as much as a tale of kidnapping, youth drunkenness, and the potential for inanimate objects to possess a human soul can be. So maybe it took people by surprise when a wildly successful adaptation of the tale flew under the radar, despite its astonishing, potentially soul-consuming visuals.
"Just found out they made a live-action Pinocchio movie this year and it will haunt my dreams," Josh Billinson wrote on Twitter, garnering nearly 3,000 likes and around 500 deeply disturbed quote tweets (as of this writing). 
"This whole Pinocchio live action film feels like a reverse Mandela effect where it happened but we all don't believe it did," tweeted Angelique Rivera. Another Twitter user hilariously added, "The only photo i've seen of the new pinocchio movie looks like they're judging me for not knowing there was a new pinocchio movie." And Peter Fox provided a particularly cutting take on the whole thing: "Pinocchio (2020) is the new CATS (2019)."
Others on Twitter brought up the similarly unsettling live-action "Pinocchio" movie from the '90s starring Jonathan Taylor Thomas, and a few people reminded everyone of the fact that Roberto Benigni has done enough damage, but the overwhelming feeling in the room seemed to be, "How did we not know about this Hellbound Heart reimagining of the story of a little wooden boy?"
In Movie Twitter's defense, "Pinocchio" released in fewer than a thousand theaters in the U.S. during one of the worst years in the history of theater attendance. Does that do anything to help alleviate your new fear that the living puppet child pictured above might be hiding under your bed right now? Art is subjective, but no, probably not.