Why Zakarian From Cobra Kai Looks So Familiar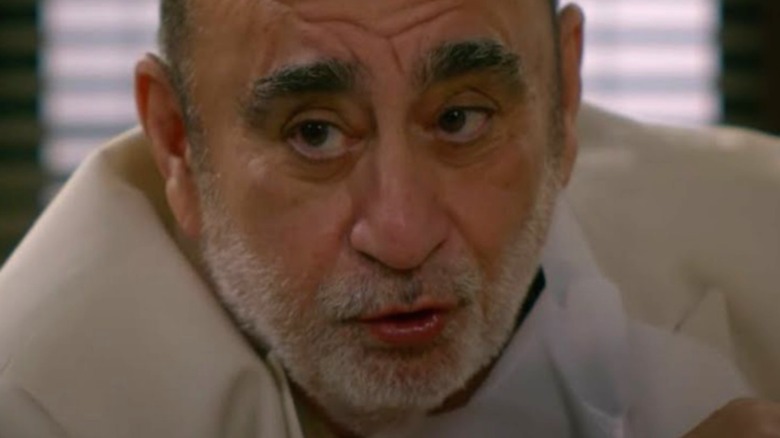 Netflix
Not every villain on Netflix's "Cobra Kai" can be offed with crane kicks and special Okinawan katas. Karate's just not an effective weapon against pure greed.
Armand Zakarian is the landlord of the Reseda mini-mall where Johnny Lawrence's (William Zabka) reborn Cobra Kai sets up shop. He has little respect for Johnny, even after Cobra Kai wins the All-Valley Karate Championship. When Cobra Kai begins recruiting more students than ever before after Miguel's (Xolo Maridueña) victory, Armand tries to raise Johnny's rent. In the last episode of Season 2, Kreese (Martin Kove) tells Johnny that he's taken over the building's lease (much to the confusion of some fans). 
There's a good reason you may have trouble placing the man behind the role of Armand: He's lost a lot of weight since playing his most famous role. Actor Ken Davitian has had a long career in Hollywood playing sidekicks and comic relief. Here's why he looks so familiar.
Ken Davitian played a rival in love in Holes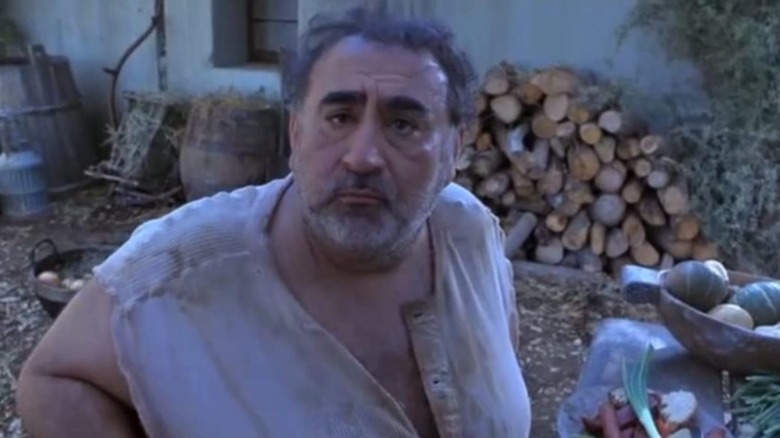 Buena Vista Pictures
Davitian played one of two rival suitors in the 2003 adaptation of the popular young adult novel "Holes." As the story goes, Elya wanted to marry the beautiful but unintelligent Myra Menke (Sanya Mateyas), but her father (Ravil Isyanov) would only consent to a marriage to the man who gave her the biggest dowry which, at the time, was Davitian's Igor Barkov, who had promised his fattest pig. The local fortune teller (Eartha Kitt) gives him a piglet and instructs him on how to fatten it up, in exchange for which he will carry her up the mountain so she can drink from a stream that will cure her ailments.
When the day arrives, Elya's pig weighs the exact same as Barkov's, and the father Menke allows his daughter to choose. The blow, and the joke, comes when she says she can't decide, and picks a number they have to guess, with the closest winning her hand. Elya, frustrated and insulted, quits on the spot and emigrates to America, forgetting to fulfill his promise to the fortune teller.
Ken Davitian made his name as Borat's sidekick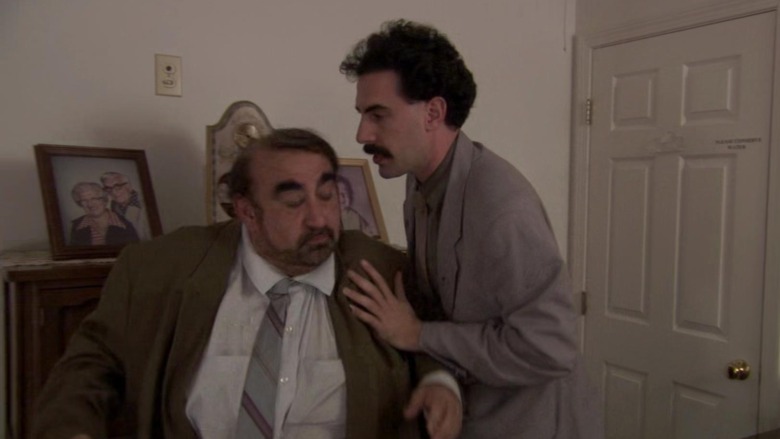 20th Century Studios
Davitian has appeared on countless TV shows and in many films, both blockbuster and direct-to-video. Still, odds are you recognize him from his role as the producer Azamat Bagatov in 2006's "Borat."
As is the case with much of "Borat," much of the humor of the Azamat character risks being lost in translation to text. His gruff manner; his crude rapport with his charge; his virulent anti-Semitism — much of it doesn't translate to pat description. You can read that he and Borat (Sacha Baron Cohen) have a naked wrestling match throughout the halls of a convention hotel, but no amount of verbiage is going to properly capture the visual experience of seeing it all go down.
Davitian told HuffPo in 2011 that he was reluctant to do what would become the film's most famous scene, and told the producers he thought it'd still be funny if he was wearing boxers. He has since come to see that it worked out for the best, however. "It worked," he said in the interview. "I realized that if you're committed to a project, you go all the way. And ["Borat"] was a life-changer for me." 
Davitian did not appear in the 2020 sequel "Borat Subsequent Moviefilm." MSN explains that he was offered a chance to reprise the character in a small role, but was told that it wasn't for a sequel to "Borat," and so he declined.
Ken Davitian caused some KAOS in the Get Smart reboot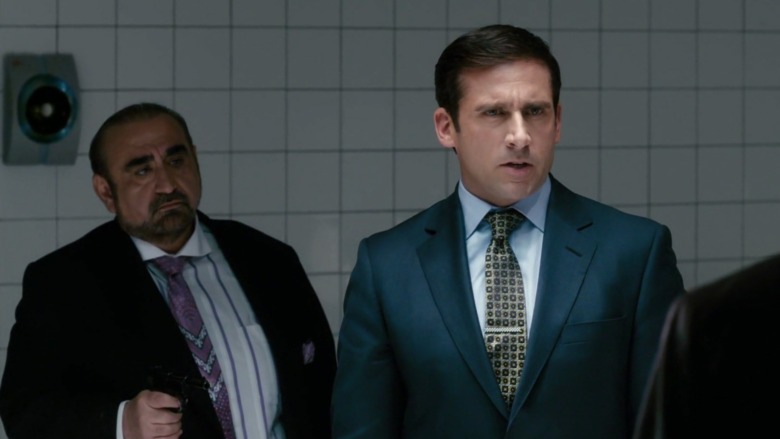 Warner Bros.
Davitian's role in "Borat" earned him small parts in studio comedies like "Meet the Spartans" and "Get Smart," in which he played Shtarker, the deadpan second-in-command to the head of the KAOS terrorist organization, Siegfried (Terence Stamp).
Shtarker's role in KAOS' plan to expose the identities of the secret agents of CONTROL and detonate a nuclear bomb in downtown Los Angeles while the President of the United States (James Caan) is visiting seems to consist mostly of either cracking jokes after Siegfried has explained something or explaining things after Siegfried has cracked a joke. Nice work, if you can get it, so long as the benefits are good.
Though in the television series the character of Starker (played by King Moody) is fawning to the point of uselessness, this Shtarker (with the different spelling) ends up harboring more animosity toward the big boss. Apparently being told you're replaceable by an evil madman and having to nuke the leader of the free world doesn't provide high job satisfaction, and so Shtarker seems rather pleased at the film's climax, when his boss is thrown off a bridge by the henchman Dalip (Dalip Singh).
Ken Davitian played a fake talent scout on It's Always Sunny in Philadelphia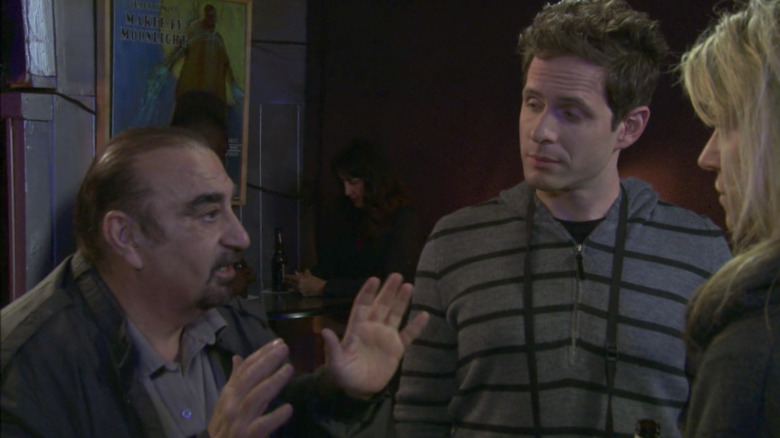 FXX
Once "Borat" — umm — exposed Davitian's talents to the world, he became a popular guest actor on television series ranging from "Chuck" to "Two and a Half Men" to "Ray Donovan." 
Among these was an appearance in the premiere of the ninth season of "It's Always Sunny in Philadelphia," in an episode entitled "The Gang Broke Dee." The episode opens with Dee Reynolds (Kaitlin Olson) seemingly at rock bottom, shrugging off the insults from the other members of the gang, and discussing the possibility of throwing herself in front of a bus. To help pick her back up, they sign her up for an open mic night, where she's approached by the talent scout Snyder (Davitian), who wants to sign her up for a real gig. 
Dee's comedy rise is meteoric, even if it does involve sleeping both with Snyder and her next talent manager, Michael Rotenberg, who offers to get her on Conan O'Brien's show. Dee is nervous to the point of vomiting ahead of her appearance, but when she goes onstage for Conan, she finds herself back in Paddy's Pub, where the whole thing was an elaborate prank played on her by her friends to get her to quit being so depressed. She rages at them, which tells them that she's back to her old self.