You'll Barely Recognize Katie From Ghost Ship Today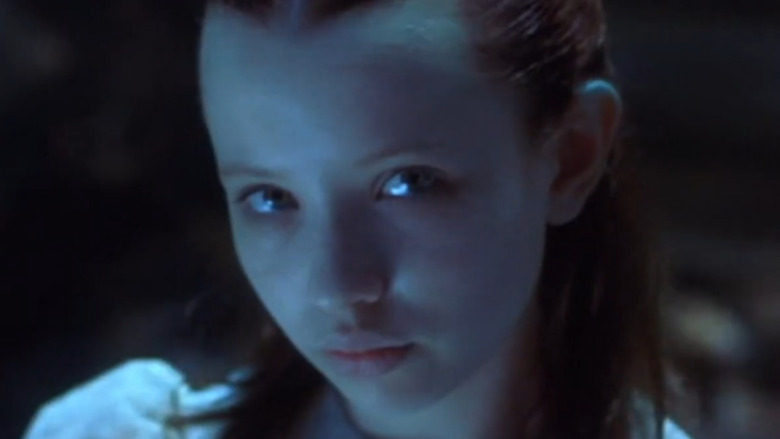 Warner Bros.
The 2002 movie "Ghost Ship" has mostly passed from human memory, except for one sequence. The film's opening, which explains how the titular ship got its ghosts, remains a beloved set piece among horror aficionados. One night during a transpacific voyage, a piano wire comes loose on the SS Antonia Graza. It whips through the ship, bisecting an entire dance floor of passengers, as well as the captain. Only the petite child Katie is left standing, because she is shorter than the wire which cleaved everyone else in twain. Bloody Disgusting ranked the opening of "Ghost Ship" among its Top 13 Kills in Horror Movie History, and Coming Soon labeled it one of the greatest openings in horror history.
The rest of the movie is, frankly, kind of anticlimactic. Nothing can beat the intensity of that opening. A salvage crew discovers the SS Antonia Graza in the Bering Sea, and find that it's full of gold. The crew is manipulated by the souls trapped on the ship (Katie included), and are lured to their deaths. Deaths that lack the oomph of the opening sequence. But little Katie's career has flourished since she was finally freed from that ghost ship. Emily Browning has worked steadily since "Ghost Ship," even finding time to still play the dead.
Emily Browning's unfortunate big break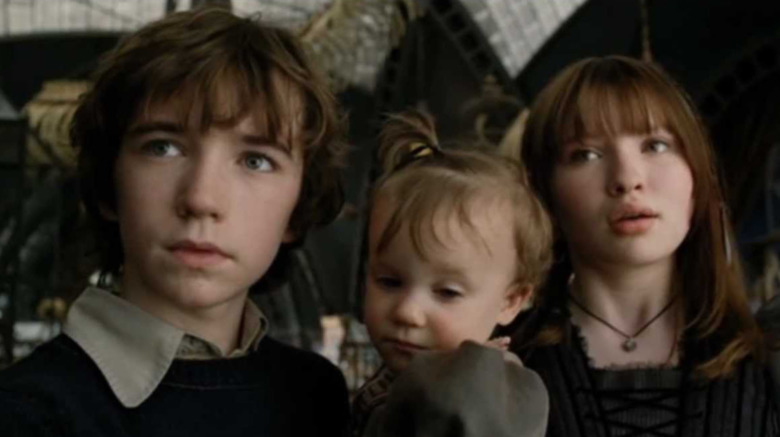 Paramount Pictures
After her performance in "Ghost Ship," Emily Browning starred in the big screen adaptation of "Lemony Snicket's a Series of Unfortunate Events." Browning played Violet Baudelaire, eldest Baudelaire child and amateur inventor. After their parents are killed in a mysterious fire, the Baudelaires flit from foster home to foster home. They are pursued by the villainous Count Olaf, played by Jim Carrey under a metric ton of facial prosthesis. The film also stars Meryl Streep, Liam Aiken, Jude Law, Billy Connolly, and Catherine O'Hara.
"A Series of Unfortunate Events" was mostly well received, with Roger Ebert hoping an even better sequel would appear. None ever came, but Browning kept working. After "Lemony Snicket," she starred in "The Uninvited," an adaptation of the South Korean horror classic "A Tale of Two Sisters." She also starred in Zack Snyder's "Sucker Punch" as Baby Doll. Browning leads the gals of "Sucker Punch" as they explore dreams and get lobotomies, or whatever actually happens in that movie.
Back from the dead on American Gods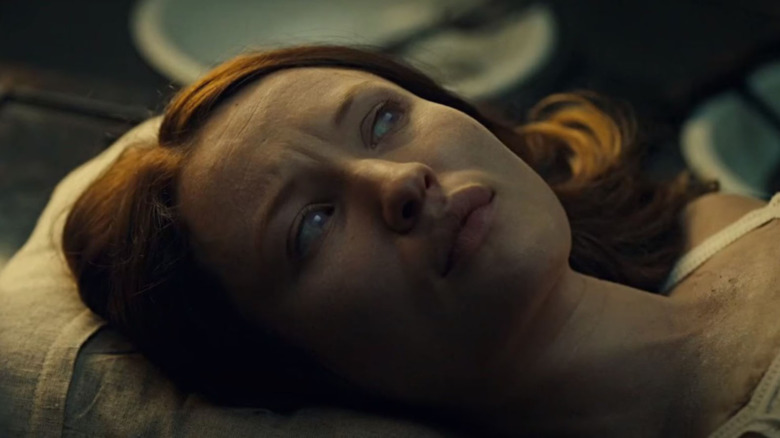 Starz
Though Browning hasn't appeared in a feature film since 2017, she has been back at her old gig of playing dead folks on "American Gods." She plays Laura Moon on the show, the late wife of lead demigod Shadow Moon (Ricky Whittle). Laura starts the show off dead, killed in a car crash right before her husband's release from prison. But in a world where ancient gods walk among us, death isn't exactly final. 
"American Gods" was canceled after 3 seasons, but not before Laura died yet again. Ironically, this was done to give the character more development. Neil Gaiman, who wrote the book the Starz series was based on, explained to Screen Rant why Laura had to die again. "One of the things that we wanted to do with her in season three was kill her, and kill her again, right at the beginning. And this time, kill her and let her grow," he said. "We get to follow Laura Moon into the afterlife of Laura Moon this time. She was offered a trip into the afterlife in season one, and she turned it down. This time, she's accepting it." 
Laura's journey may have ended with the show's cancelation, but rumors of a wrap-up movie are still circulating. Maybe she'll come back from the dead one last time.