Why Abby's Locket From NCIS Means More Than You Think
CBS
The CBS series "NCIS" made its premiere in September 2003 and has gone on to outlast every other show that debuted in the same television season, getting a renewal in April 2021 that guarantees the series will continue even after its current eighteenth season. The renewal means that "NCIS" will soon be just one season shy of doubling the 10-season run of "JAG," the legal drama It originally spun off of.
One of the secrets to the show's long-running success is the fact that fans are as invested in the characters as they are in the cases of the week and season-long storylines. This has often been enhanced by the show opting to weave in real-life aspects of the cast with the characters they're playing, such as having Mark Harmon's son Sean Harmon play the younger version of Mark's character Leroy Jethro Gibbs. In a similar fashion, a prop seen in Season 9 carries more significance to actress Pauley Perrette, who played forensic specialist Abby Sciuto, than audiences might guess at first glance.
Perrette's mother shows up as Abby's mother on the show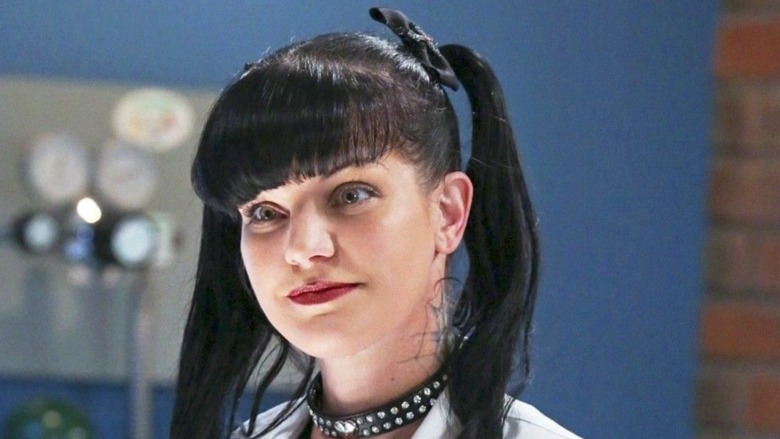 CBS
In the fourth episode of Season 9, titled "Enemy On The Hill," Abby discovers that she has a biological brother she did not know of when both individuals offer to donate a kidney, causing the system to discover a DNA match between the two. While the hospital declines to give Abby the name of the other individual, Gibbs and fellow investigator Timothy McGee find it out, resulting in Abby meeting her brother but not revealing the connection between the two. Abby's world is turned upside down, however, when she compares her own DNA against her mother's hair, which she keeps in a locket. This leads to the revelation that Abby herself is adopted.
When Abby opens the locket, audiences are able to see a picture of her mother on one side, with a lock of her hair on the other. The photograph the props department decided to go with, however, is that of Donna Bell, who is Perrette's real-life mother. Perrette was so close to her now-deceased mother, in fact, that she co-owns a Manhattan bakery called Donna Bell's Bake Shop. Placing Bell's picture in the locket Abby uses to remember her own mother is thus how Perrette found a way to get her own mother involved in the show, and it demonstrates that the love Abby has for her mother is not a foreign concept to Perrette herself.
Perrette exited the show in 2018 and has said that she will not return, making it unlikely that fans of the series will ever get to see more glimpses of Perrette's personal life in this manner. However, with the show still running, there are opportunities for similar connections between other performers and the characters they play.