The Pete Davidson SNL Skit That Meant More Than You Thought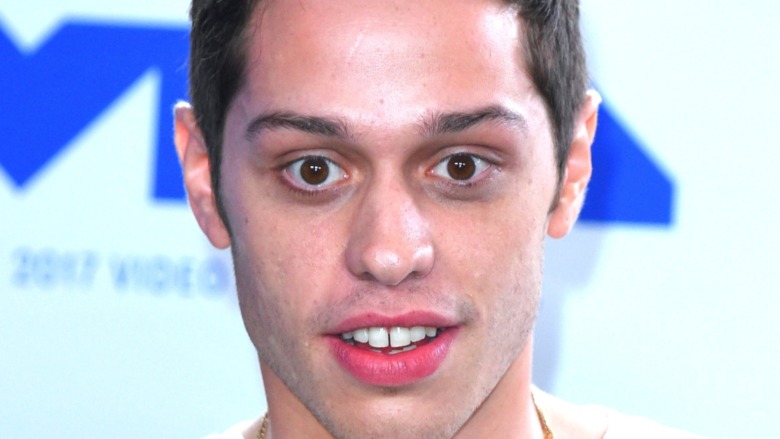 Anthony Harvey/Getty Images
Over the last couple of years, Pete Davidson has gone from playing the Resident Young Person on "Weekend Update" to becoming one of the most popular and visible cast members on "Saturday Night Live." While his profile has certainly been raised by his standup and recent appearances in films such as "The King of Staten Island," his willingness to engage with his fans and detractors in public has also contributed to his rise.
Sometimes, the spotlight shines on Davidson because of matters that are somewhat outside of his control, such as his high-profile relationship, engagement, and subsequent breakup with Ariana Grande. Other times, Davidson has been very much at the center of the public scrutiny he has received, such as when he cracked jokes about Congressman Dan Crenshaw's eyepatch. To make amends for that incident, Davidson appeared on"Saturday Night Live" with Congressman Crenshaw to apologize, via The New York Times.
However, there are also times that Davidson has upset a community in a controversy that most fans had no idea was occurring. Circumstances such as this can even give an extra layer to "Saturday Night Live" clips that originally went unnoticed, like this skit that meant more than you thought.
Fans wonder if Pete Davidson wore a Syracuse sweatshirt to make amends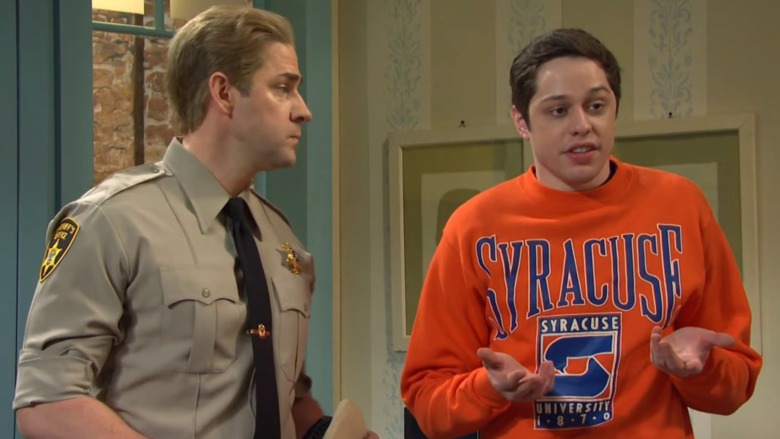 NBCUniversal
In a "Saturday Night Live" skit from January called "Blue Georgia," Pete Davidson played a man from New York City visiting Georgia. The twist of the skit is that Georgia, having recently gone for Democratic candidates in two Senate runoff campaigns and in the presidential election, is now an environment where Southern charm is strongly intermingled with liberal stereotypes such as avocado toast.
However, for some fans, the bigger question was why Davidson was outfitted in a bright orange sweatshirt from Syracuse University. While the city of Syracuse and its university are located in New York state, it is not as closely associated with New York City as, for example, NYU. However, Syracuse, the online arm of the city's local newspaper, the Post-Standard, couldn't help but wonder if it was Davidson's way of apologizing for comments he had made about the city in recent years.
The entire saga started back in 2018, according to Syracuse, when Davidson told Howard Stern in an interview, "Syracuse, you know, it's trash. Worse than Staten Island." Davidson doubled down on those comments during a Variety interview in 2019 in which he elaborated a bit on why he disliked the city, explaining that he felt he was targeted by the police and pulled over. According to Syracuse, that traffic stop did not result in charges for Davidson, but his passenger, comedian Joey Gold, ended up charged with a violation for the unlawful possession of marijuana.
While Davidson has not officially commented on the meaning of the Syracuse University sweatshirt, it does seem like the actor is at least extending an olive branch to the city he has publicly mocked on many occasions.