Bill Burr Spills About Working With Pete Davidson In The King Of Staten Island - Exclusive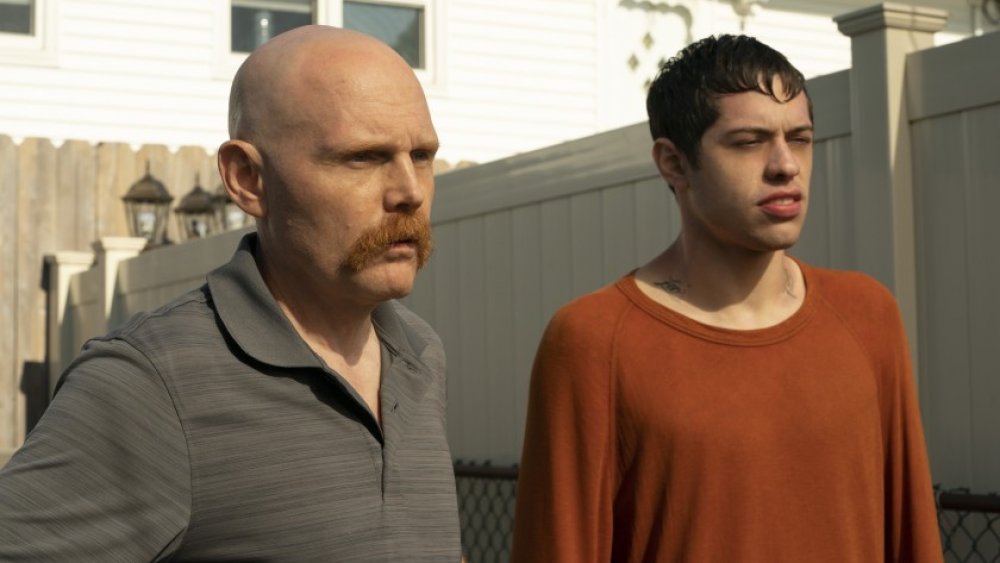 Stand-up comedian Bill Burr tends to gravitate toward more dramatic roles when he appears on TV and in film; just take a look at his time on Breaking Bad and The Mandalorian. With his star turn in the new Judd Apatow-Pete Davidson collaboration The King of Staten Island, Burr really flexes his acting muscles.
The Apatow-directed flick, which premieres today (June 12) on demand on streaming services, is Davidson's first starring role in a feature film. The Saturday Night Live cast member co-wrote the deeply personal project, which is loosely based on his life, with Apatow, the writer-director-producer best known for films like Knocked Up and The 40-Year-Old Virgin.
In The King of Staten Island, Davidson plays Scott, a 24-year-old stoner-slacker with no direction who still lives with his mom on New York's Staten Island. His firefighter father was killed in the line of duty when Scott was just seven years old, leaving him lost and disillusioned. (In real life, Davidson's father died in the September 11 terrorist attacks, he has struggled with marijuana addiction, and he still lives with his mother on Staten Island.)
Enter Ray, played by Burr, who starts seriously dating Scott's mom Margie (Marisa Tomei). The two don't exactly hit it off, as Ray is a no-nonsense firefighter who nudges Margie into telling Scott he needs to move out of the house and get his own life. As the story unfolds, Scott and Ray clash to the breaking point — which eventually gives them something to bond over, helping Scott heal in the process.
In an exclusive interview with Looper, Burr talks about what attracted him to the role of Ray and what it was like working with Davidson on The King of Staten Island.
Pete Davidson is far from a slacker in real life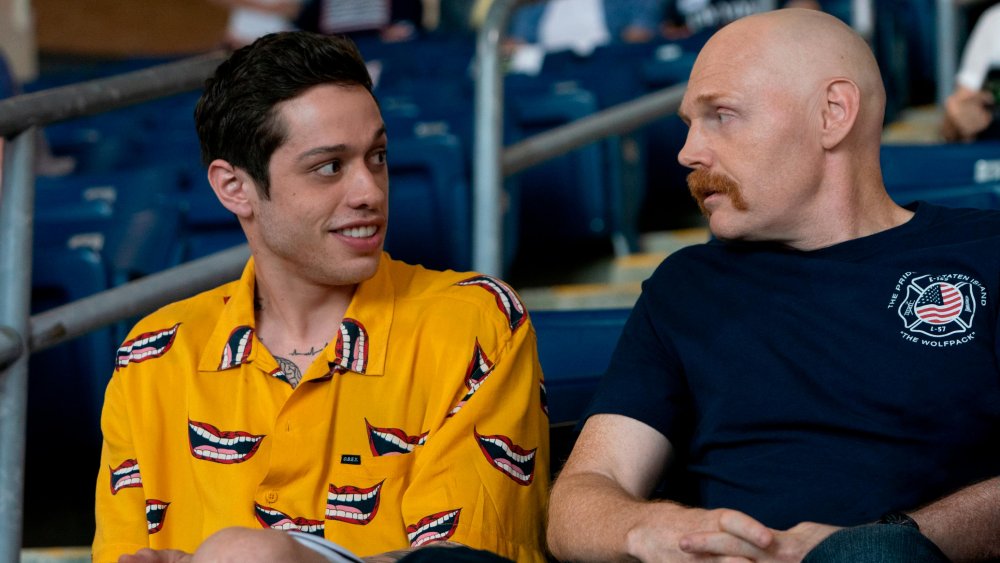 "It's Judd Apatow!" exclaims Burr when asked why he took the role of Ray in The King of Staten Island. "If he comes up to you and says, 'Do you want to be in a movie?' What am I going to say, 'No'? The guy has made a billion dollars at the box office!"
The offer came after Apatow appeared on Burr's weekly podcast, Bill's Monday Morning Podcast. "He said, 'Hey, I want to pitch you this...'" says Burr. "So afterwards we went out and got a burger and some fries, and he laid the whole movie out. I was like, 'You're Judd Apatow, of course I'm saying yes.' Plus, it also meant I was going to do a movie with Pete, who I've known for a long time."
The two met when Davidson was a teen, long before he landed on Saturday Night Live in 2014 at the tender age of 20. "I met him right as he started doing stand-up, when he was a gangly, awkward 15-year-old," recalls Burr. "But getting to spend a whole summer with him filming The King of Staten Island really solidified our friendship. I'd do anything for that guy, man. He's the best."
So, just how much is Davidson like his character in the film? "The sense of humor is definitely Pete, but he's not a slacker," says Burr. "He is very, very professional and hard-working. He was always the first guy there and the last guy to leave, and he would do things that a lot of movie leads don't do. If you only had a few lines, he'd say, 'Hey, why don't you shoot him out of this so he can get out of here?' He was always looking out for other actors and did a lot to keep morale high on set, which meant a lot."
When it comes to Ray, the character is based in truth but isn't representative of one particular person. "Pete has talked about his mother dating after his father died, and I think Ray sort of represented all of these new guys that were coming around," Burr explains. "He also represented 'not Pete's dad' and life going on. He represented everything that Pete's character didn't want to deal with."
Since Ray is an amalgamation of people, Burr took an interesting approach to finding inspiration for the character. "I talked to some of the firefighters those characters were loosely based on," he says. "But I've got to be honest, after growing out a mustache and looking in the mirror, a lot of the character choices just fell into place — like how Ray eats and how he sits at the table. Plus, Pete and Judd had written that he always uses sports analogies and stuff like that. Somewhere in all of that muck, I found this guy."
The King of Staten Island is available to watch now on video on demand.