The Real Reason We Don't Hear From Steve Martin Anymore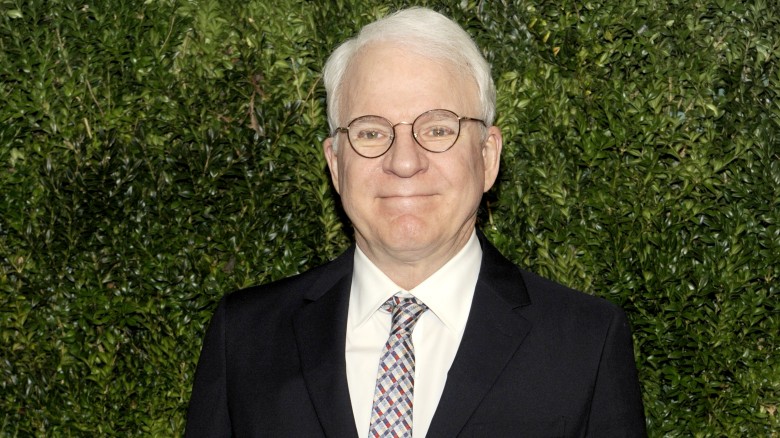 Getty Images
We may receive a commission on purchases made from links.
Maybe you know him as Georg Festrunk, one of Saturday Night Live's wild and crazy guys. Maybe you know him as Navin R. Johnson, the witless hero in The Jerk. Maybe you know him as the Father of the Bride, or a member of The Three Amigos!, or as one of the most influential and popular stand-up comedians of all time.
But no matter how you first became aware of Steve Martin, it's a pretty good bet that you haven't seen him around lately. Between 2011's box office bomb The Big Year and Ang Lee's 2016 technical experiment Billy Lynn's Long Halftime Walk, the once-prolific actor only logged two feature film credits — and both of them were voice acting parts. Martin's recent absence has left us pining for the good old days when he was a regular fixture on the big screen, and wondering how an international superstar can disappear from cinemas so quickly.
Quite easily, as it turns out. Here's why we don't see much of Steve Martin anymore.
Steve Martin stays busy playing bluegrass music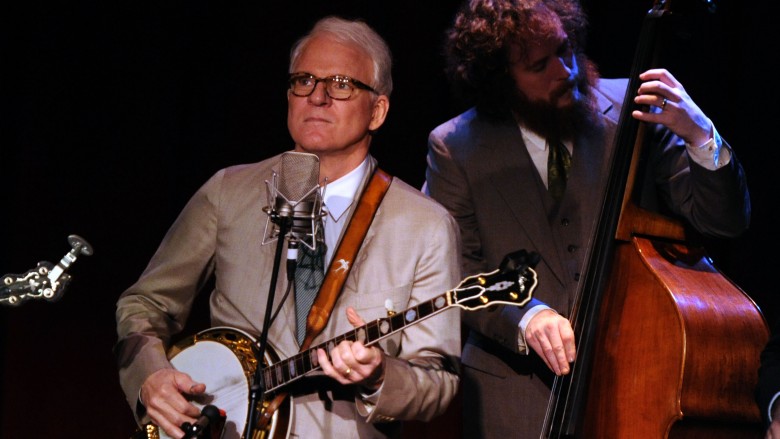 Getty Images
That's right: Steve Martin isn't just an accomplished actor and standup comic, he's got musical chops too. In his memoir Born Standing Up, Martin claims he picked up the banjo when he was 17 — and he hasn't looked back since. Banjo music played a crucial role in Martin's '70s stand-up routines, but it wasn't until the late 2000s that he reinvented himself as a serious musician.
In 2007, a song written and performed by Martin, "The Crow," appeared on the Tony Trischka album Double Banjo Bluegrass Spectacular. "The Crow" became a bluegrass hit — Martin's first major single since his novelty tune "King Tut" — and his musical career took off. Since then, he's toured with bluegrass band the Steep Canyon Rangers, performed numerous times at the Grand Old Opry, and released a handful of singles and albums, including the Grammy-award winning song "Love Has Come for You."
In an interview with NPR, Martin admitted that the banjo might be an acquired taste, but argued that there's something mysterious and uniquely American about it. "There's something very compelling about it to certain people," Martin said. "I'd like to think it's because we're Americans and the banjo is truly an American instrument, and it captures something about our past."
Steve Martin has a second career as a best-selling author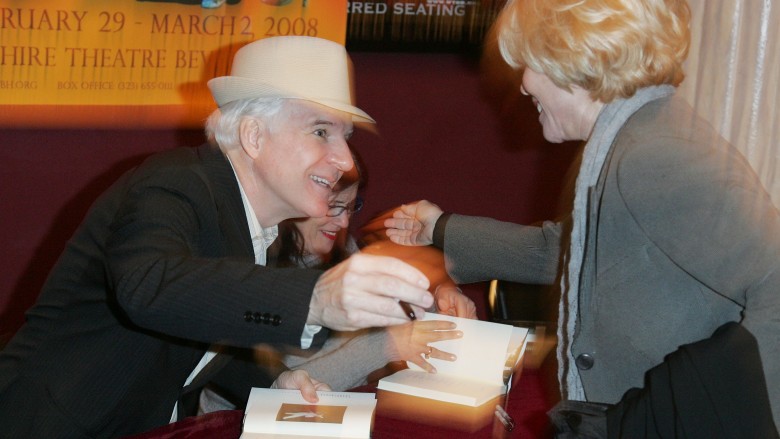 Getty Images
It shouldn't come as much of a surprise that Steve Martin, who wrote L.A. Story, Bowfinger, and Roxanne, has a way with words (although a "written by" credit on 2006's Pink Panther remake is a good argument against that), but critics were surprised by just how nuanced, dark, and sentimental Martin's first novella, 2000's Shopgirl, turned out to be. Readers liked it too — Shopgirl debuted at No. 6 on the New York Times' bestsellers list and stayed in the top ten for about 15 weeks.
Shopgirl eventually became a well-received movie, starring Martin, Claire Danes, and Jason Schwartzman, and in the meantime, Martin kept on writing. In 2003, he released The Pleasure of My Company, and followed it in 2010 with An Object of Beauty.
However, Martin's most successful book isn't fiction: his 2007 memoir, Born Standing Up: A Comic's Life, chronicles Martin's rise to the very peak of standup fame and his decision to retire from comedy in 1981 in order to focus on his increasingly demanding film career. Time put Born Standing Up sixth on its list of the top ten non-fiction books of 2007, while other comedians, including Jerry Seinfeld, have praised the book for its honesty and realism. But according to Martin, Born Standing Up isn't just about the trials and tribulations of the standup comedy world — it's an inspirational story about a self-made man. "I think it's somehow an American story," Martin told NPR, "because I started untalented. I didn't have any gifts except perseverance."
Steve Martin writing and producing plays, including a Tony-nominated musical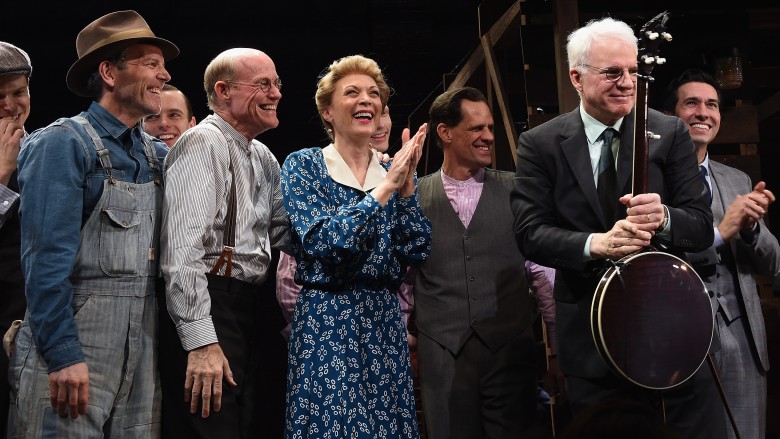 Getty Images
Given Steve Martin's fondness for both music and writing, it makes sense that the star would eventually set his sights on Broadway. In 2014, Martin and his musical collaborator Edie Brickell wrote and produced Bright Star, a musical drama inspired by the duo's album Love Has Come for You. The play made its way to Broadway in 2016, where it racked up five Tony nominations, including Best Musical, Best Book in a Musical, and Best Score, but lost to the cultural juggernaut known as Hamilton.
But Bright Star wasn't Martin's first foray into playwriting. In 1993, Martin penned Picasso at the Lapin Agile, which depicts a conversation between Picasso and Albert Einstein on the eve of the men's two biggest accomplishments (Einstein's theory of relativity and Picasso's The Young Ladies of Avignon). Picasso at the Lapin Agile became a national sensation in 2009, when outraged parents objected to the characters' "questionable behavior" and successfully prevented students at Oregon's La Grande High School from mounting a production.
In order to defend his play's reputation, Martin offered to fund an off-campus production of Picasso and penned a scathing editorial in the La Grand Observer in which he argued that, despite the play's adult content, "the spirit of the play and its endorsement of the arts and sciences are appropriate for young eyes and minds."
Steve Martin has a new(ish) family to take care of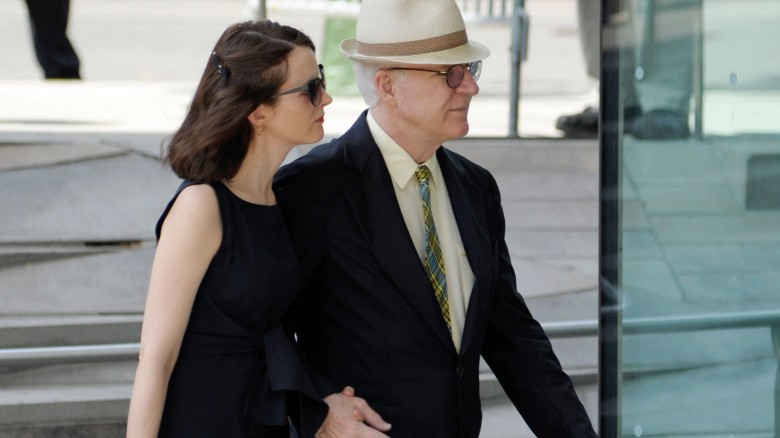 Getty Images
Steve Martin tends to keep his private life to himself. In 2007, he invited his closest friends over for a dinner party which turned out to be a surprise wedding. In 2012, when the actor was 67 years old, Martin's wife, former New York Times staffer Anne Stringfield, gave birth to the comedian's first child — and nobody knew about it for months.
Martin's daughter hit the news in early 2013, when his representative confirmed the baby's arrival to Us Weekly. Martin, however, didn't care to elaborate much beyond that. During an appearance on The Late Show with David Letterman, Martin joked that he and Stringfield named their child Conquistador, saying, "I didn't want to go with one of those Hollywood weird names. Conquistador is a statement." To this day, only Martin's family and close friends know the girl's real name.
But don't take that flippancy to mean he isn't a dedicated father — in fact, the new baby is a big reason why Martin hasn't been taking on more film or theater roles. "When I was younger, I was selfish and focused on my career," he told The Telegraph. "Now, I'm just hanging around the house playing with [my daughter]. It's great."
Steve Martin organizing art exhibitions and collecting masterpieces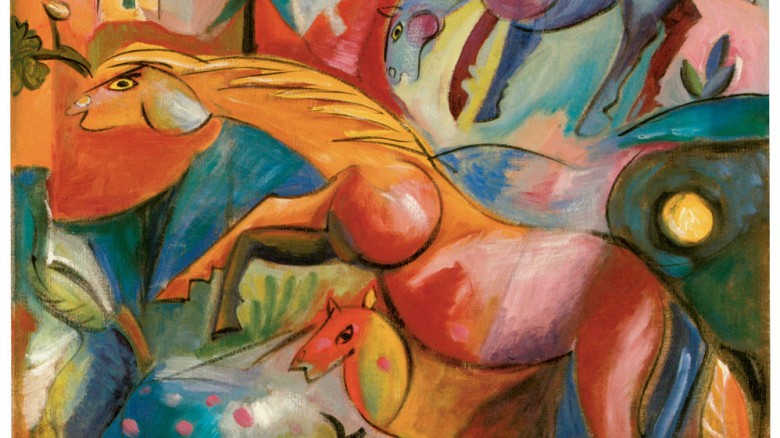 Ever since he bought his first print in 1968, Steve Martin has been an avid art collector, with a collection that includes everything from multiple Picassos to the grungy alternative cartoons of American comic book artist Robert Crumb. While Martin keeps his personal collection characteristically private (aside from a Las Vegas-based exhibition he put on because it sounded "fun"), the comedian used his fame to bring attention to a little-known Canadian artist named Lawren Harris by organizing an exhibition that appeared in Los Angeles, Boston, and Toronto.
Of course, for Martin, art collecting isn't all fun and games. In 2004, he bought "Landscape With Horses" by Dutch painter Heinrich Campendonk for $850,000, only to learn later that the piece was one of 44 forgeries produced by a group of German criminals. By that point, Martin had already sold the painting (which was authenticated by an expert before he purchased it) to another collector for $500,000, and the ruse didn't stop him from complementing the forgers, who he called "quite clever."
"They gave it a long provenance and they faked labels," Martin says, "and it came out of a collection that mingled legitimate pictures with faked pictures."
Steve Martin doesn't think his standup routine is relevant any more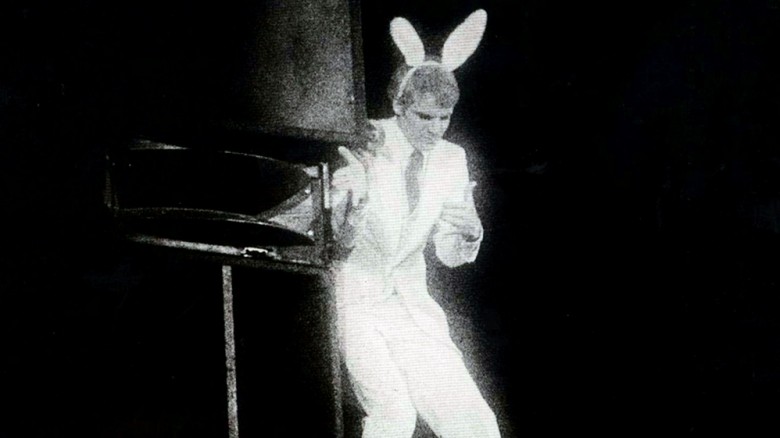 On February 18, 2016, Steve Martin took the stage at New York's Beacon Theater and delivered a 10-minute stand-up set — his first in 35 years. Don't assume that'll be a regular thing. The one-off performance was done as a favor to headliner Jerry Seinfeld after an appearance on Seinfeld's Comedians in Cars Getting Coffee, and for all intents and purposes Martin won't be returning to the standup circuit anytime soon.
Martin abruptly stopped performing standup comedy in 1981, when he was at the top of his game, and he's been reluctant to discuss his comedy career ever since. As he explained during his Comedians in Cars Getting Coffee appearance, "The comedy I did was so linked to the era we were coming out of, which was Vietnam, and part of my goal was to be absurd in a very serious time." When the '70s ended, so did Martin's standup.
In addition, Martin's unique style had a limited shelf life. In his memoir Born Standing Up, Martin describes his routine as a series of jokes without a punchline. "If I kept denying them the formality of a punch line, the audience would eventually pick their own place to laugh, essentially out of desperation," he explained. That only works if the audience hasn't caught on. "My act was conceptual," Martin told Seinfeld. "Once the concept was stated, and everybody understood it, it was done."
Steve Martin has lost his edge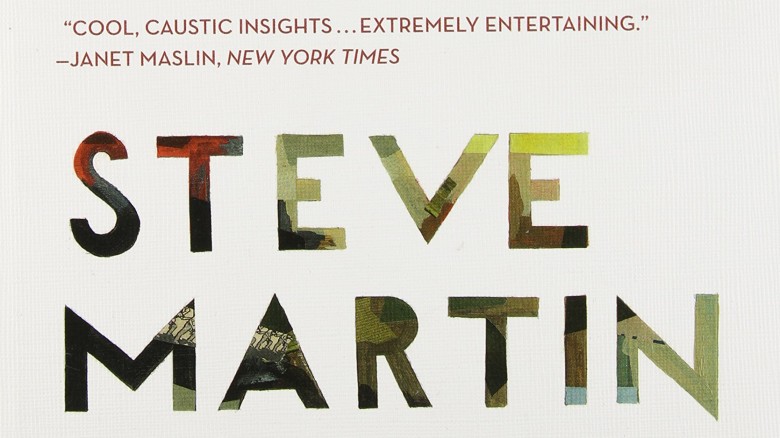 Maybe it's a good thing Steve Martin gave up comedy all those years ago. In 2010, an event honoring him was deemed so boring that its host, New York's 92nd Street Y, offered attendees full refunds.
For an hour, journalist Deborah Solomon interviewed Martin about art, artists, and his novel An Object of Beauty, which takes place in the Manhattan art world. That wasn't what the audience wanted to hear. Halfway through the event, a Y representative handed Solomon a note, urging her to ask more about Martin's show business experience. When Solomon read the note out loud, the audience cheered.
"The Y never told me what they wanted," Solomon said later, and accused the venue of "reinforcing the most philistine aspects of a culture that values celebrity and award shows over art." In a statement, Martin stood up for Solomon, a personal friend who he called "a great interviewer," and noted that similar events that he'd held with Solomon had gone over quite well.
Still, Martin hasn't lost his touch completely. While arguing that the Y's handling of the situation was, at best, "discourteous," Martin couldn't help but add, "As for the Y's standard of excellence, it can't be that high because this is the second time I've appeared there."
Steve Martin is getting too old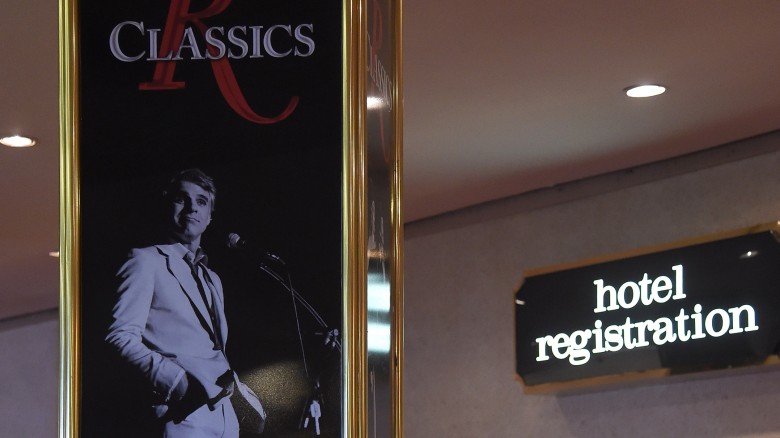 Getty Images
Let's face it: even for a young man, filming a movie can be a grueling experience. Despite Hollywood's glamorous image, actors often work extremely long hours, get very little sleep, and don't always get days off. Travelling to exotic locations for a shoot might sound fun, but it also means spending weeks—if not months—away from one's family and friends.
Steve Martin doesn't seem to have the patience for all of that anymore, at least not on a regular basis. In an interview with Biography, Martin said, "It's difficult, the process of making a movie," before adding, "If a studio had its way, they'd have you working 14 hours a day, every day. As you get older, your life actually becomes more important than your career, believe it or not."
Still, that doesn't mean that Martin is retiring from acting entirely (in the same interview, he claims acting is "fun," as long as the hours aren't too long). In fact, the less interested he is in acting, the better he thinks he gets. "I just don't worry about all of it as much as I used to," Martin says. "Sometimes when you let all of that stuff go, you actually start to get really good. We'll see..."
Steve Martin could easily stage a comeback. But does he want to?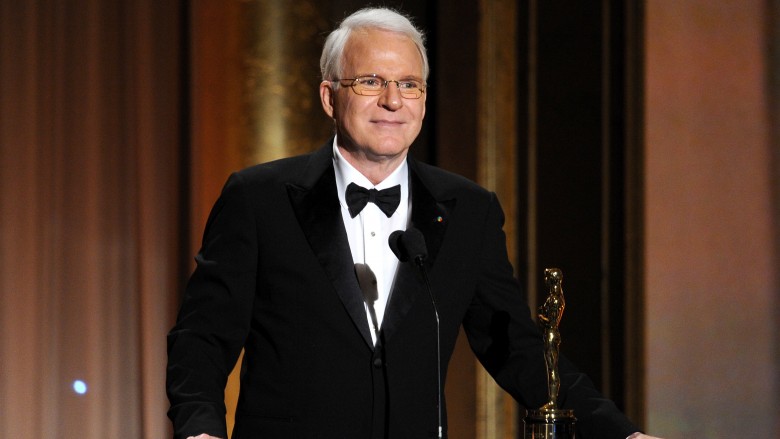 Getty Images
Despite spending a few years out of the spotlight, Steve Martin is still one of the most respected names in both comedic and dramatic acting — in 2009, The Guardian even named him one of the best actors who has never been nominated for an Oscar (Martin received an honorary Oscar in 2013). As mentioned before, his one-night return to stand-up comedy made headlines all over the country.
It's not as if Martin has disappeared entirely, either. He's hosted the Oscars three times. He still makes regular appearances on late-night talk shows, and more recently, he's toured with his good friend and fellow comedy legend Martin Short in a two-man variety show called An Evening You Will Forget for the Rest of Your Life. It's not an issue of whether or not he could mount a successful return — the real question is, does he have the time?
Between the music, writing, theater, art collecting, and his new family, Steve Martin is a busy, busy man, and he appears genuinely interested in everything he's doing. It seems more than likely that Martin will continue to work on his passion projects while taking the occasional bit part or low-stress voice acting role, and honestly? That's fine. After 50 years entertaining others, it's about time that Martin gets to focus on the things that make him smile.