Netflix Shows That Will Blow Everyone Away In 2017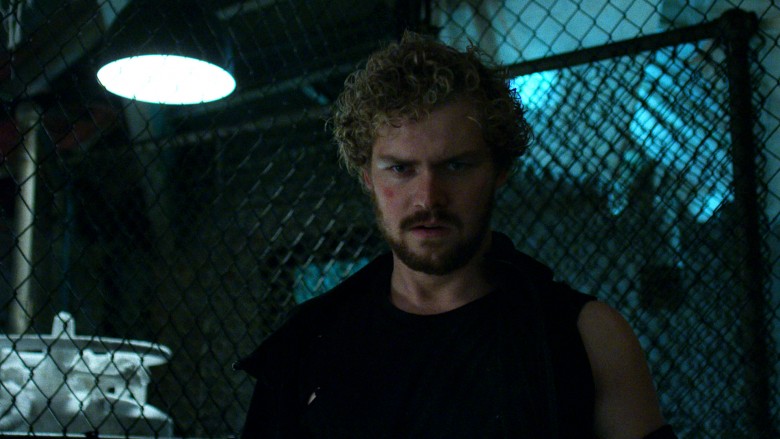 What would television be without Netflix? Wait, stop—we can't bear to actually imagine it. Netflix's introduction of show after awesome show in 2016 left TV watchers barely able to catch their breaths. From the '80s love note Stranger Things to the badass superhero series Marvel's Luke Cage, the streaming platform once associated with lazy weekends has become home to some seriously prestige television, and it doesn't look like Netflix is going to slow its show roll in 2017. With a miles-long list of series to binge-watch in the coming months, we've listed the biggest and best to look forward to—shows that will leave your jaw dropped and eyes wide open.
Stranger Things 2
Following up on their breakout first season, the Duffer Brothers will return to Hawkins, Indiana for some more monstrous throwback fun with Stranger Things 2, which debuts on Halloween. The second season of Stranger Things will pick up a year after the first run left off, after its crew of kiddos defeated the Demogorgon but lost contact with their telekinetic lady leader Eleven in the process. If the Super Bowl previews for Stranger Things 2 are any indication, the intensity of the show's second season is going to be full-tilt, and fans will be tempted to ditch out on the usual trick-or-treat routine for an All Hallows Eve spent binging the new installment. Count on Stranger Things 2 to be even stranger than the first season, with a storm coming along to bring some new otherworldly baddies into the small town fold.
Frontier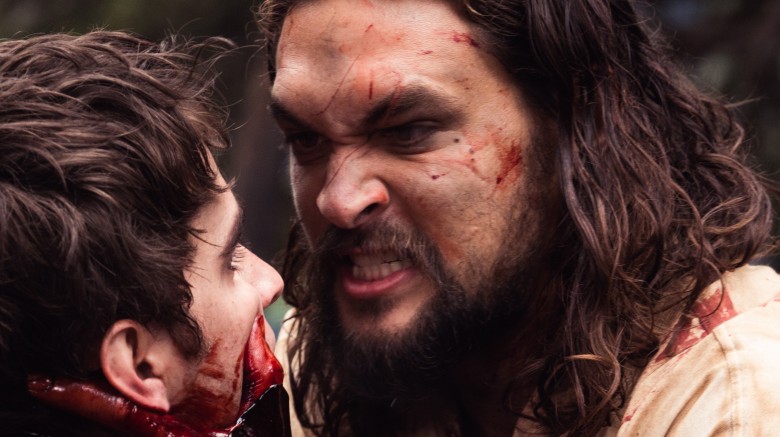 Frontier premiered on Discovery Channel Canada in November 2016 to some seriously solid ratings, and made the move to Netflix mid-January 2017, giving television lovers the perfect excuse to watch all six episodes in a single sitting. This Canadian-American period drama chronicles a band of men battling to reclaim ownership and seize control of the fur trade in 18th-century North America, and there's one familiar face that may very well have fans cheering. Game of Thrones fans rejoice: our beloved Khal Drogo is back on the not-so-big screen! Jason Momoa (who fans will also see as Aquaman in 2017's Justice League) stars as Declan Harp, the half-and-half Irish/Native American outlaw on the path to power. The actor known for his brute and brawn onscreen gets his hands dirty and fists bloody in Frontier, and the rest of the cast follows suit.
Co-starring Hemlock Grove's Landon Liboiron and Downton Abbey's Zoe Boyle, Frontier is a multi-perspective series that weaves through cultural relations and the savagery of America in its adolescence. Not only does the show promise a healthy portion of visceral violence, insane action sequences, and sharp dialogue, but it also presents a historical glimpse into the preindustrial times in North America. We call that a win-win.
Santa Clarita Diet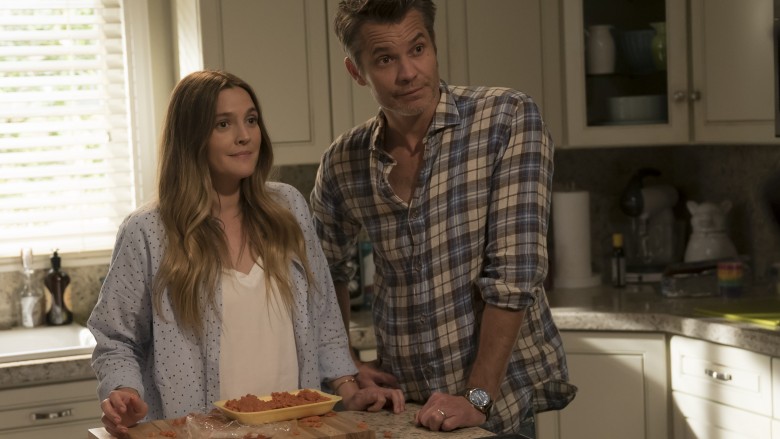 Sayeed Adyani/Netflix
Sheila and Joel Hammond may seem like a normal suburban pair of real estate agents, but their fridge tells another story. After the slew of zombie films the mid and late 2000s brought us (think Zombieland, Shaun of the Dead, even I Am Legend), the genre took a bit of a timeout in the early 2010s. However, 2017 will see the undead come back to life with the comedy-horror series Santa Clarita Diet, which premieres February 3.
Starring the former child star turned full-fledged acting force Drew Barrymore and Timothy Olyphant (arguably most recognizable from his role as Mickey in 1997's Scream 2) as a California couple, Santa Clarita Diet follows the radical transformation experienced by Barrymore's character, Sheila. The series will also star Liv Hewson (Before I Fall) as the couple's teenage daughter, Abby, and Skyler Gisondo (The Amazing Spider-Man) as the Hammonds' family friend Eric, who may end up biting off more than he can chew—literally.
Mindhunter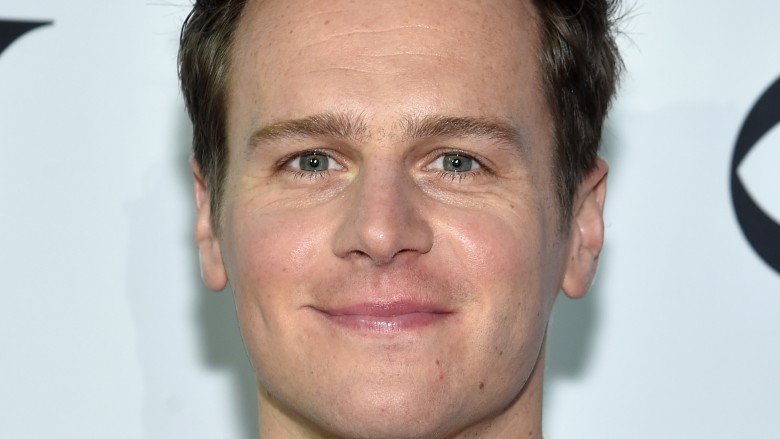 Getty Images
Based on the Mark Olshaker and John E. Douglas book Mind Hunter: Inside FBI's Elite Serial Crime Unit, this Netflix series rolls time back to 1979 and dives into some of the most petrifying unsolved crimes in history. As FBI Behavioral Science Unit special agents Holden Ford and Bill Tench, respectively, actors Jonathan Groff (Frozen, The Conspirator) and Holt McCallany (Alien 3, Heroes) take on the daunting task of conducting interviews with currently imprisoned criminals. But not just any criminals: Ford and Tench sit eye-to-eye with serial killers.
Mindhunter also stars Anna Torv, a psychologist based on real-life psychiatrist and trauma/abuse victim assessment pioneer Dr. Ann Wolbert Burgess, and Cotter Smith as FBI unit chief Shepard. With actress Charlize Theron and incredibly well-respected director David Fincher (who also directed 2014's bone-chilling Gone Girl) in Mindhunter's executive producer seats, brace yourself for a drama that will leave you sleeping with the lights on.
Marvel's Iron Fist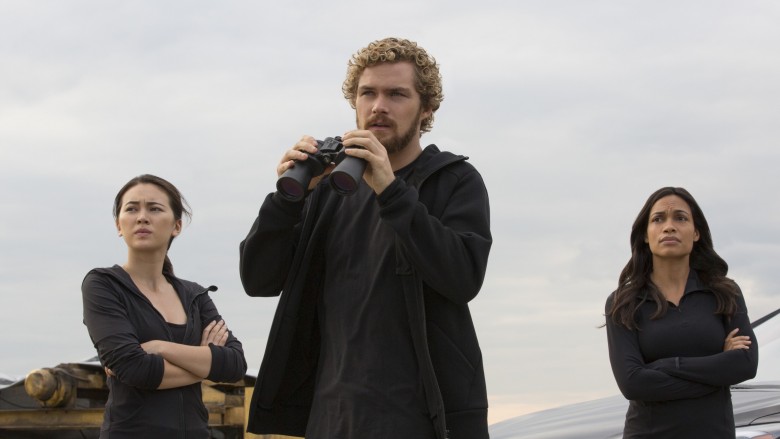 As evidenced in years past, superhero films, series, and spinoffs are huge hits with audiences worldwide. Recently, Netflix rolled out a triple threat of comic crimefighting shows in Marvel's Jessica Jones, Marvel's Luke Cage, and Marvel's Daredevil. The go-to site for series watching puts the pedal to the bulletproof metal in 2017, as it unveils yet another superhero show: Marvel's Iron Fist.
The fourth Marvel series to find its home on Netflix, Iron Fist stars Finn Jones in the title role. The super-powerful hero Iron Fist begins out as the billionaire Buddhist monk Danny Rand, who returns to his home city of New York after spending years in recluse honing his unparalleled martial arts prowess. Danny summons the power of (you guessed it) the Iron Fist, the name given to the energy, or "chi," he collects to take down NYC's most corrupt villains with a deadly punch.
Marvel's Iron Fist boasts a hefty cast, including Star Wars: The Force Awakens's Jessica Henwick as fellow martial arts expert Colleen Wing and Aussie actor David Wenchman as the series' bent business leader antagonist, Harold Meachum. The series hits Netflix in full on March 17, 2017.
Marvel's The Defenders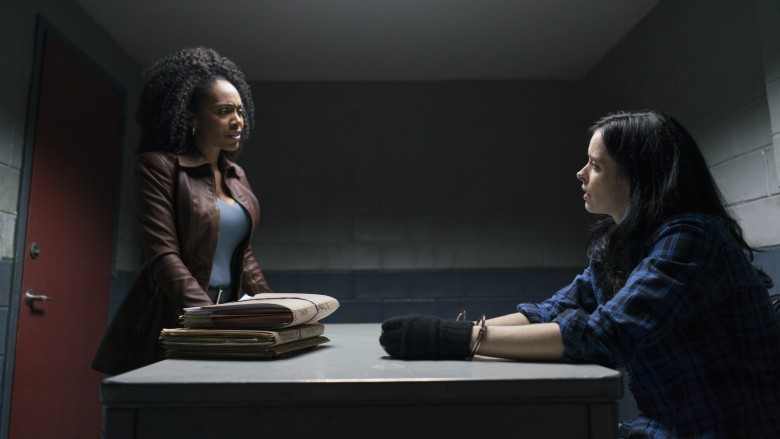 Just when you thought all the forces of evil had been vanquished from the Big Apple, another wave comes crashing in. Not to worry, however—Marvel's The Defenders has your back. Yeah, you heard right: Netflix will bring not one but two original Marvel series to the masses in 2017. Though an official release date has yet to be announced, Marvel's The Defenders will definitely be buzzed about right up until it reaches screens, and likely well beyond. The eight-episode miniseries brings together all of Marvel's best, heroes audiences know and love from their standalone shows: Krysten Ritter as Jessica Jones; Mike Colter as Luke Cage; Charlie Cox as Daredevil (a.k.a Matt Murdock); and the guy we just talked about, Finn Jones as Iron Fist.
Joining the superhero-studded ensemble are French actress Élodie Yung as hard-headed mercenary Elektra Natchios, Rosario Dawson as vigilante nurse Claire Temple, and award winner Sigourney Weaver as the sophisticated and sinister villain, Alexandra. Jessica Henwick will also reprise her role as Colleen in The Defenders. The group takes on all the bad guys in mid-2017.
Bill Nye Saves the World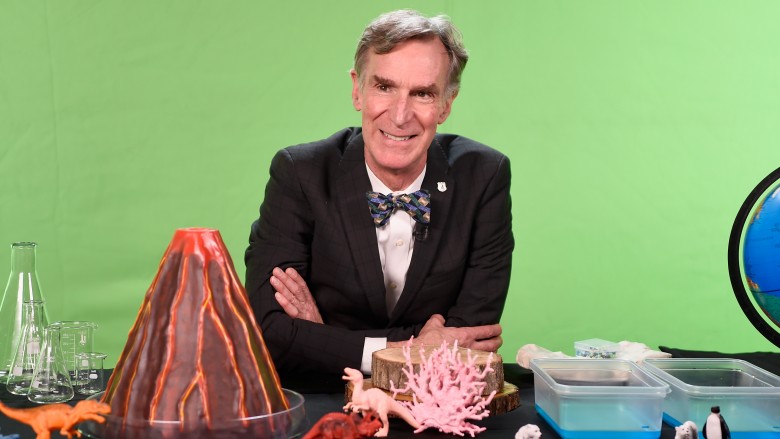 Getty Images
If you were in school during the '90s and early '00s, you likely remember the notoriously catchy theme song to the live-action educational science show Bill Nye the Science Guy. (You're humming it right now, aren't you?) The famed science educator and mechanical engineer who taught countless viewers about cells, photosynthesis, and the mysteries of the night sky is back, this time for his very own talk show.
Bill Nye Saves the World (a title we can only hope to be true) will go beyond the realm of just science, extending into politics, fiscal and social trends, and pop culture phenomena across the globe. With a lot of interesting ground to cover, Nye calls in backup with a few special field correspondents. Joining the Science Guy are international supermodel Karlie Kloss; another science fan, the Canadian-Australian educator Derek Muller; Aussie comedian Nazeem Hussain; and tech writer, TV producer, and scientific literacy advocate Emily Calandrelli. Audiences can learn about the wonders of the world and its people, places, and things as Mr. Nye debunks myths and refutes anti-science claims in spring 2017.
Wet Hot American Summer: Ten Years Later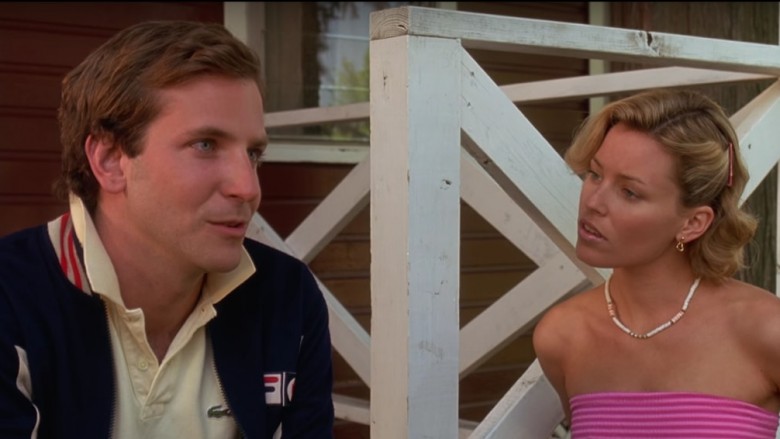 Let's take it back to 2001, when the original Wet Hot American Summer film first hit cinemas. Despite being a box-office bust, the satirical comedy with a talented cast (Molly Shannon, Paul Rudd, Elizabeth Banks, Michael Ian Black, Bradley Cooper, and Amy Poehler, just to name a few) gained a massive cult following. Fast forward nearly a decade and a half, and fans still wanted more of the WHAS story. Netflix released an eight-episode prequel series in the summer (how fitting) of 2015, which was ridiculous in the best way possible: all the actors reprised their roles, only to play even younger versions of their beloved characters.
Riding off that wave of funny comes Wet Hot American Summer: Ten Years Later, in which the cast collaborates once again, this time at a more age-appropriate level. The sequel series is set in 1991 and, according to the show's writer Michael Showalter, is inspired by some classic '80s comedies. We can't wait for summer.
Friends from College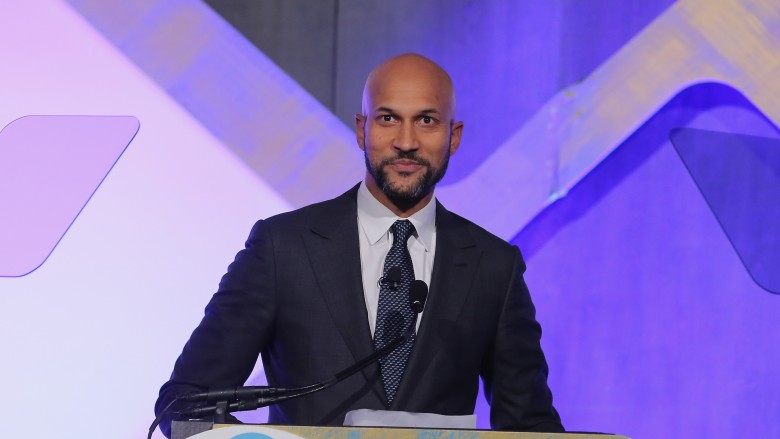 Getty Images
This Francesca Delbanco and Nick Stoller-created series is sure to create some side-stitches in its viewers, as the latter half of the real-life husband-and-wife pair has worked on some of the most quotable comedy films in recent years—we're talkin' Forgetting Sarah Marshall and Neighbors, guys. Starring one of the funniest funny men out there, Keegan-Michael Key, alongside How I Met Your Mother's Cobie Smulders, Friends from College's premise is one that becomes reality for almost everyone: you and your once-rowdy college friends are officially middle-aged—and you're coping with it in some pretty interesting ways. The Netflix comedy will gift audiences eight episodes in its first season, and will also star Fred Savage, award-winning screenwriter Nat Faxon, and Funny or Die's mad-dashing extrovert, Billy Eichner.
Dark
We all know how captivated audiences were in the summer of 2015 when Making a Murderer made its Netflix debut, subsequently taking the TV-watching world by storm with its winding tale of drama, behind-the-scenes footage, and shocking secrets. It seems history will repeat itself with Dark, a family drama that tracks the trauma and devastation that rock a small German town following the mysterious disappearance of two children. While it's a work of fiction, it seems the show is guaranteed to incite goosebumps and grim realizations in its audience throughout its 10-episode first season. Dark will also make history outside of its chilling, supernatural story: it's Netflix's very first German drama series. Considering what we know so far, we think Netflix made a fantastic choice.
Big Mouth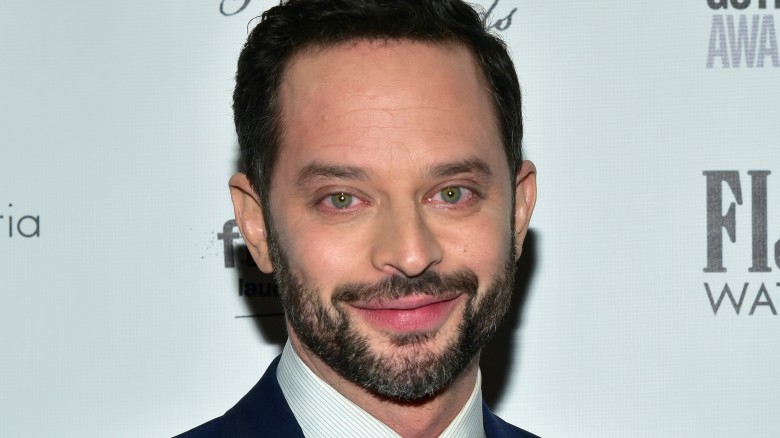 Getty Images
After the gritty thrillers and action-filled shows coming to Netflix in 2017, mellow out with this tongue-in-cheek, slightly risky animated comedy from the outrageously funny Nick Kroll and Andrew Goldberg. According to its best-friend creators, Big Mouth has been a long time coming: as Kroll put it in a Netflix press release, "Andrew and I have been best friends since first grade, so this show is over 30 years in the making."
Not only does Kroll serve as creator, he's also voicing one of the main characters: himself. Goldberg, however, hands over his character to another comedy legend, John Mulaney, whose stand-up specials are amongst the highest-rated on Netflix. Given that the talking heads behind the show have a real and strong bond, it seems Big Mouth can balance heart with its humor—which it's got a ton of. Kroll and Mulaney are joined in the cast by a ton of comedic talent, including Maya Rudolph, Jordan Peele, Jessi Klein, Jenny Slate, and Fred Armisen. Big Mouth is set for release later in 2017.
Girlboss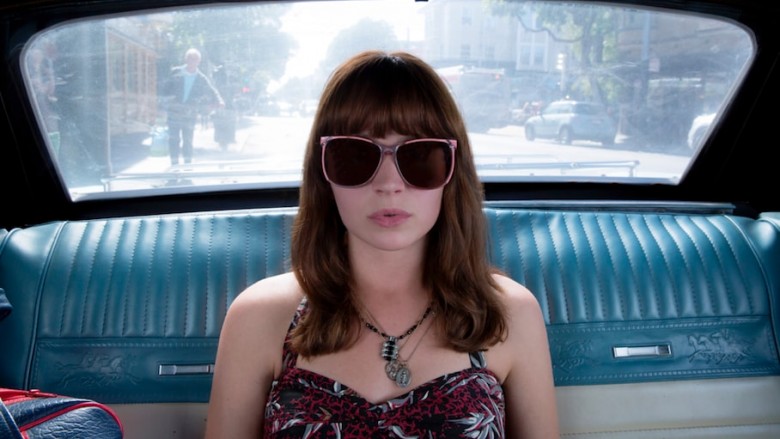 Britt Robertson (Tomorrowland, The First Time) stars as the Girl Boss herself, Sophia Amoruso, in this April 2017 Netflix release. Based off Amoruso's acclaimed autobiography, Girlboss is centered around the clothing brand entrepreneur's rise to success. Starting off humbly selling vintage threads on eBay, Amoruso shot into international stardom after starting up the wildly popular and wickedly trendy fashion-brand-turned-empire Nasty Gal. The comedy series has Pitch Perfect and 30 Rock writer Kay Cannon as its creator and lead executive producer, as well as popular actress Charlize Theron and How to Be Single director Christian Ditter taking on additional producer roles. Joining Robertson in the lead role is Johnny Simmons as Shane, Ellie Reed as Annie, and Dean Norris as Jay. Netflix fanatics can anticipate 13 episodes of Girlboss upon its release.
Ozark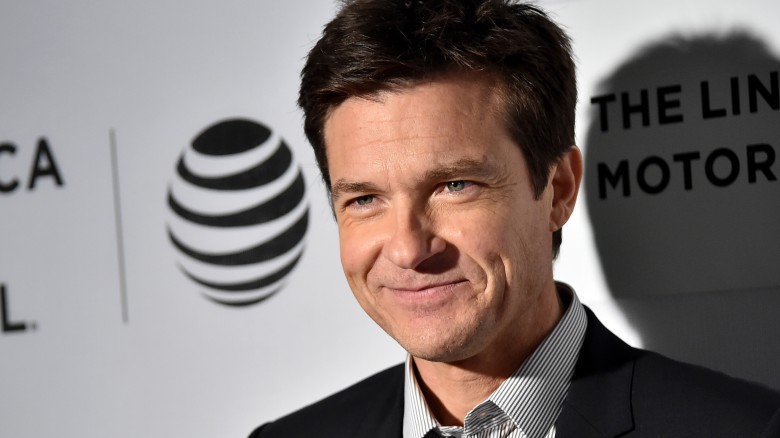 Getty Images
Filmgoers saw Jason Bateman play a slightly more sinister character than his usual goofball charmer in Joel Edgerton's 2015 thriller The Gift. It seems this more mature environment is one in which the actor thrives, as he settles into a sordid role in Netflix's upcoming series Ozark. Bateman stars alongside Laura Linney as Marty Bird, a financial planner who packs up his life in the Chicago suburbs and heads to a home near the Lake of the Ozarks in Missouri. But his intentions aren't so squeaky clean, as the show reveals Marty is desperate to relinquish his debts owed to a drug lord. The dark and dicey series tackles all-too-real themes of economic insecurity, familial ties, and the sometimes crushing weight of capitalism. Ozark hits Netflix in mid-to-late 2017, with Bateman himself on the bill as writer and director of five of the series's first ten episodes.
Dear White People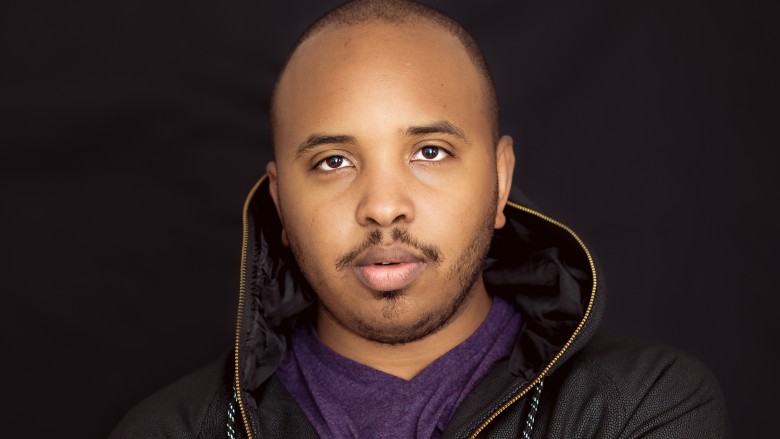 2014 saw the indie film Dear White People bring racial tensions in a bright-white community to the surface, and handled it with a ton of smarts and satire. Piggybacking off the Justin Simien-directed original comes the television adaptation of the same name, taken under Lionsgate Television's wing. The show is more or less like its movie source material: a group of Ivy League students of color navigate their nearly all-white Winchester University campus to discover not only is the lack of diversity shocking, but so is the number of misinformed or just plain biased students. The Dear White People series offers more freshness, heaps more satire, tons of laughs, and a refreshingly honest look into the imbalances and issues of our modern society. It's set to premiere later in the year, and brings back most of the film's cast, including Brandon P. Bell, Logan Browning, and Antoinette Robertson.
El Chapo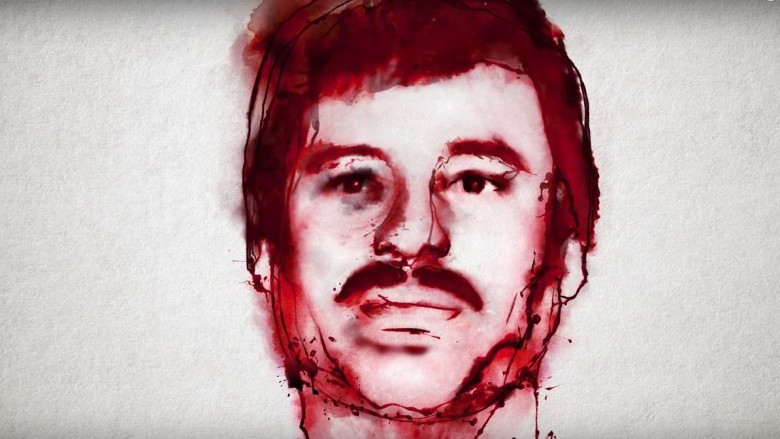 Netflix seems to have had kept its eye on the foreign entertainment realm heading into 2017, as the company has teamed up with Spanish language broadcast network Univision for this upcoming drama series centered around real-life drug lord and wanted criminal Joaquín Archivaldo Guzmán Loera, more commonly known by his nickname, "El Chapo."
The drama series, based on the trials (both criminal and emotional in nature) and insane illegal endeavors of Guzmán's life, will hit UniMas audiences before it reaches Netflix subscribers, but when it does, it promises to deliver big time. El Chapo joins the ranks of another criminal-cored Netflix series, Narcos, and the hype surrounding its upcoming release is tangible. Both the CEO of Univision and the CCO of Netflix are thrilled for audiences to finally dive into the drama, with the latter stating, "We are thrilled to partner with the award-winning Univision Story House on the timely and globally relevant drama series based on the life story of El Chapo." The show seems even more relevant following the first weeks of 2017, when El Chapo was finally extradited to the U.S. to face criminal charges.
Gypsy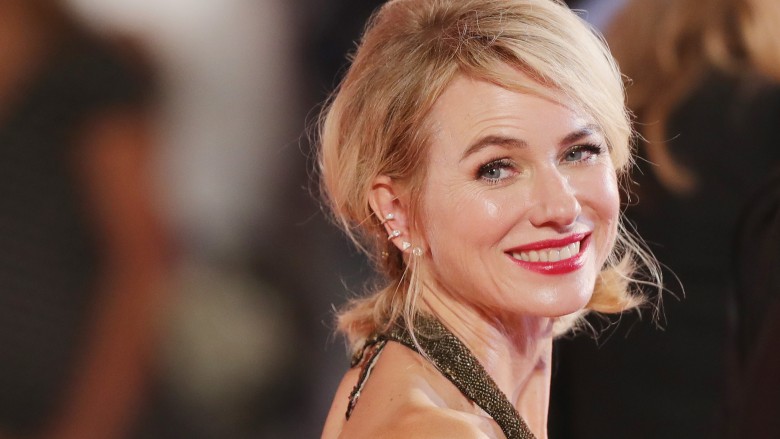 Getty Images
From the director who brought you Fifty Shades of Grey, Sam Taylor-Johnson, Gypsy weaves show writer Lisa Rubin's wicked tale of a therapist entangled in some controversial and scandalous relationships—ones that at best could cost her her reputation and at worse, her life. English actress Naomi Watts, whom audiences fell in love with in films like 21 Grams and Mulholland Drive, stars as twisted shrink Jean Holloway, with Billy Crudup by her side as her husband Michael. As with many of the series coming to Netflix in 2017, Gyspy will have a short first season, offering only ten episodes. Knowing the precarious premise, we're certain fans will soon be begging for more.