The Improvised Change That Helped Keep Knives Out PG-13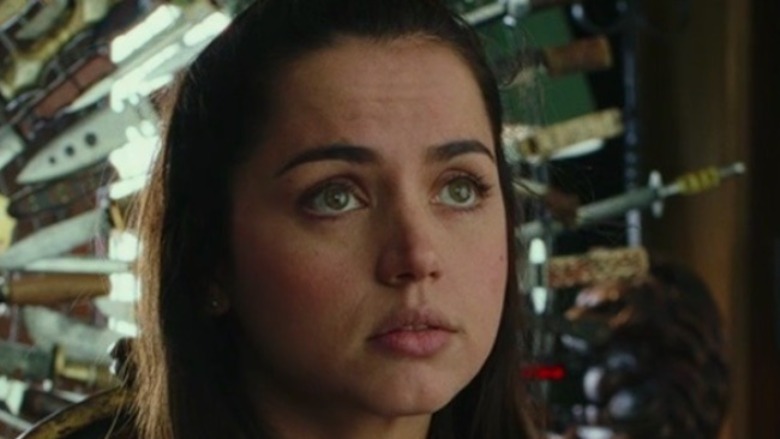 Lionsgate
"Knives Out," written and directed by Rian Johnson, follows Detective Benoit Blanc (Daniel Craig) as he investigates the mysterious death of famed — and wealthy — crime novelist Harlan Thrombey (Christopher Plummer). Each family member, all greedy in their own way ands reliant on Harlan's wealth and success — becomes a suspect, while Harlan's innocent-seeming nurse and close friend, Marta Cabrera (Ana de Armas), may be hiding something as well. Released in late 2019, the ensemble murder mystery comedy-drama was a major critical and commercial success — it earned approximately $311 million worldwide (via Box Office Mojo). At least two "Knives Out" sequels have been confirmed, which Variety reported were just bought by Netflix for a whopping $450 million.
The film's widespread success is, at least in part, due to its accessibility: with a PG-13 rating, younger audiences were able to see the film in theaters. But that may not have happened, as the initial script would've garnered "Knives Out" a much stricter R rating, and one line's last-minute change made the biggest impact.
Ransom's profane diatribe was initially even worse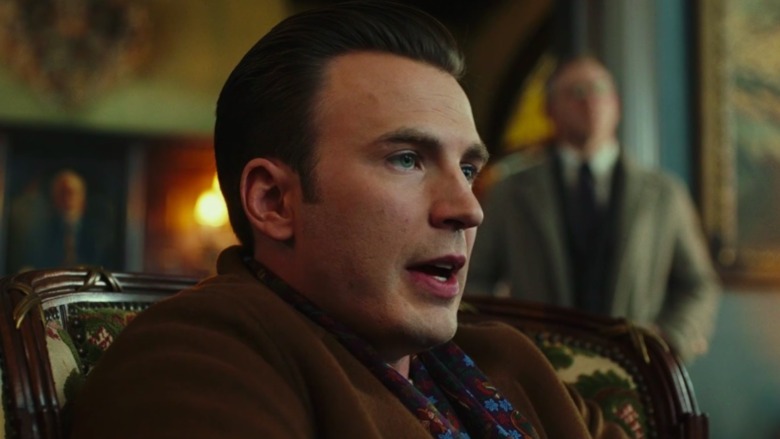 Lionsgate
In one scene, Harlan's grandson, Ransom Drysdale (Chris Evans), tells several of his family members to "eat s***" while pointing at each of them. The repetitive line is already pretty profane, but the original writing would've warranted an R rating without a doubt. In a video for Vanity Fair, in which Johnson breaks down and explains a scene, he reveals that he originally wrote it so that Ransom said "f*** you" to each of his family members. Since Ransom says the phrase to multiple characters back to back, it would've been several f-bombs in a row, which does not align with a PG-13 rating. 
"A big thing with this movie for me was remembering back to the Agatha Christie movies that I grew up watching with my family when I was 10 to 13 years old ... Remembering how much fun those movies were, the whole family sitting down to watch them together and I realized before shooting, you know what, I want this movie to be PG-13," Johnson explained. That meant he had to go through and remove a "ton of f-bombs" from the script, but this scene with Ransom proved one of the most pivotal and needed a worthy replacement; it was Evans who improvised the line that made it to the big screen. 
"We had cast Chris at that point, so we were riffing, like what should he say besides 'f*** you'? And Chris was just like, 'I think a good 'eat s***' always works' and I was like 'Aalright, I trust you,'" Johnson said. While a well-used f-bomb always makes an impact, it's hard to imagine the scene with anything other than the repeated "eat s***" — all thanks to Evans' improvisation.