What The Critics Are Saying About Netflix's Shadow And Bone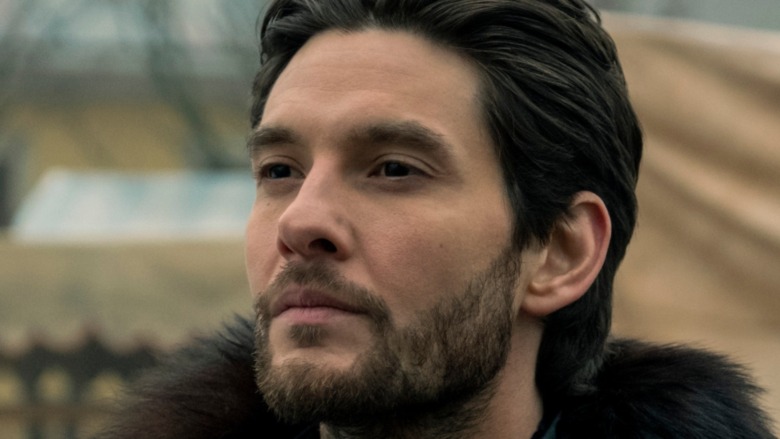 David Appleby/Netflix
Netflix has a great slate of April releases, in addition to its gargantuan library of movies and shows. But April isn't done yet, and the month features quite a few anticipated programs up its sleeves, such as "Yasuke" and "The Innocent Pet Stars." But before audiences get to experience those particular titles, they can watch the potential Emmy material that is "Shadow and Bone."
Based on Leigh Bardugo's New York Times best-selling Grishaverse book series, "Shadow and Bone" is scheduled for release on April 23. And, while audiences have yet to dive into it, some critics have snagged and streamed screeners in order to review the series. According to the reviews compiled on Rotten Tomatoes, the show has amassed an impressive 94% critics score thus far, though that's subject to change as more reviews roll in. "From gorgeous costumes to impressive — if intimidating — world-building, 'Shadow and Bone' is certainly as meticulous as its source material," the critics consensus reads in part.
Get lost in Shadow and Bone's characters and world
Netflix
"Shadow and Bone" takes place in a fantasy world that should provide many viewers with a novel setting and similarly unique plot threads and characters. While these features seem like a blessing, according to some reviewers, they also drag the show down into a mire of confusing exposition.
The Hollywood Reporter's Daniel Fienberg and Variety's Caroline Framke, for example, enjoyed the show's characters, especially Alina Starkov (Jessie Mei Li). Both reviewers praised Li's acting, as well as the decision to portray Starkov as half-Shu (the show's Chinese analogue). According to reviews, this alteration added depth to the persecution Alina faced and the sudden heel turn she experienced after her powers came to light. As Fienberg stated, "The racial subtext doesn't make the perfunctory love story any more interesting, but it gives Li something to play other than steadily decreasing awkwardness."
Polygon's Petrana Radulovic explained the adaptation "dumps a lot of lore on audiences very quickly, which may immediately appeal to longtime fans, just as potently as it might turn newcomers off the show." The various "Grisha" (people with magical abilities) and their classifications are egregious examples. Even the narrative itself faces problems. According to IGN's Nicole Clark, "certain storylines ... feel a little abrupt or out of place" because the show tries to cram so many plotlines into eight episodes.
Despite these issues, most reviewers gave "Shadow and Bone" a hearty recommendation. Perhaps with the lore dump growing pains out of the way, a potential Season 2 will shore up the first season's flaws and improve on the formula.