Elizabeth Olsen's Latest Doctor Strange 2 Tease Will Get You Hyped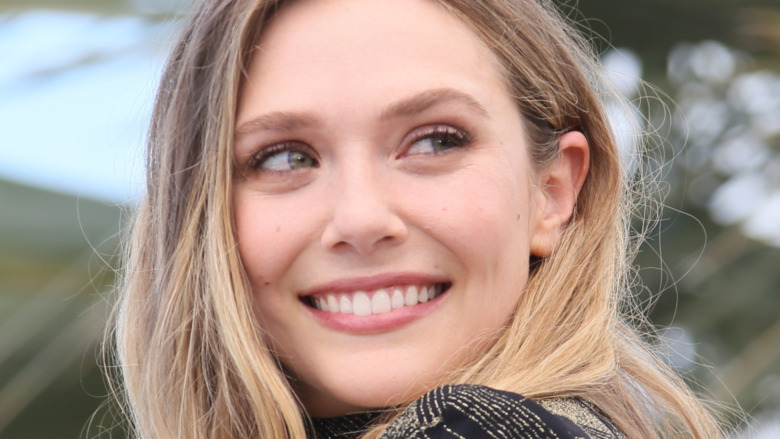 Shutterstock
"WandaVision," the first new Marvel project to drop after 2020's long COVID-19-induced drought, was an instant success. It currently holds a 91% critics score on Rotten Tomatoes, indicating just how much its creative premise, incredible attention to detail, and authentic depiction of grief resonated. However, for diehard MCU fans it provided something even more important than a thoughtful visual treatment of complex human themes: hints about what to expect in the rest of MCU Phase 4, specifically as it pertains to the forthcoming "Doctor Strange in the Multiverse of Madness."
In the post-credits scene of the "WandaVision" finale, we find Wanda (Elizabeth Olsen) living in a remote cabin, seemingly enjoying the solitude. But as the camera pushes through the tiny cabin in the woods, we see that Wanda is studying the Darkhold via astral projection, just as we've seen Doctor Strange (Benedict Cumberbatch) do in his own origin film. The Scarlet Witch herself has been confirmed to have a significant role in the upcoming "Doctor Strange" sequel, slated to be released in March 2022. 
 According to Elizabeth Olsen, the film will be a very exciting new entry in the MCU.
'It's a bonkers movie'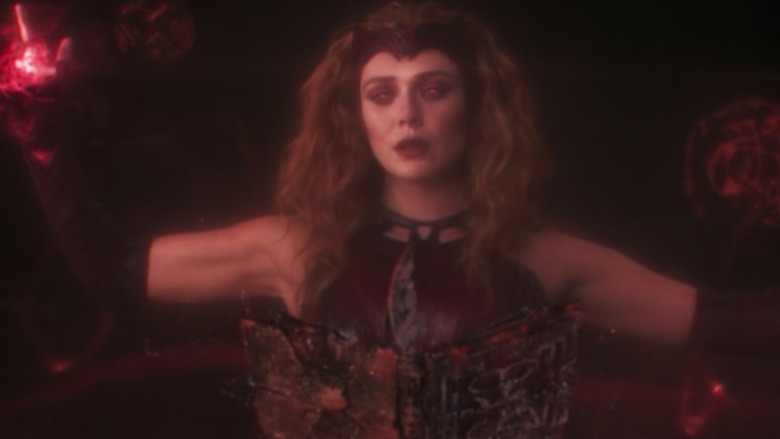 Marvel Studios/Disney+
In an interview with Glamour, Elizabeth Olsen gave fans a hint of what's to come in the "Doctor Strange" sequel. "It's a bonkers movie," she said, "They're definitely going for that horror show vibe."
As Wanda Maximoff and Stephen Strange are the most magical Avengers, it makes sense that the film will contain some pretty insane plot lines. While we still don't know for sure what the film entails, many fans have speculated based on what they've seen in "WandaVision."
In the aforementioned post-credits scene, as Wanda studies the Darkhold, she hears the voices of her children screaming for help. Wanda may seek the help of Strange to find her children, who might still exist somewhere in the multiverse. Earlier in "WandaVision," antagonist Agatha Harkness (Kathryn Hahn) told Wanda that her powers may one day exceed the Sorcerer Supreme, a title currently held by Strange. With Wanda seemingly struggling with her newly understood chaos magic, it's also possible that she'll play a more villainous role in the upcoming film.
After the long drought, more MCU projects are slated to premiere in the upcoming months, including "Shang-Chi and the Legend of the Ten Rings," "Loki," "The Eternals," and (finally) "Black Widow." We're sure even more teases, clues, and Easter eggs about "Doctor Strange in the Multiverse of Madness" will be forthcoming, so stay tuned.