The Transformation Of Julia Garner From Childhood To Ozark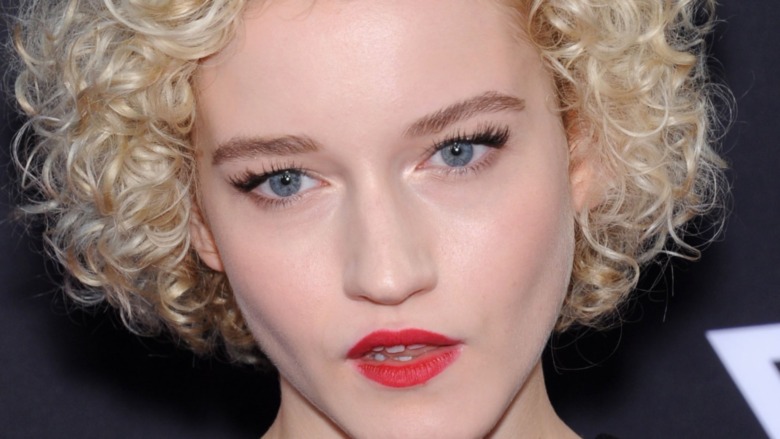 Shutterstock
At just 27, Julia Garner is already a major Hollywood success story. Just 10-years removed from her big screen debut in the indie film "Martha Marcy May Marlene," Garner is the recipient of two Primetime Emmy Awards, having been honored for her portrayal of Ruth Langmore in Netflix's popular crime drama "Ozark." She's also been nominated for a Golden Globe Award, a Screen Actors Guild Award, and a Critics Choice Award for the same role.
What's most surprising about Garner's quick rise to the top of the acting world is that she didn't even start acting until she was a teenager. In an interview for Yahoo!'s BUILD series, Garner revealed that she started taking acting classes at 15 because she wanted to overcome her shyness. From there, she appeared in a number of student films for Columbia's film school, which set her on the impressive path she is on today. To get a complete look at her career, from her film debut to "Ozark" and beyond, here's a look at Garner's transformation from shy teen to award-winning thespian stealing scenes on one of Netflix's buzziest shows.
Garner got her big break in Martha Marcy May Marlene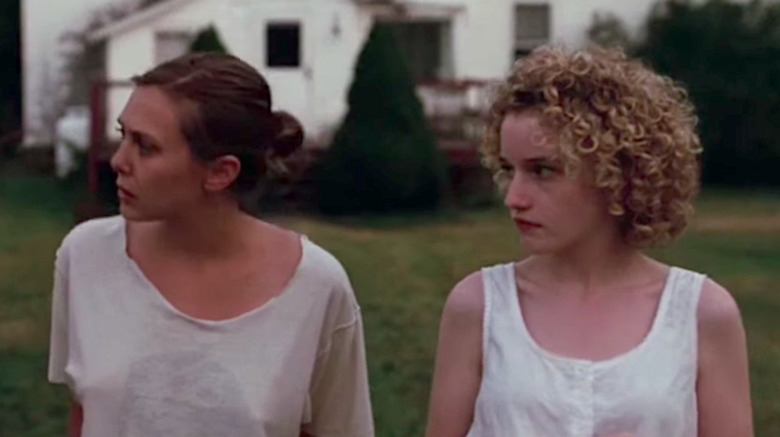 Searchlight Pictures
The talent on display in Sean Durkin's 2011 indie film "Martha Marcy May Marlene" is an embarrassment of riches. The acclaimed film, which debuted at Park City, Utah's influential Sundance Film Festival, stars Elizabeth Olsen as a paranoid young woman who escapes a cult in the Catskills led by the fearsome Patrick (John Hawkes). After fleeing into the woods, she goes to live with her sister Lucy, played by Emmy Award-winner Sarah Paulson, and her wealthy husband, Ted (Hugh Dancy). 
Garner's role in the film was small, but she made it count, portraying Sarah, a vulnerable young teen who is a newcomer to the same cult holding Olsen's Martha. Garner landed the role at the age of 16 after previously attending an open casting call for a different project that she'd heard about through an acquaintance. It was a call organized by casting director Susan Shopmaker, and although Garner didn't get that role (which was for "Skins"), Shopmaker cast her in "Martha Marcy May Marlene" just a few months later.
She followed that up with her first leading role in Electrick Children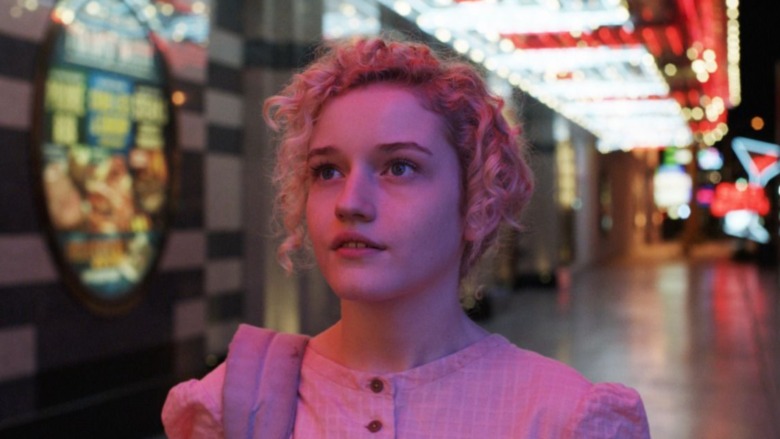 Phase 4 Films
In 2012, Garner landed her first leading role in the film "Electrick Children." Written and directed by Rebecca Thomas, the indie film follows Garner's Rachel, a 15-year-old girl from a fundamentalist Mormon community in Utah who believes she was miraculously impregnated after listening to a song by an obscure rock band recorded on a forbidden cassette tape. Rather than take part in a shotgun wedding like her parents want, Rachel flees to Las Vegas, embarking on a personal journey that puts her on a collision course with a young skater named Clyde (Rory Culkin), who says he'll marry her, and her biological father (Bill Sage), who turns out to be the man on the cassette tape.
Garner wasn't originally meant to lead "Electrick Children."' As she revealed in an interview with The New York Times, another actress had been cast in the role of Rachel, but the film's producers decided not to move forward with her at the last minute. "I came in the week before the project. I did a self-taping on Monday. I got the job by Wednesday," Garner said. "By Sunday I was already flying out to L.A. to meet up with Rebecca. And by Tuesday I was in Utah, shooting the movie."
On TV, she had a recurring role on The Americans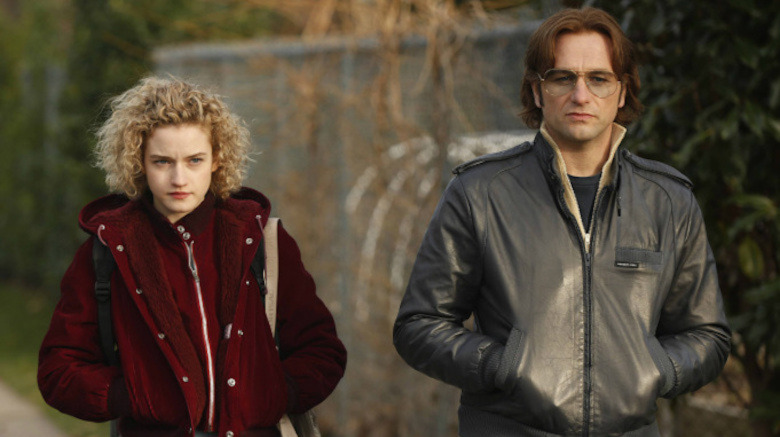 FX
After "Electrick Children," Garner had roles in films like "We Are What We Are" and "Sin City: A Dame to Kill For," but she didn't just stick to film. In 2015, Garner appeared in a recurring role on the Emmy Award-winning series "The Americans." Set in the 1980s during the Cold War, the critically acclaimed FX drama stars Keri Russell and Matthew Rhys as Elizabeth and Philip Jennings, a pair of well-trained Russian spies masquerading as a married American couple in Washington, DC. Garner joined the show during its third season, portraying Kimmy Breland, the bored teenage daughter of a CIA agent who becomes an unsuspecting KGB asset after Philip befriends under an alias and a hip disguise.
Garner would go on to appear in 10 episodes of "The Americans," making her last appearance during the show's sixth and final season in an episode that finds Elizabeth attempting to get Philip to take Kimmy to Bulgaria during a vacation in Greece so the KGB can kidnap her and hold her for ransom. Philip ultimately backs out of the plan at the last minute, and we never see Kimmy again.
All of this led Garner to Ozark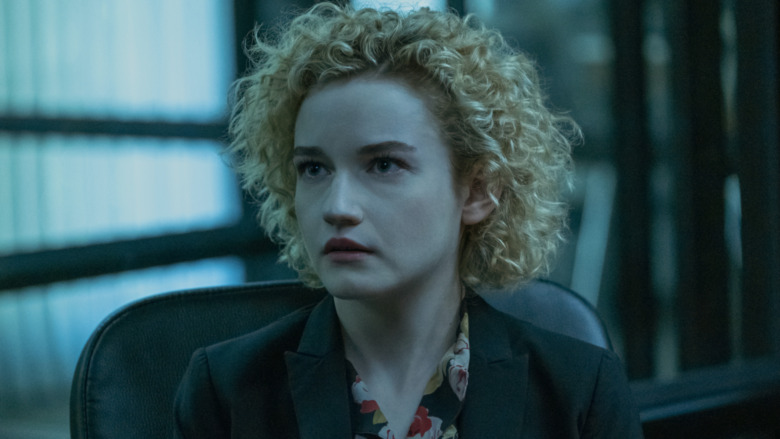 Steve Dietl/Netflix
Although the character of Ruth Langmore does not appear in the "Ozark" pilot, Garner said she loved the writing of the episode and was hooked on the show, which stars Jason Bateman and Laura Linney as a married couple who find themselves embroiled in a major money laundering scheme in southern Missouri. Along the way they encounter many local criminals, including Ruth's family, the Langmores. Although Ruth originally intends to betray Bateman's Marty, the two eventually become business partners and eventually even friends. 
Garner's scene-stealing performance as Ruth has (so far) landed her two Supporting Actress Emmys and a slew of other award nominations. She famously defeated four "Game of Thrones" actresses to take home her first award for the role, and it feels like she's just getting started. After the debut of "Ozark," Garner landed roles on limited series like "Waco" and "Maniac," and had a starring role in the first season of the crime drama "Dirty John." She also recently appeared in Amazon's "Modern Love" anthology series.