Here's How You Can Watch Every Episode Of 24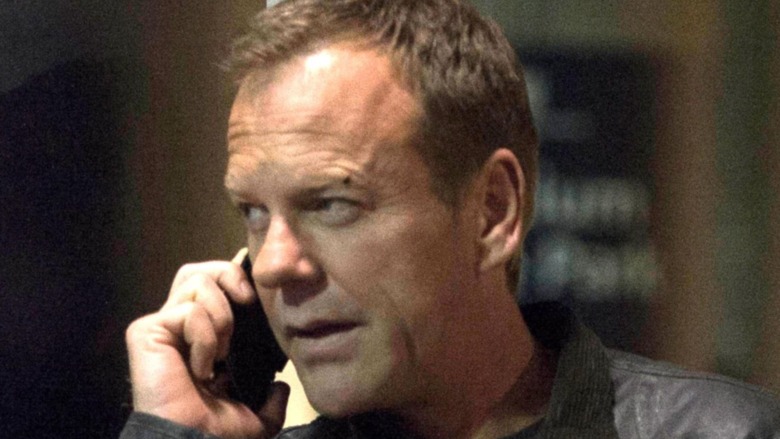 20th Television
In the annals of network TV from the early 2000s, few shows were as feverishly hyped as Fox's breathless real-time political thriller 24. Even fewer could have managed to live up to such hype. But 24 was not just any show. And the action-packed, twist-a-minute saga actually surpassed its own hype-train when it debuted in the fall of 2001, setting the primetime television landscape ablaze via a run of episodes as groundbreaking in concept as they were unabashedly entertaining. 
At the center of the harrowing 24-hour saga is the show's (ahem) jack-of-all-counter-intelligence-trades, Jack Bauer (Kiefer Sutherland), whose background includes Special Forces training, a stint with the CIA, and some freelance work with the LAPD. By the time we meet Jack in Season 1 of 24, he's the go-to fixer for the L.A. branch of the fictional CTU (Counter Terrorism Unit), fronting a case that involves a likely assassination attempt of Senator David Palmer (Dennis Haysbert), who's making a bid to become the first African American President of the United States.
Over the season's 24 episodes (each representing a single hour in the day), things get complicated in ways too convoluted to describe here. And for those looking to untangle the intricate web of 24's groundbreaking inaugural season with fresh eyes, or those out to experience every thrill and chill for the second, third, of fourth time, you can now do so in the streaming realm. 
Hulu subscribers can now binge away at every electrifying season of 24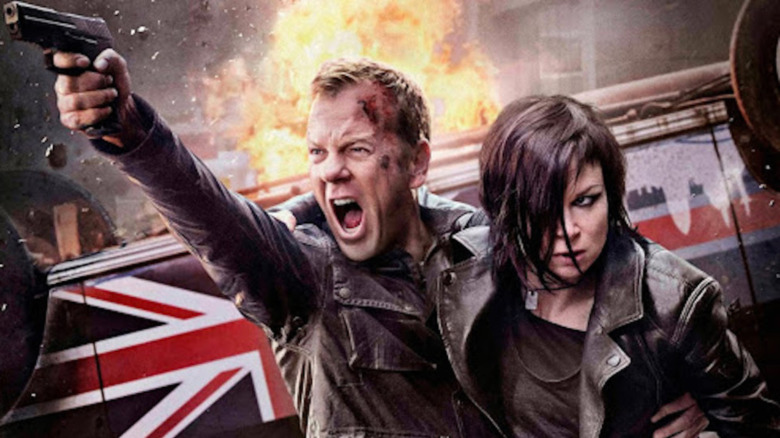 20th Television
Wherever you fall on the 24 viewership spectrum, know that during its first season on air, it was arguably the most original, entertaining show on television. It also made a small screen superstar of Sutherland, and launched a TV franchise that ran for eight full seasons. And yes, Hulu subscribers looking to explore the dramatic highs and lows of the eight longest days of Jack Bauer's life can now go all in on a proper 195-episode 24 binge should they choose to. Heck, they can even revisit 2014's 24 revival with its James Bond-like subtitle Live Another Day. And if you're a true-blue 24 purist, you can trudge through 2017's Kiefer Sutherland-less 24 reboot — which carried the Jason Bourne-esque caption Legacy.
Now, a 200-plus episode playlist might seem daunting to some, especially as even die-hard 24 fans would likely admit the series never quite recaptured the lighting-in-a-jar immediacy of Season 1's pulse-pounding, day-in-the-life insanity in ensuing seasons. Each new day-long season did, however, put its own unique twist on the series' wildly innovative concept. And each brought memorable appearances from impressive supporting casts featuring the likes of Zachary Quinto (Star Trek reboot), Katee Sackhoff (Battlestar Galactica, The Mandalorian), Yvonne Strahovsky (Chuck, The Handmaid's Tale), Colm Feore (The Umbrella Academy), and Jean Smart (Legion, HBO's Watchmen) to name a few.
Of course, they also included scene-stealing work from the great Mary Lynn Rajskub, though Kiefer Sutherland was inarguably the star of the show over 24's eight proper seasons and its 12-episode revival. And in case there were any doubts, the seasoned actor delivered the goods — and then some — in his lauded, years-long run as the heroically fallible Jack Bauer. 
Find out for yourself: binge 24 on Hulu today.