The Wrestling Star That Visited Pawn Stars To Verify His Own Memorabilia
When someone brings something into the Pawn Stars shop, they really don't know what they're going to get. This goes for the workers as well, hence why in the intro of the show, owner Rick Harrison says, "You never know WHAT is gonna come through that door." Well, this couldn't have been more true for both parties in season 18, episode 14, "That's the Way the Cookie Crumbles."
A man brings in some signed wrestling memorabilia to the pawn shop, but the only problem is that Rick doesn't know anything about wrestling and his signature expert is out of town. As a result, Chumlee steps in to take care of business and calls someone no one expects to see. To everyone's surprise, Chumlee brings in the pro wrestler himself to verify the signatures. What happens next is even more unpredictable than that special guest appearance.
Check out which famous wrestler ended up visiting Pawn Stars to verify his own memorabilia.
The price of meeting a wrestling celebrity on Pawn Stars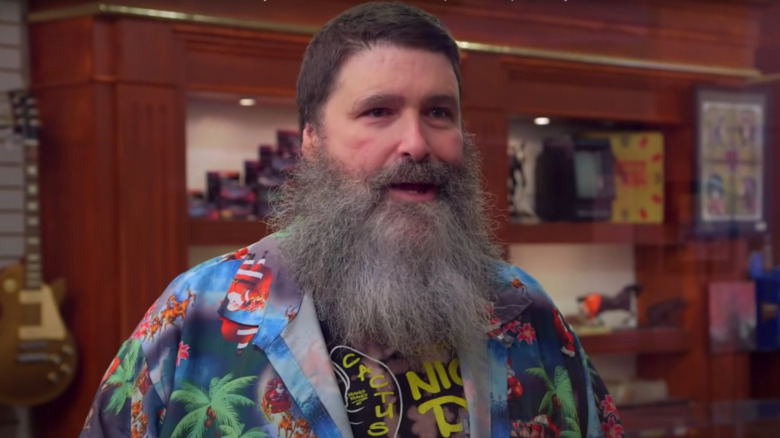 History
A man brings in a vintage WWE Dude Love T-shirt and a Mankind mask signed by Mick Foley. Although Rick is impressed with these items, he admits he has no clue about anything related to wrestling, so he calls in Chumlee to help him out. Chumlee provides Rick with Mick Foley's history in wrestling. This all seems to go over Rick's head, who is interested in the Mick Foley signature's authenticity. Unfortunately, Rick's autograph authenticator, Steve Grad, isn't in town. The man wants $500 for both of the items, and the signature has to be authenticated before any offers are made. Surprisingly, Chumlee has someone in mind who can come and verify this signature.
In walks the man himself: Mick Foley, who has wrestled under the names Cactus Jack, Mankind, and Dude Love. The owner of the memorabilia could not believe it. Foley gives the guys some additional information on the mask and verifies that it is his signature. The mask is also in excellent condition, as is the Dude Love T-shirt. After a quick examination, Foley shares that this T-shirt is legitimate and that it's one of the first Dude Love shirts to be made. Unfortunately, Foley doesn't know what these items are worth.
After the legendary wrestler leaves with his signature catchphrases, Rick gets back to work and offers the guys $200 for the two items. The owner, an obvious wrestling fan, decides he can't sell it for that low and happily walks away, satisfied by simply meeting Mick Foley.