The Truth About Sam And Cat's Relationship On Sam & Cat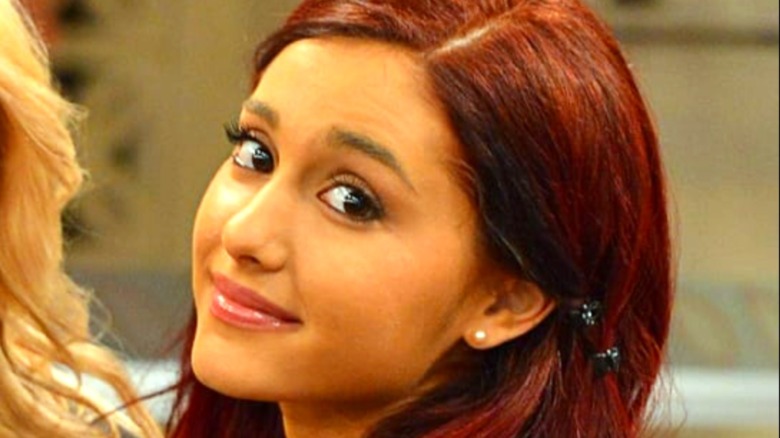 Nickelodeon
When Nickelodeon announced a spinoff of iCarly and Victorious, fans everywhere broke out into random dancing. Okay, maybe not — but the excitement was tangible. The hit show Sam & Cat premiered to an audience of 4.2 million, which broke the then-record for Nickelodeon's biggest live-action launch (via TV by the Numbers). The show starred Jennette McCurdy as her iCarly character Sam Puckett, alongside Victorious' Ariana Grande, who played Cat Valentine. 
Here's the setup: When Cat gets accidentally dumped into a garbage truck, Sam saves her, and the two become fast friends. They soon decide to open up a babysitting business, despite their conflicting personalities. Though things seemed to go well for the show at first (it was greenlit for 40 episodes one month after it premiered), it soon hit a snag, and Nickelodeon announced it was going on hiatus. By July 2014, Sam & Cat was officially over, leading fans to speculate about what really went on behind the scenes.
Rumors circulated around the end of Sam & Cat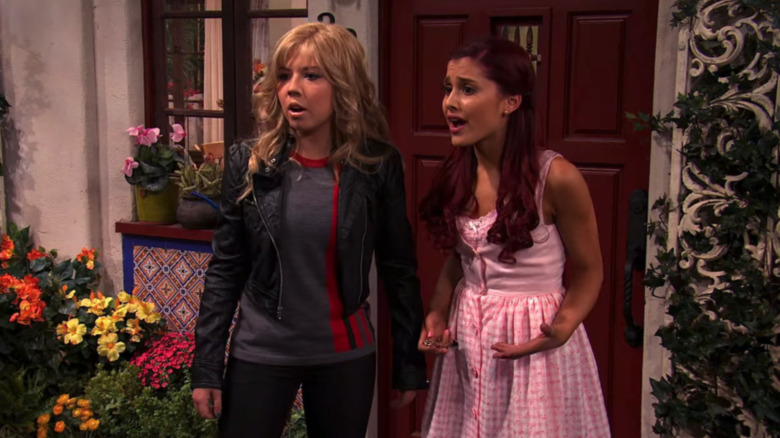 Nickelodeon
Though Sam and Cat seemed to get along onscreen despite their differences, rumors circulated that in real life Grande and McCurdy didn't have such a great relationship. When McCurdy didn't attend the Kid's Choice Awards in 2014, some thought it was due to rumors that Grande was getting paid more for her work on Sam & Cat — which Grande vehemently denied in a TwitLonger. McCurdy kept her reasoning vague, saying she was "put in an uncomfortable, compromising, unfair situation" by Nickelodeon (via Teen) — leading to more speculation about pay disputes. Then, in June 2014 McCurdy published a TwitLonger about letting go of a toxic friendship. Interesting timing, considering it was posted around the time Sam & Cat was canceled. To make matters worse, when Grande posted a farewell letter to the fans, cast, and crew of Sam & Cat, there was no mention of McCurdy to be seen.
Rumors flew again at the end of 2014 when McCurdy's next project, a web series entitled What's Next for Sarah? featured a character who seemed a little too similar to Grande. Featuring a high ponytail, the character named Gloriana rambled on about her music career and her successful life. Fans took that as a direct dig at Grande, as it definitely was not a flattering portrayal.
McCurdy cleared the air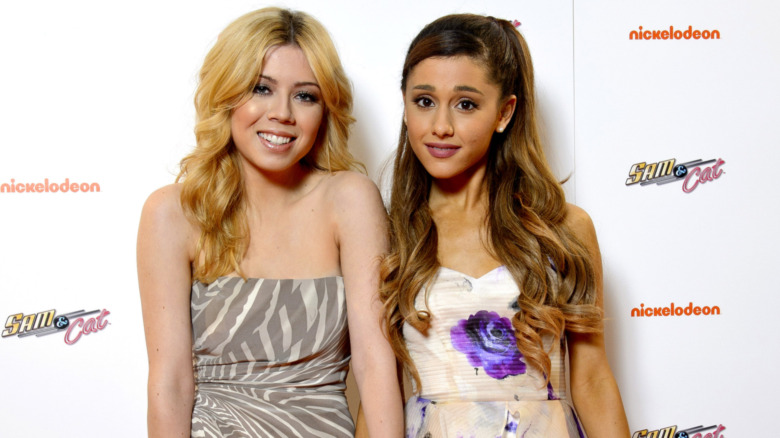 Ben A. Pruchnie/Getty Images
Despite the rumors, McCurdy has spoken out a few times about her relationship with Grande. In 2015, McCurdy addressed the misconception that she and Grande didn't get along. "I just feel that, you know Ariana and I were and are extremely close and very like-minded in a lot of different ways and then, sorta as the show dissolved, everybody wanted to find some sort of hidden meaning in our relationship," she told E! News. "Some like drama and I think we butted heads at times but in a very sisterly way. She knows me so well and I know her so well that I think it was unfortunate that things kind of got misconstrued."
In 2018 once Grande's engagement to Pete Davidson was announced, McCurdy had only kind things to say. "I'm super proud of her and excited for her. I hope that she's super happy" (via Entertainment Tonight). And though Grande hasn't publicly commented on the rumors, there hasn't been any recent speculation about any trouble between the two.
Fans who'd like to keep happy memories of Sam and Cat in their hearts can catch up with the wacky duo on Netflix.