The Untold Truth Of Marvel's Poundcakes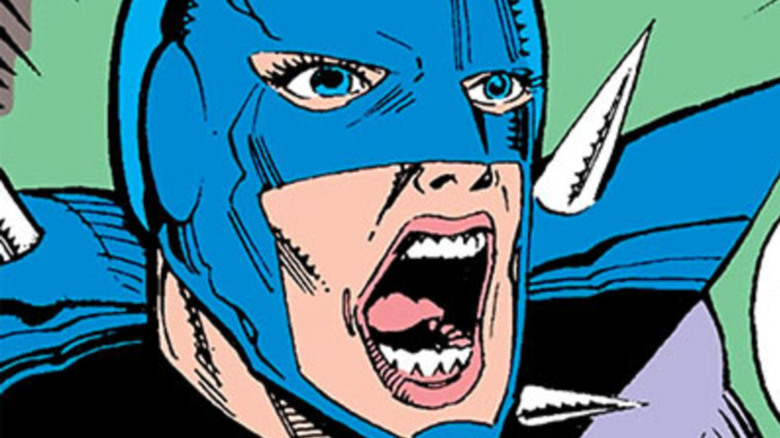 Mark Bagley, Ron Lim/Marvel
It's not often that a villain is named after a dessert, but Marvel's Poundcakes takes more inspiration from the "pounding" than the "cake" — get it? She punches things.
This little-known Marvel heavyweight is jumping from the page to the screen in Marvel's upcoming animated series M.O.D.O.K., where she'll be voiced by none other than Whoopi Goldberg. M.O.D.O.K. is bringing an unusual style to the brand name Marvel with its Robot Chicken-like animation and definitively adult humor.
The titular M.O.D.O.K., or Mental Organism Designed Only for Killing, is at the center of the stop-motion Hulu series, played by Patton Oswalt. He's the villainous head — quite literally — of the criminal organization A.I.M., but he's fired after running it into bankruptcy and forced to find a new path in life while dealing with his failing marriage to his wife, Jodie (Lucifer's Aimee Garcia). All he wants is to destroy the world, but life just keeps getting in the way.
The other regulars on the 10-episode series are M.O.D.O.K.'s son, Lou (Parks and Recreations' Ben Schwartz), his daughter, Melissa (Brooklyn Nine-Nine's Melissa Fumero), and his work nemesis Monica Rappaccini (Reno 911!'s Wendi McLendon-Covey).
So, how does Goldberg's Poundcakes figure into all this? Well, that's a mystery at this point, but here's the comic book background of this villain.
Poundcakes is a professional wrestler hired for sabotage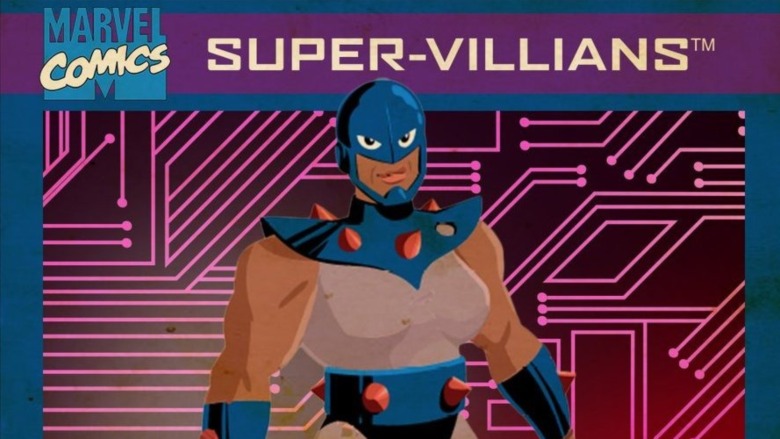 Hulu
Despite the deliciousness of her name, Poundcakes has a less than sweet disposition. Real name Marian Pouncy, she's a rough-around-the-edges wrestler who sports a spiked leather get-up. Her cohorts are Letha, Screaming Mimi, and Titania, and together they make up the women's wrestling team the Grapplers. Poundcakes plays a "heel" in the ring — professional wrestling parlance for a villainous character – but she takes it out of the ring and into her real life.
As it turns out, wrestling doesn't pay much — at least for these women. So to make some extra cash, they turn to crime. Poundcakes already has a criminal record for extortion by the time Roxxon Oil Company hires the Grapplers, along with Thundra, to sabotage the government-funded energy research, Project P.E.G.A.S.U.S., in 1979's Marvel Two-In-One Vol. 1 #54. Roxxon outfits the group with some sweet gear: Poundcakes gets earthquake boots that create seismic vibrations when she stomps her feet. However, the Grapplers' plan is foiled by the P.E.G.A.S.U.S. security team, including the Thing, and the wrestlers are arrested.
She gains super strength and nearly ruins Captain America's date with Diamondback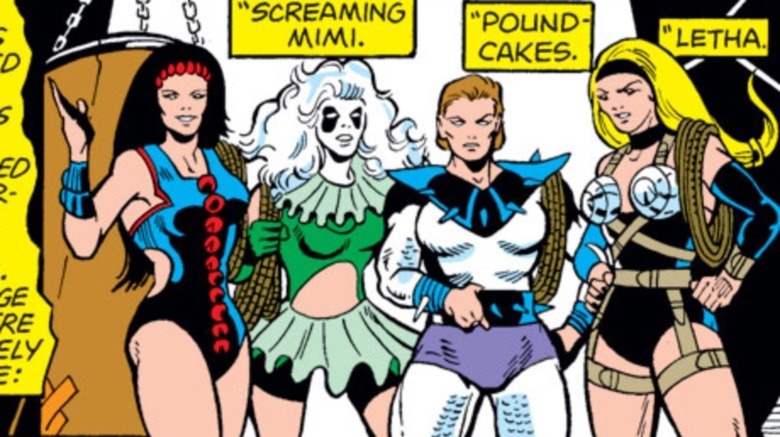 George Perez/Marvel
Of course, as comic book villains, Poundcakes and the other Grapplers don't stay in prison for long. When the Thing is in the hospital, they try to take revenge on him but are thwarted by Captain America. As it turns out, several villains had the exact same idea to strike while the Thing is vulnerable, but his superhero friends easily keep him safe.
Then, in an effort to put the villainy behind them, the Grapplers sign up for some strength juice from the Power Broker — the mystery person funding the Super Soldier Serum in The Falcon and the Winter Soldier. Poundcakes and her crew get souped-up strength and durability, then join the new women's division of the Unlimited Class Wrestling Federation, a wrestling league for enhanced people. However, the peace doesn't last forever as one of the Scourges of the Underworld, a supervillain killing group, kills Titania in their locker room in The Thing Vol. 1 #33.
Later, Poundcakes has another troubling encounter with Captain America: When she's hit on by the sleazy Jackhammer, their ensuing fight nearly interrupts Cap's date with Diamondback in Captain America Vol. 1 #371. However, Diamondback's Serpent Society friends subdue them to keep the date going smoothly.
After that, Poundcakes dabbles with the female supervillain group Femizons, goes solo, and fights U.S. Agents over some contraband she sold to Atlanteans before her dead teammates are resurrected and they're all put in superhuman prison. Well, except for Screaming Mimi, who's since taken on the name Songbird and joined the faux hero group the Thunderbolts.
Poundcakes meets the Wasp and tries for redemption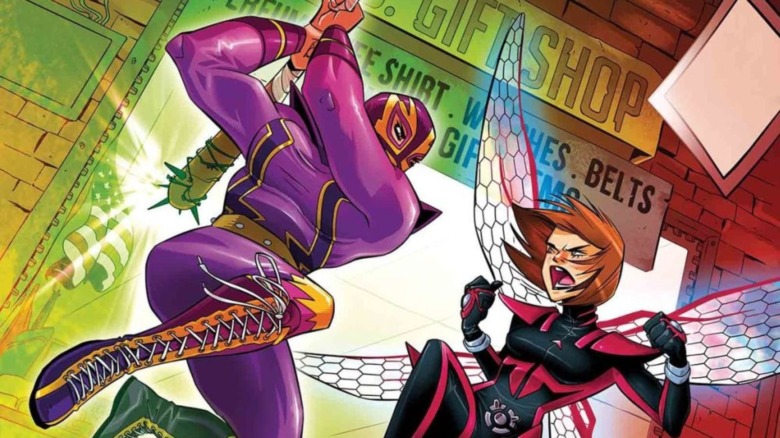 Elsa Charretier/Marvel
Despite her rough exterior, Poundcakes doesn't have the grand, world-conquering motivations of a true supervillain — mostly, she's just in it for the money and the punching. So when she's offered a chance to go legitimate in Unstoppable Wasp, she takes it: Upon trying to extort a shop owner in New York, she meets (and battles) the Wasp, who wants to reform her and asks her to join Genius In action Research Labs (G.I.R.L.) as a security officer.
It's with G.I.R.L. that she finds Pym Labs attacked by A.I.M. — you know, M.O.D.O.K.'s criminal organization. Finally, she's on the same pages as M.O.D.O.K. with her cameo in 2021's M.O.D.O.K.: Head Games Vol 1 #2, when a brawl breaks out at the Criminal Technology Show Expo.
Considering the little contact they've had so far in the comic books, the Hulu series will be treading new water with however it decides to bring Poundcakes into the fold. In any case, expect her to be belligerently wrestling and probably not making great decisions.