The Charmed Reunion You Never Realized Happened On Grey's Anatomy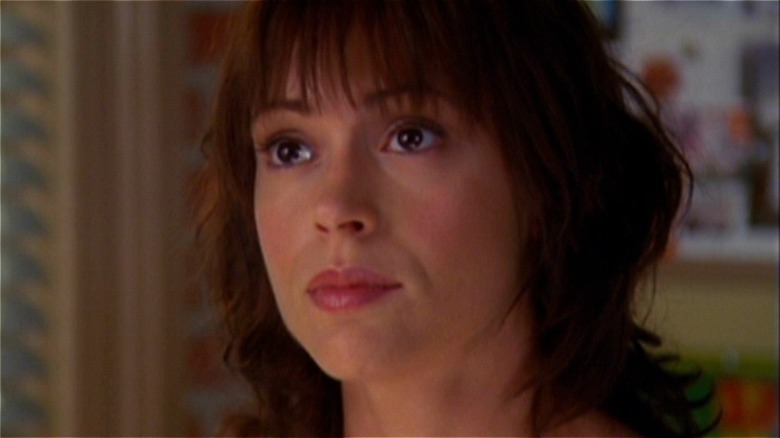 CBS
It's always fun when actors from shows or movies of the past pop up unexpectedly in other projects. It's especially fun when multiple people from the same previous work appear in something new together. Television is particularly a hotbed of such activity, and one example can be found in television behemoth Grey's Anatomy. In episode 3, season 16 of the ABC medical drama, two actresses from the beloved '90s and 2000s series Charmed – Alyssa Milano and Holly Marie Combs — guest starred together.
In Charmed, which ran for eight seasons from 1998 through 2006, the actresses played two of three witch sisters. Milano played Phoebe Halliwell and Combs played Piper Halliwell. Shannen Doherty originally played the third sister, Prue Halliwell. Doherty, however, was effectively replaced after the third season by Rose McGowan, who played the part of long-lost half-sister Paige Matthews.
Both Milano and Combs hadn't been seen on the same screen together since the series finale of Charmed in May 2006. ABC changed that, however, much to the delight of those who loved The WB's supernatural series.
Here's a deeper look at the Charmed reunion you never realized happened on Grey's Anatomy.
Combs and Milano played sisters once more on Grey's Anatomy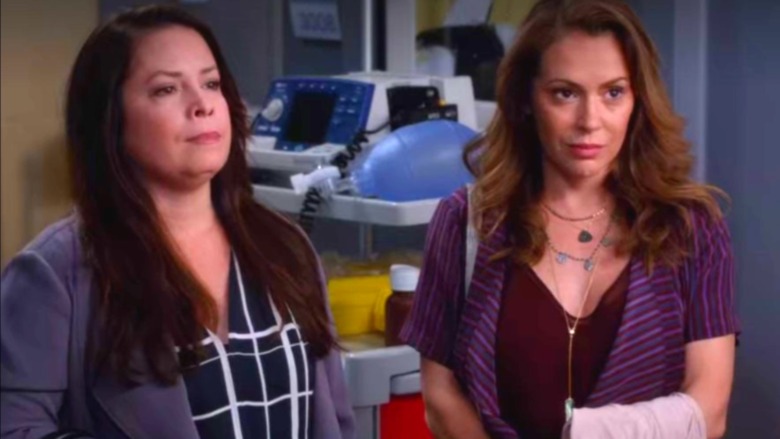 ABC
In the Oct. 10, 2019 episode of Grey's, aptly called "Reunited," Alyssa Milano (Mistresses, Insatiable) plays Haylee Peterson and Combs (Pretty Little Liars) plays Heidi Peterson. The sisters converge at the hospital after their third sister is severely injured from falling into a construction site. Dr. Weber explains that their sister, Heather, fell about 30 feet and suffered such brain damage that she's likely permanently brain dead.  From there, Haylee and Heidi try to decide whether or not to unplug Heather from life support.
Haylee is frustrated she and Heather were somewhat estranged and now won't get the chance to make up because of a freak accident. The sisters fight about Heather's situation and things in their past, until Richard gruffly reminds them they should be focused on caring for Heather, and should lean on each other to cope.
Toward the end of the episode, the sisters sit together to bid Heather goodbye as her life support machine is unplugged ... only to find out from a phone call that Heather is alive (like in Charmed when they found out they still had a third sister in Paige after losing Prue). The hospital misidentified the fall victim because she had stolen Heather's things. Weber urges the sisters to take advantage of their second chance and make up with one another.
The zany, funny, emotional storyline that brought the Charmed sisters back onto screens was, as Entertainment Weekly reported, part of ABC's "Cast from the Past" week-long special, in which the network staged multiple reunions of past shows by inserting their cast members as guest stars. The nostalgia in the Combs-Milano reunion was thick. Everything echoed Charmed, from the sisterly dynamic to the nitty-gritty details like their names all starting with H, and Haylee's affinity for energy healing. The episode might be just a blip on Grey's legacy, but for Charmed fans, it was presumably magical.