Cherry's Screenwriter Reveals What It's Really Like Working With Tom Holland - Exclusive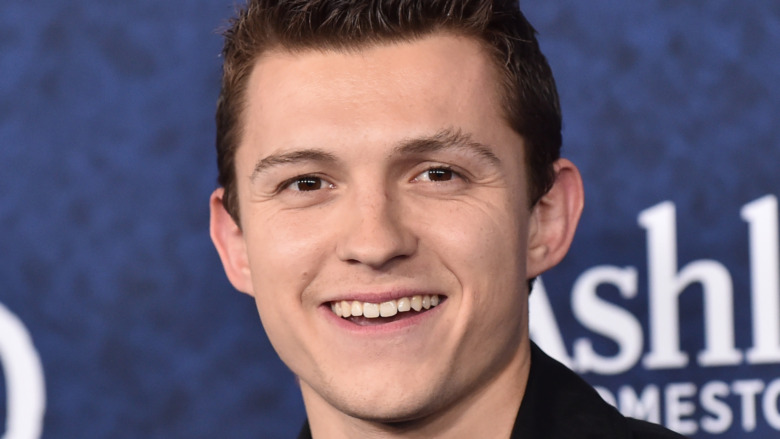 Shutterstock
Since his debut as the MCU's Peter Parker/Spider-Man in director Joe and Anthony Russo's blockbuster Captain America: Civil War, Tom Holland has been a major collaborator with the brothers, reprising his role as the iconic Marvel superhero in the final two chapters in the Avengers saga, Infinity War and Endgame. But working with the Russos wasn't a three-and-out proposition for Holland; he recently took his talents to new heights in Cherry, working with three Russo siblings: Anthony, Joe, and Angela. The younger sister of the directors, Angela Russo-Otstot, has worked with her brothers as an assistant on their crime comedy Welcome to Collinwood and a small acting role in their MCU directorial debut with Captain America: The Winter Soldier. She currently serves as the president of creative at the Russos' production company, AGBO.
With Cherry, however, Russo-Otstot took on the role of executive producer, in addition to co-writing the screenplay with Jessica Goldberg. With her brothers returning to their director's chairs for the first time since helming Avengers: Endgame, Russo-Otstot found herself in the exciting position of creating dialogue for Holland. In the AppleTV+ original film, Holland plays a disenfranchised soldier returning home from the Iraq War suffering from PTSD, which leads to strife in his marriage and an opioid addiction he can only support by robbing banks.
Looper sat down with Russo-Otstot to talk about working with Holland in an exclusive interview.
Measuring the impact of Tom Holland's performance and Cherry's deep examination of PTSD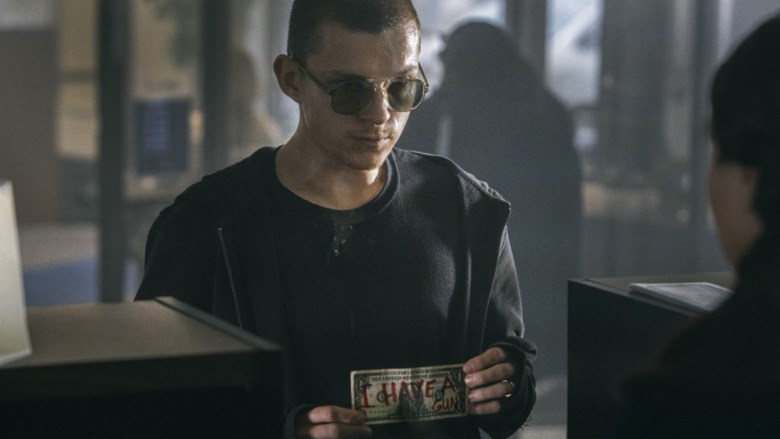 AppleTV+
In an exclusive interview with Looper to talk about AGBO's No Sleep 'til Film Fest, Russo-Otstot said that the air of innocence Holland naturally possesses was vital to his portrayal of title character Cherry. Based on the semi-autobiographical best-selling novel by Nico Walker, Cherry is an innocent young man who signs up to become a medic, with no idea of the hell he's about to step into. "I think, we've said this time and time again, I don't know that this film ever would have worked without Tom Holland. It's a very difficult role," Russo-Otstot said. "There's an earnestness and a sweetness, and he wants very much to do the right thing, even though he's sort of eclipsed by these darker happenings in the world around him, and Tom just managed all of it."
She noted that Holland showed an incredible amount of range in Cherry, adding, "He surprised us every single day. I told him [that] when we were finished shooting." "Oftentimes when you're sitting writing — and I had the good fortune of knowing Tom would be in the role when I was writing — you imagine the actor," Russo-Otstot enthused. "I could have never imagined in my wildest dreams the performance that Tom ended up delivering. It was beautiful."
The film has been widely embraced by several veterans' organizations by bringing the plight of soldiers suffering from PTSD to light. "Everything else aside in that film and all of the fun artistic endeavors that came along with it, the most important thing for us was the narrative about what's happening with PTSD, what's not happening with PTSD and the various ways that our soldiers can and should be supported," Russo-Otstot told Looper. "It's really, fundamentally speaking, the most important aspect of that film and what we needed to accomplish at the end of the day ... It's a fictionalized story, but [we were] really making sure that we were representatives of what the truth might be for other individuals who actually have gone through this."
AGBO's No Sleep 'til Film Fest is currently underway, and the winners will be announced May 7.