The Untold Truth Of Marvel's Super-Adaptoid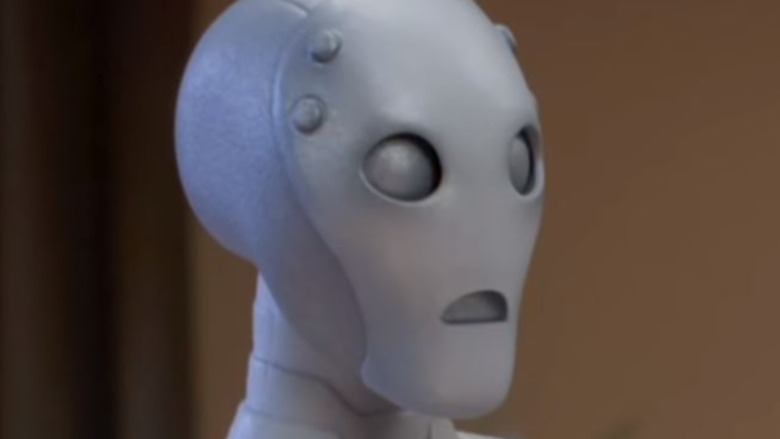 Marvel Studios/Hulu
Marvel's M.O.D.O.K. seems to be absolutely full of exciting Marvel characters, and thanks to its willingness to embrace the floating supervillain with a giant head in all of his pompous glory, plenty of underappreciated characters that are somehow associated with M.O.D.O.K. (voiced by Patton Oswalt) are set to make an appearance. 
One of the most interesting is without doubt the Super-Adaptoid (Jon Daly). In a 2020 New York Comic-Con M.O.D.O.K. video panel, co-creator Jordan Blum described the character as "the petulant robot who hates the fact that he's kind of enslaved by M.O.D.O.K. He wants to create arts and express himself, and he resents the family and M.O.D.O.K." 
This certainly seems like a pretty great cynical robot sidekick, but the question remains: What is Blum not telling you? As far as Marvel is concerned, pretty much everything comes with a twist, so it makes sense that the Super-Adaptoid is far more than meets the eye. With that in mind, let's take a look at the untold truth of Marvel's Super-Adaptoid.
Super-Adaptoid is a dangerous power mimic with a history of taking down mighty heroes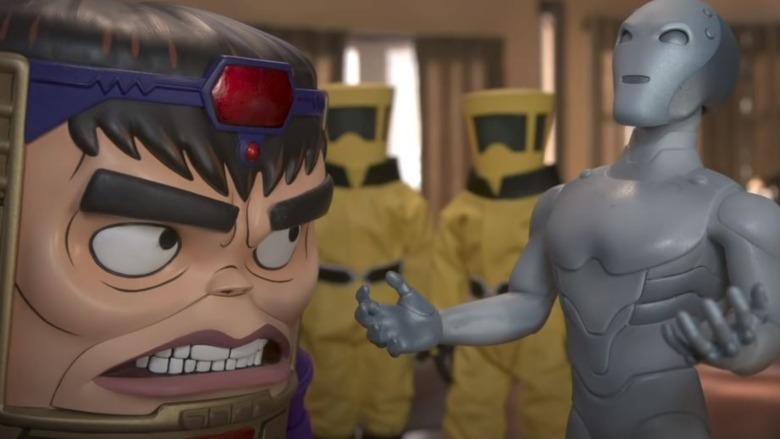 Marvel Studios/Hulu
It's actually pretty impressive that M.O.D.O.K. has the Super-Adaptoid at his beck and call, because as the robot's official profile on Marvel's website tells us the character is powerful enough to mop the floor with some of Marvel's most capable heroes. The Super-Adaptoid is the creation of M.O.D.O.K.'s enemies, A.I.M., so chances are that the organization's super-scientist Monica Rappaccini (Wendi McLendon-Covey) will have a thing or two to say about the character's indentured servitude on the show. This conflict actually has some historical precedent, seeing as a version of the Super-Adaptoid serves as M.O.D.O.K.'s minion on the animated Disney XD show, Avengers Assemble. 
The comic book version of the Super-Adaptoid is not entirely unlike Vision, in that it's an artificial being enhanced by a powerful, reality-bending artifact — in the Super-Adaptoid's case, a fragment of the Cosmic Cube. However, the Super-Adaptoid is arguably even stronger, as it has the ability to mimic people's powers and appearances. Originally an enemy of Captain America, the robot's power-copying ability has proved powerful and versatile enough to take on — and, on more than one occasion, defeat – Marvel's premier super teams like The Avengers and the X-Men. 
The inclusion of such a dangerous character on Marvel's M.O.D.O.K. – and turning him into an artsy dude who harbors a grudge against his boss — speaks volumes of the stop-motion show's delightfully irreverent approach to the source material.
Marvel's M.O.D.O.K. premieres on Hulu on May 21, 2021.