Why Sasha From Dad Stop Embarrassing Me! Looks So Familiar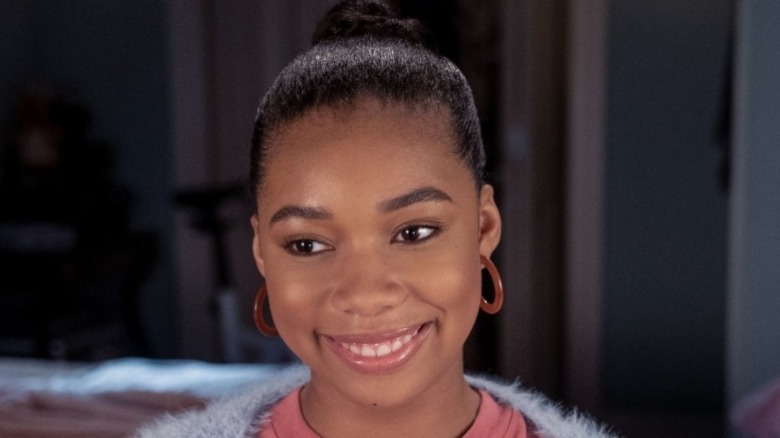 Netflix
Netflix dropped a new sitcom on April 14, 2021, and it immediately made the streaming platform's Top 10 Most-Watched list. That's probably thanks largely to the fact that the show, Dad Stop Embarrassing Me!, stars entertainment superstar Jamie Foxx.
The multi-hyphenate talent stars as Brian Dixon, a man who inherits his mother's beauty product company and then becomes a single parent to his teenage daughter when her mother dies. As Entertainment Weekly reported in February, the show was inspired by Foxx's real-life relationship with his daughter Corinne Foxx. Describing one of the reference points, Corinne recalled that at her final game as a high school cheerleader, her family wore T-shirts with her face on them.
"It's 15 people, and my dad is the ringleader," Corinne, now 27 years old, told Entertainment Weekly. "The last thing a teenage girl ever wants is their dad drawing attention to themselves in that way."
Corinne and her father developed the show, alongside a team of writers and producers, with that idea in mind. They opted to create fictional characters, rather than have Foxx play himself, and Corinne chose not to play the part of the daughter, partly because she felt the crucial father-daughter relationship to showcase should involve a teenage girl. That meant they had to bring in a younger actress for the part of Brian's daughter, Sasha. The role went to 17-year-old actress Kyla-Drew. Though she's not as recognizable as her on-screen father, she is no stranger to comedy television or working alongside big stars. She's been around the business long enough to know a thing or two — and for viewers to potentially recognize her somewhat. Here's why Sasha from Dad Stop Embarrassing Me! looks so familiar.
Kyla-Drew kicked off her career with the acclaimed thriller Prisoners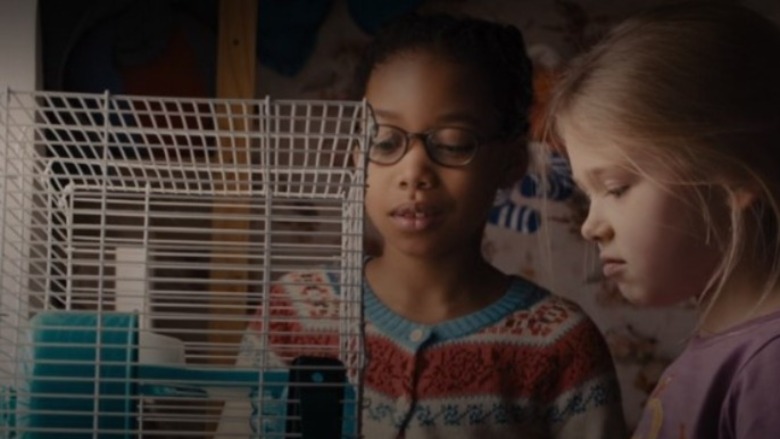 Warner Bros. Pictures
In her first credited role (per IMDb.com), Kyla-Drew landed a part in the 2013 feature film Prisoners, a thriller starring A-listers Hugh Jackman, Jake Gyllenhaal, Viola Davis, Terrence Howard, and more. Then going by her full name Kyla-Drew Simmons, the young actress played Joy Birch, a girl who gets abducted along with her neighborhood friend Anna Dover. Anna's father (Jackman) raises hell and crosses legal lines in a desperate effort to find the girls, with Joy's father (Howard) struggling to maintain their morality amid his own desperation.
Though her character's disappearance was the film's main plot point, Kyla-Drew's screen time was limited. Still, any part in a high-profile film with such notable stars and a plethora of awards — including an Oscar nomination for Best Achievement in Cinematography — and predominantly rave reviews is a good place from which to start a career.
Kyla-Drew has been busy ever since.
Kyla-Drew has had one-episode roles in several television shows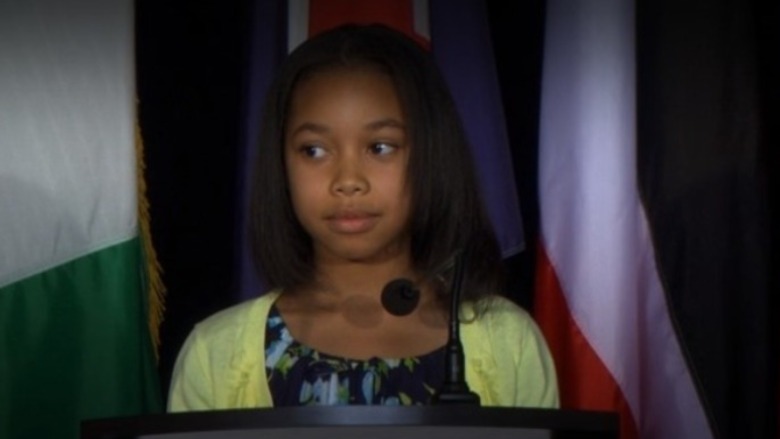 CBS
Through the years since Prisoners, Kyla-Drew has had a bevy of one-off roles in various television shows. In 2013, she appeared in episode 10 of season 9 of How I Met Your Mother. In 2014, she appeared in the Disney Channel show Jessie, the ABC crime dramedy Castle, and the CBS crime drama NCIS. The following year, she appeared in episode 9 of season 11 of Grey's Anatomy, as well as in the first season of another crime dramedy, CBS' short-lived Battle Creek.
She had roles in several television movies in 2016 and 2017 and capped off 2017 with an appearance in CBS' Wisdom of the Crowd, which starred Entourage's Jeremy Piven. Other shows Kyla-Drew has appeared in for one-off parts over the course of the last few years include Station 19 and The Good Doctor.
However, around these parts, she also landed recurring roles in other shows and a part in another feature film.
Kyla-Drew starred in the children's show Nicky, Ricky, Dicky & Dawn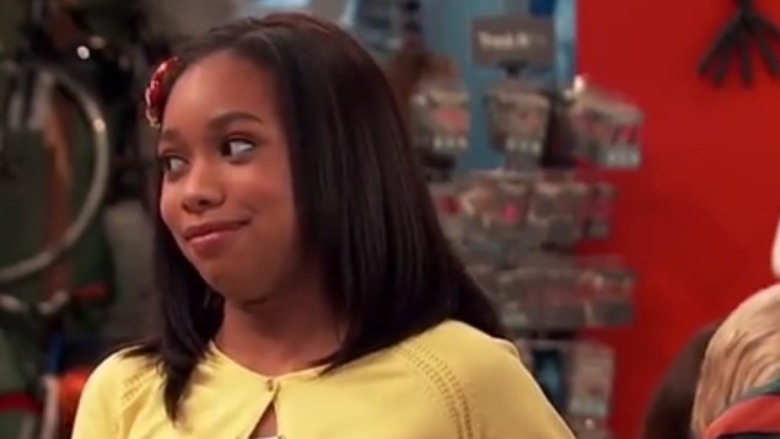 Nickelodeon
In 2014, Kyla-Drew starred in the Nickelodeon show Nicky, Ricky, Dicky & Dawn. She portrayed Mae Valentine, a friend of the titular Harper siblings. As Dawn's best friend, Mae often gets caught up in the Harpers' wild shenanigans. According to a Fandom summary, their relationship runs into a bump at one point, when Mae gets tired of Dawn always pushing her into things and being so dominant. But with the help of Dawn's brothers, the two get past the rough patch and hold onto their longtime friendship.
Nicky, Ricky, Dicky & Dawn ran for four seasons, ending in August of 2018. Of the show's 84 episodes, Kyla-Drew appeared in 55, the most of any actress not portraying one of the main family members. Throughout the show's run, it garnered an array of award nominations, including 2015 and 2017 Kids' Choice Awards nominations for Favorite Kids TV Show. Kyla-Drew herself was nominated for Best Supporting Young Actress — Television Series in the 2018 Young Entertainer Awards.
The young actress appeared in a gritty Jennifer Garner thriller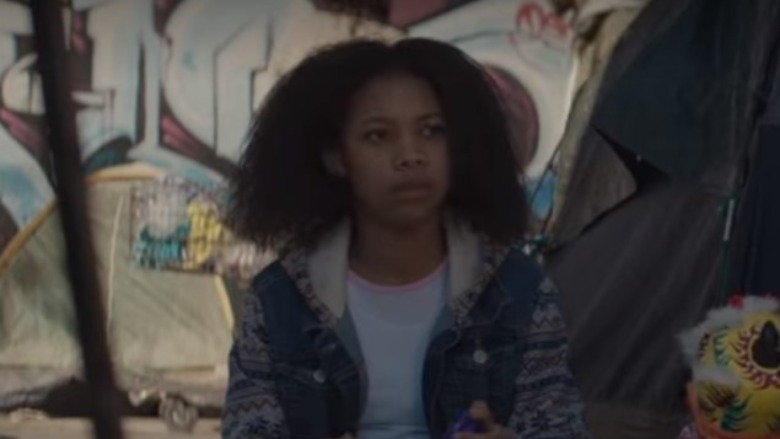 STX Entertainment
Straying far away from the innocent, youthful world of Nicky, Ricky, Dicky & Dawn, Kyla-Drew landed a role in the 2018 dark action-thriller Peppermint, starring Jennifer Garner. She played Maria, a homeless girl who takes note of the woman the community considers their guardian angel — Garner's soccer mom-turned-vengeance warrior/vigilante character, Riley North.
Maria, who's around the age of the daughter Riley lost in a shooting that set her off into vigilantism, gets caught up in Riley's vengeance when a criminal uses her as bait to coax Riley out of hiding. He threatens to kill Maria if Riley doesn't face him. The trick works, and Riley risks her life to save the girl. Again, Kyla-Drew's screen time in the film overall was limited, but her part required strong emotions and nuance, and the teen held her own alongside Garner, properly handling the shock and awe of the story.
Through the last two years, Kyla-Drew has had recurring roles in three shows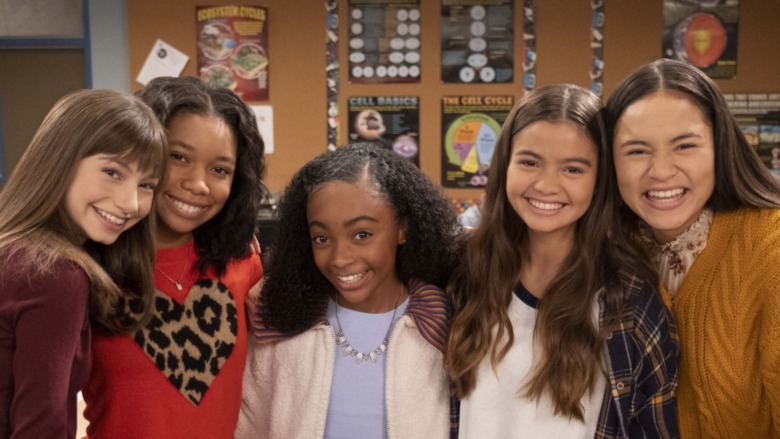 Netflix
Much of Kyla-Drew's more recent work prior to Dad Stop Embarrassing Me! has involved recurring roles in other television shows. In 2019, she appeared in 11 episodes of the Netflix sitcom No Good Nick, as the character Becky.
In 2019 and 2020, she appeared in all 16 episodes of the web series Crown Lake, a mystery drama currently housed on the streaming platform Tubi. The show follows Nellie Chambers (Francesca Capaldi) as she settles into a new life at the mysterious, elite boarding school Crown Lake Academy. Kyla-Drew plays one of Nellie's classmates, Tiffany St. Martin.
This year, Kyla-Drew has already appeared in two episodes of the Disney Channel sitcom Raven's Home – the revival of the early aughts favorite That's So Raven, starring Raven-Symoné. She appeared in the sixth and 19th episodes of the show's fourth season.
All told, there are plenty of reasons why Sasha in Dad Stop Embarrassing Me! looks so familiar, as Kyla-Drew has had a busy near-decade. But with Jamie Foxx as her on-screen father, the show marks Kyla-Drew's biggest role to date. It's safe to say she's about to get even more recognizable. Hopefully, she's not embarrassed by it.