New Star Wars: The Bad Batch Poster Has Fans Totally Hyped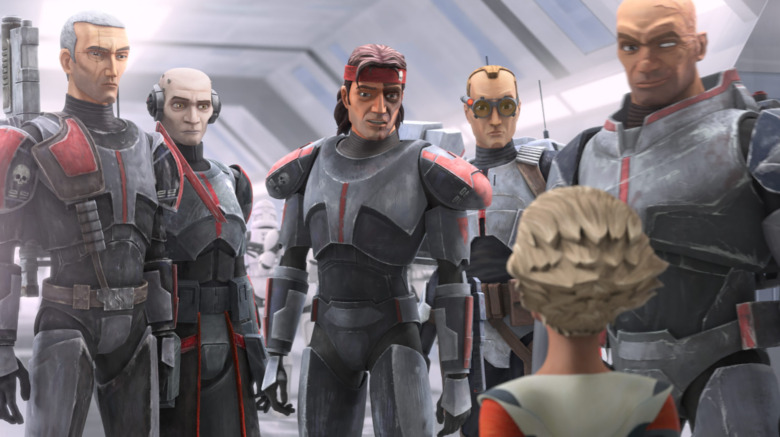 Disney+/Lucasfilm
With less than a month until the series premiere, we're finally getting more concrete details about the upcoming Star Wars: The Clone Wars spin-off, The Bad Batch. We had a mind-blowing new trailer drop earlier, which had tons of small details with big implications and the return of some fan-favorite characters. Now, we're able to feast our eyes on the newest poster for the series, which may hold some hints for what the series has in store for Clone Force 99.
The Clone Wars is Star Wars' longest-running series ever, airing from 2008 to 2020 across 133 episodes. The show chronicles the three years between the Attack of the Clones and Revenge of the Sith films, as Anakin Skywalker grows as a Jedi under the teachings of Obi-Wan Kenobi before ultimately being drawn to the Dark Side. The Bad Batch picks up after the end of its parent show, following an elite group of clone soldiers introduced during the final season of The Clone Wars. Let's pick apart this new poster and see who we can identify.
The poster shows Clone Force 99 in all its glory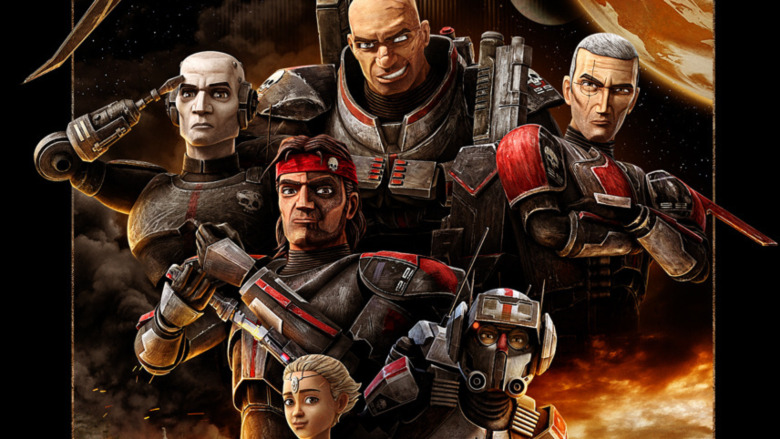 Disney+/Lucasfilm
Taking up most of the poster's real estate is the group of clones the series is named after: Hunter, Wrecker, Tech, Crosshair, and Echo (all voiced by Dee Bradley Baker). A hologram of the menacing Emperor Palpatine towers over them, while a small child stands timidly alongside the clones. This new character's name is Omega, and although not much else is known about them, they appear to come from some high-class setting based on their clothing and clues from the earlier trailer. There are also plenty of explosions, planets and spaceships in the background to get us even more hyped for the next chapter in the animated Star Wars canon.
The Bad Batch's premiere special 70-minute episode will kick off the series on Star Wars Day, May 4th, exactly one year after The Clone Wars concluded with its finale. Subsequent episodes will stream weekly on Disney+. At least 14 episodes were confirmed by series composer Kevin Kiner on the Full of Sith podcast for the debut season, and if the nearly two-decade run of The Clone Wars is any indication, The Bad Batch could stick around for a while.