Star Wars Fans Are Flipping Over The Bad Batch Trailer
Finally, fans of Stars Wars: The Clone Wars have a new show to whet their appetites after the original series concluded with a surprise final season in 2020. The most recent official trailer for Star Wars: The Bad Batch hit Twitter the morning of March 30, and users on the social media site went crazy for the sneak peek. 
For those living under a rock — or just not up-to-date on all things Star Wars – The Bad Batch is the newest animated series from the minds of George Lucas and Dave Filoni. The show is a spin-off of the totally unique Clone Wars animated series, and based on characters who were introduced in the show's seventh season, which was added on Disney+ in February 2020. The Bad Batch centers around a group of genetically mutated clones known as Clone Force 99, a band of misfits turned mercenaries. The team members are named Echo, Tech, Crosshair, and Hunter, and from the looks of the trailer, there are some other familiar characters from the Star Wars universe who will be appearing in the series, as well.
Fans are pumped for this character's return in The Bad Batch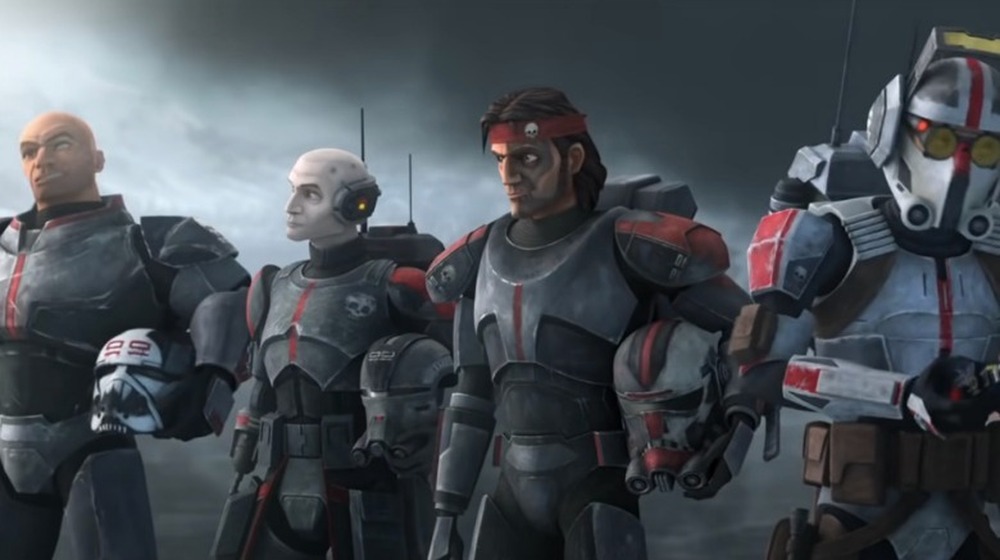 Disney+/Lucasfilm
The emergence of the Star Wars: The Bad Batch trailer had die-hard fans super hyped. One fan on Twitter claimed to be "legitimately crying."  
"Looks absolutely amazing!!" wrote @HallowsWright95. 
@mcustan78 chimed in: "About time." 
The trailer's YouTube page is also flooded with comments: "The boys are back in town!" said Obi Wan Cahomi, while user JP offered a simple expression of gratitude: "Thank you, Dave Filoni. I'm in tears."
But one aspect in particular thrilled Star Wars: The Clone Wars junkies: the appearance of clone commander Captain Rex (voiced by Dee Bradley Baker). The fan favorite — a clone of Jango Fett — plays a large role in the Clone Wars animated series, and is heavily featured in the seventh season. "DID I JUST SEE REX?????" asked the enthusiastic @NikolaiPCulp on Twitter. 
"Yes we did," @TylerStroud2 confirmed. 
On YouTube, Inquisitorial Stormtrooper added, "Glad to see Captain Rex is still in the fight," and user Alicia Aslund said what everyone was thinking: "... I'M FREAKING OUT, REEEEEEXX." 
There's no doubt that fans are supercharged to see their favorite characters in the new Star Wars: The Bad Batch, which hits Disney+, appropriately, on May 4, 2021.