Zack Snyder Weighs In On The Snyder Cut Of Army Of The Dead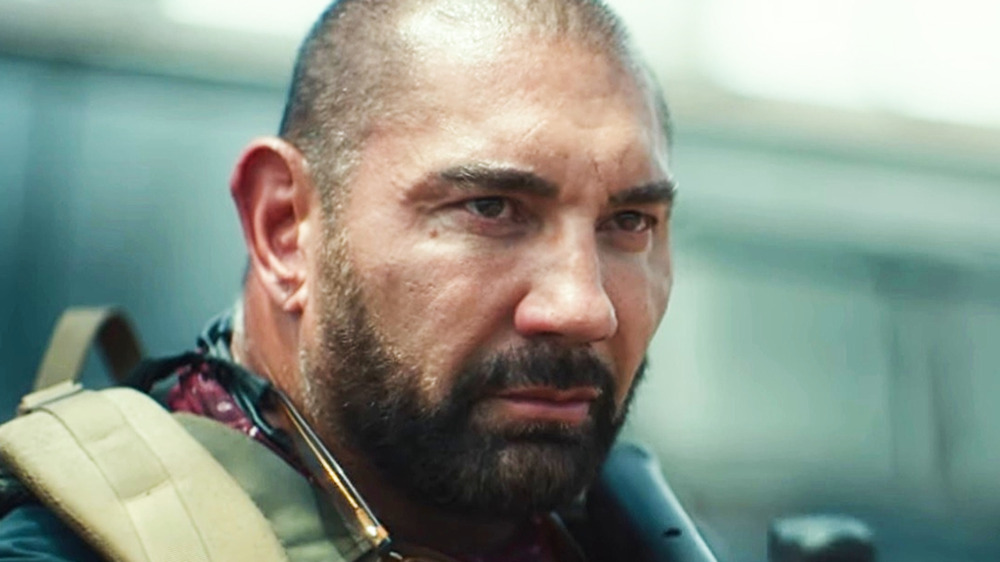 Netflix
Director Zack Snyder's name will now forever be associated with the (in)famous Snyder Cut of Justice League. Between conflicting opinions with Warner Bros., and his tragic exit of the film in post-production, fans were anxious to see his unadulterated version of the movie — the one that was true to his vision. To their delight, they finally got what they wanted in March with the release of Zack Snyder's Justice League, so Snyder fans are now turning their attention to his newest movie: Army of the Dead. If you're wondering if Snyder's new zombie flick has any of the Justice League drama, well we've got answers.
In Army of the Dead, Las Vegas is ground zero for the zombie outbreak, which is certainly not the best place to survive a zombie apocalypse. However, while it's since been abandoned and quarantined, it also still contains $200 million of cash stashed away in a safe under the strip, by the simple nature of it being Vegas. War hero Scott Ward (Dave Bautista) is hired to enter the zombie zone and complete a heist to get the money, so he assembles a team including his daughter, Kate (Ella Purnell). Of course, the whole adventure isn't as easy as they think it will be, as they soon find out the zombies have become smarter and organized. Oh, and there's an undead tiger.
It's got a killer cast and an uncharacteristically fun vibe to it — Snyder's movies usually carry a darker tone. The newest trailer just dropped today, so Snyder revealed in a press conference, which Looper attended, whether or not the movie has an alternate director's cut.
Zack Snyder had an amazing time working with Netflix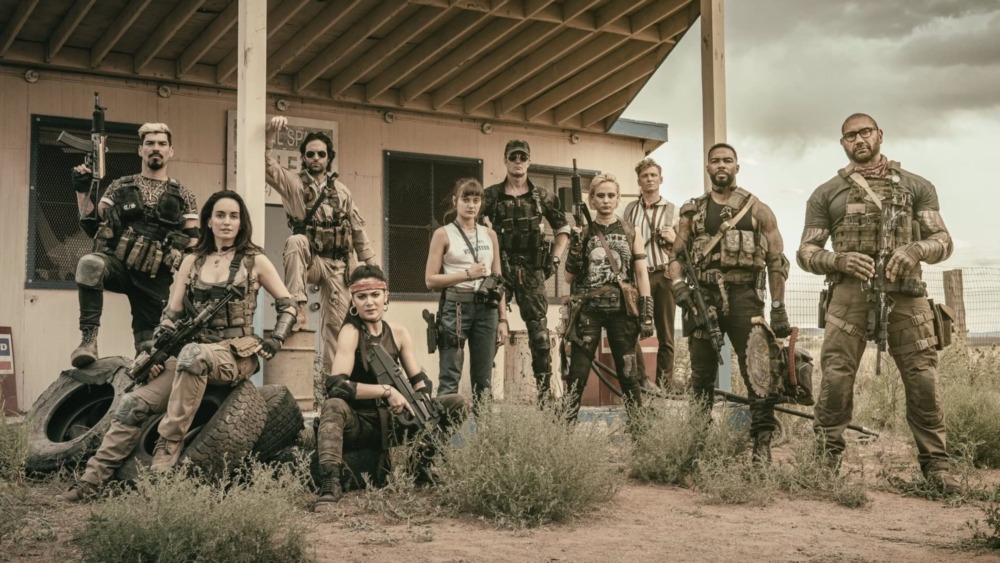 Netflix
Snyder said working on Army of the Dead was probably the "most gratifying experience I've had making a movie." He asserted that there are no other versions of the movie and the one going on Netflix is the director's cut. "My experience working with Netflix has been amazing. My team there have been nothing but supportive and incredibly collaborative," he said. "Everything about it was fun." So any fans worrying that Army of the Dead isn't Snyder's pure vision can rest easy. For better or for worse, he's fully responsible for this movie.
Curiously, Snyder's directorial debut was also a zombie movie — 2004's Dawn of the Dead remake, which has been killing it on Hulu. However, unlike many of Snyder's other projects, Army of the Dead isn't an adaptation, but an original idea. He wrote the screenplay with Shay Hatten (John Wick: Chapter 3 – Parabellum) and Joby Harold (Obi-Wan Kenobi). Then, after years in development hell, Army of the Dead finally came to life when Netflix bought the rights to it from Warner Bros.
"I love to honor canon and the works of art," Snyder told The Hollywood Reporter about doing adaptations, "but this is the opportunity to find a purely joyful way to express myself through a genre. It will be the most kick-a**, self-aware — but not in a wink-to-the-camera way — balls-to-the-wall zombie freak show that anyone has ever seen. No one's ever let me completely loose [like this]."
So when Army of the Dead drops in select theaters on May 14 and on Netflix on May 21, Twitter feeds will be mercifully free of a new hashtag campaign.