Who Is The Voice In The Hummer All-Electric Super-Truck Commercial?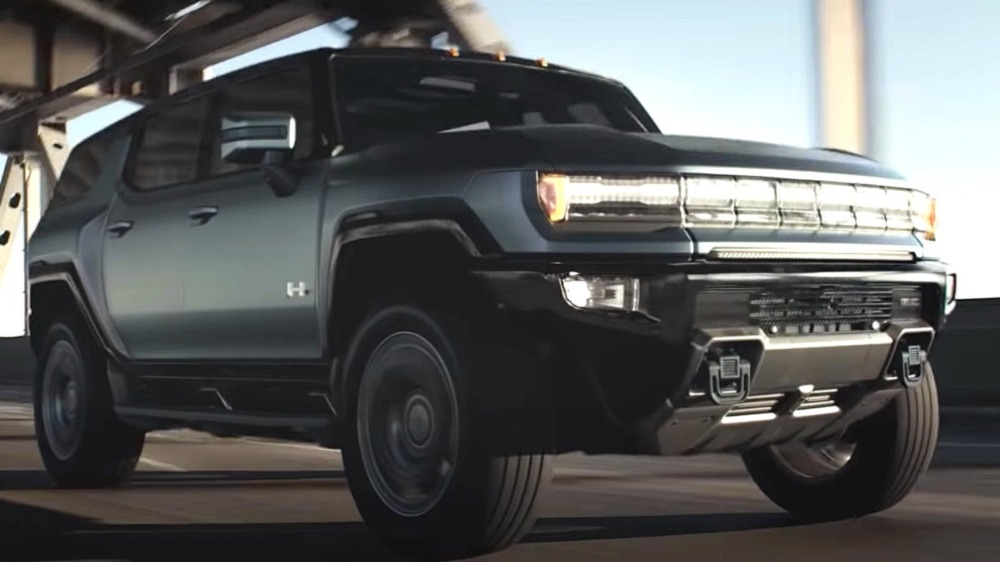 If you've watched TV recently, you may have seen a commercial for Hummer's new all-electric "supertruck." That's right, the avatar of gas-guzzling early '00s excess is back in an environmentally-friendly new package, a decade after General Motors discontinued it. The commercial hypes up the new SUV version of the supertruck, as well as its companion pickup truck.
The ad is narrated by a familiar voice. "Real revolutionaries understand good is never good enough," the voice says, as lightning crackles in the sky and a storm threatens to open up. "Imagine challenging, pushing beyond the expected to realize the impossible. Because to achieve greatness once is not the end of the journey. It is only the beginning." A Hummer SUV drops then from the sky like a meteor and slams into a city street, before demonstrating its "Extract Mode," lifting up six inches off the ground to get over the rubble it created.
The commercial's narrator knows a thing or two about achieving greatness more than once. He's a four-time NBA champion, and anyone who's watched him play basketball knows he does things that seem impossible on a nightly basis. Speaking with InsideHook of of his deal with Hummer, the baller said, "Any time I have any type of partnership, it's always pretty simple: anything that's organic and then is something that I have a good deal of respect for."
Keep reading to discover the superstar behind the supertruck. 
LeBron James comes full circle with Hummer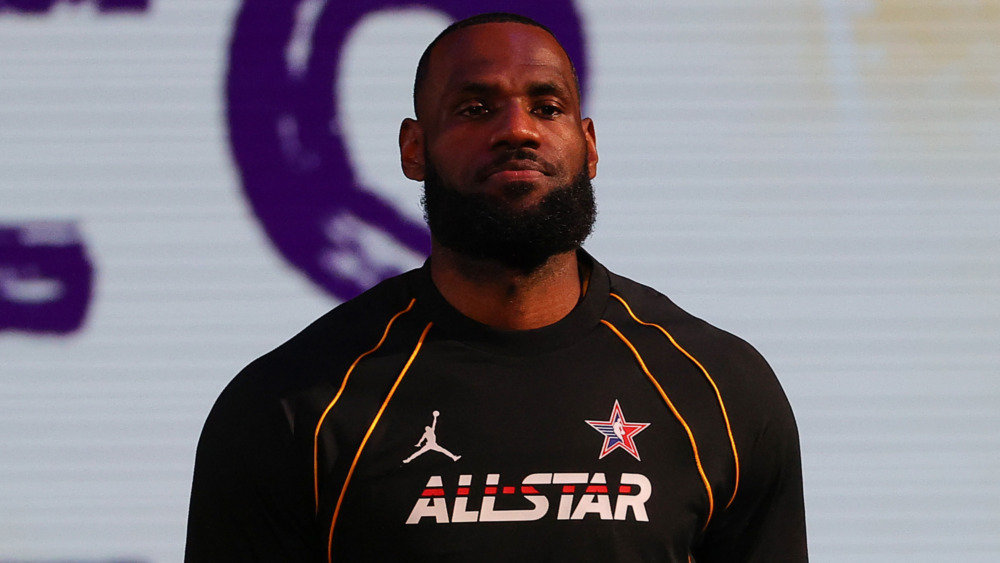 Kevin C. Cox/Getty Images
Space Jam: A New Legacy star and philanthropist LeBron James has a long history with Hummer; in 2003, when he was an 18-year-old high school student, he had a Hummer H2, which was very controversial because people thought it might have been a gift that violated his amateur status (it wasn't; his mother took out a loan to buy it for him, according to The New York Times). Moreover, InsideHook describes the endorsement deal as James "quietly getting the final word in what was the first major controversy of his career — silencing the haters 17 years later." Back then, people unfairly criticized a young Black man who was able to afford a luxury purchase. Now he's the face of the company. A lot has changed for him and for Hummer since 2003.
The commercial is soundtracked by Yeah Yeah Yeahs singer Karen O and Nine Inch Nails' Trent Reznor and Atticus Ross' cover of Led Zeppelin's Viking-themed classic "Immigrant Song." Their version of the song was created for director David Fincher's 2011 film The Girl with the Dragon Tattoo.
The Hummer SUV will go into production in 2023, and pre-order slots for the $110,095, zero-emission vehicle are already full, according to The Verge. The pickup will go into production in 2021. The vehicles have a range of 300 miles per charge and can do a "crab walk," where all four wheels turn on an angle and the vehicle moves forward diagonally. Interestingly (or perhaps coincidentally), LeBron James has his own crustacean-derived move he calls the "crab dribble," which is where he does a little shuffle and tries to get away with traveling.