New Falcon And Winter Soldier Clip Teases The Showdown Fans Have Been Waiting For
Ever since John Walker (Wyatt Russell) sauntered out with a poorly fitting Captain America mask and Steve Rogers' (Chris Evans) signature shield, neither the fans, nor Sam Wilson (Anthony Mackie) and Bucky Barnes (Sebastian Stan), have trusted him. He's the new, government-appointed Captain America, appearing in public shortly after Sam donated the shield, thinking it would rest easy in a museum. However, with every poor decision he makes, Walker has furthered the rift between him and Steve's two closest friends.
Falcon and the Winter Soldier's four episodes have so far toyed with the idea of what makes a villain or a hero, leading fans to draw comparisons between the MCU, which is normally gung-ho about superheroes, to the dark and cynical The Boys. Fans hate Walker, the officially labeled "hero," but love Zemo (Daniel Brühl), the officially labeled "villain."
Now, with only two episodes left of the Disney+ series, Marvel has released another sneak peek of the series. Most of the footage isn't new, but the end teases what everyone's been waiting for: Sam and Bucky v. John "Captain America" Walker.
Falcon, Bucky, and Captain America are finally going to fight it out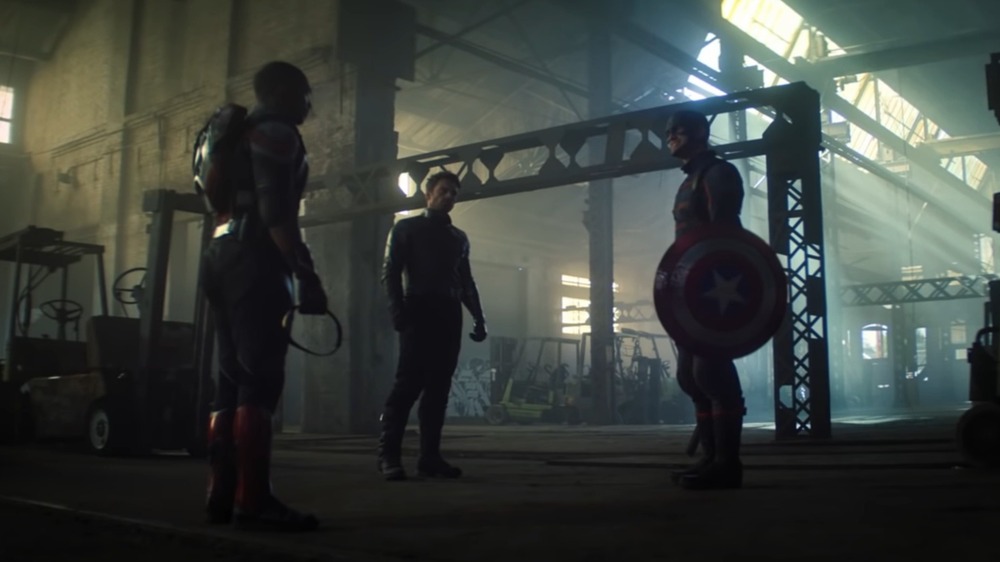 Disney+/Marvel Studios
About a minute into the teaser trailer, Sam says in voice over, "We don't want anyone else to get hurt," as the camera focuses in on Walker, dressed in his Captain America outfit. His short exchange with Bucky makes it clear that the animosity between them is building to a breaking point here in this warehouse.
Walker won't have his late partner Lemar (Clé Bennett) to back him up, but he is suped up on Super Soldier Serum. Of course, so is Bucky. Should the three of them duke it out, the scene will be an interesting parallel to Captain America: Civil War's final fight between Tony Stark (Robert Downey Jr.), Steve, and Bucky. But while fans may have had a hard time knowing who to root for back then, they certainly won't here.
What got the heroes to this point? Well, Bucky's been wanting to punch Walker since he first laid eyes on him, but with that final shot of episode 4, Walker has proven himself to be firmly in opposition to Steve's values. We can assume things only escalate from there to this showdown. More interesting, perhaps, is what the outcome of the fight will mean. Will it put Sam and Bucky in violation of the Sokovia Accords or in opposition to the U.S. government? Or is it a step toward Sam taking up the shield himself?
With only two episodes left, hopefully these questions will all be answered in the next two weeks. New episodes of The Falcon and the Winter Soldier air Fridays on Disney+.