Amy Aquino Dishes About That Falcon And Winter Soldier Couples Therapy Scene - Exclusive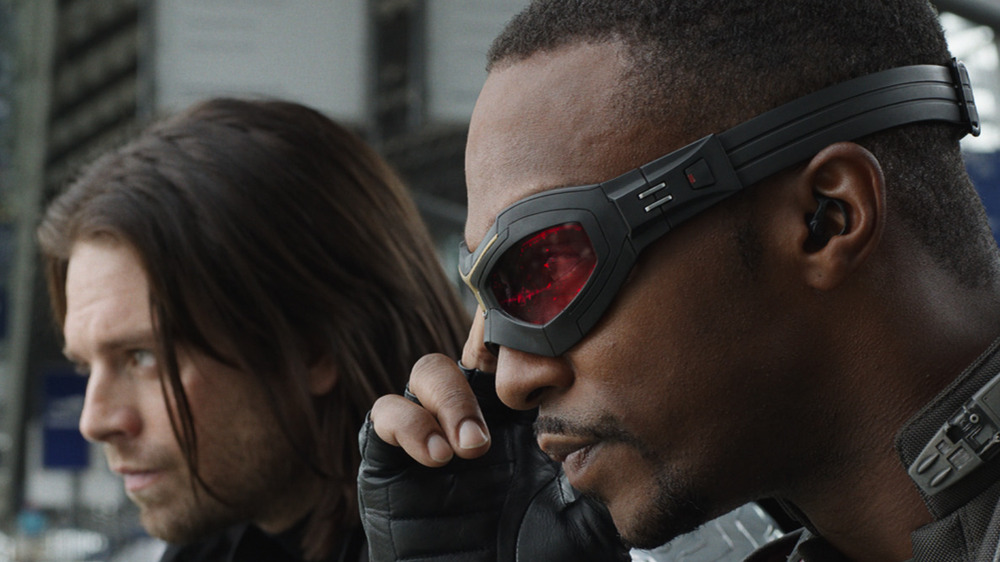 Marvel Studios/Disney+
Ever since the first trailers for The Falcon and the Winter Soldier started rolling in, fans waited with bated breath to watch the couple's therapy scene between Sam Wilson (Anthony Mackie) and Bucky Barnes (Sebastian Stan) play out. As teased in the promo footage, Amy Aquino's Dr. Raynor has clearly had it up to here with the unlikely duo, and Marvelites couldn't wait to see the full version of the hilarious scene — fit with an epic staring contest — unravel on screen. Who wants to talk about their problems when they can just endlessly glare at someone? Not Sam and Bucky, that's for sure. Granted, the pair might actually work out some issues if they dared to be honest, but a staring contest is undoubtedly more fun (albeit much less healthy). 
Fans finally got to see the whole scene during the second episode of the series, and actress Amy Aquino had just as much fun as the fandom watching the guys do their thing.  Looper recently spoke to Aquino in an exclusive interview, during which she dished on the behind-the-scenes shenanigans that came with the territory of working alongside the series' leading men.
Anthony Mackie and Sebastian Stan needed Amy Aquino as their chaperone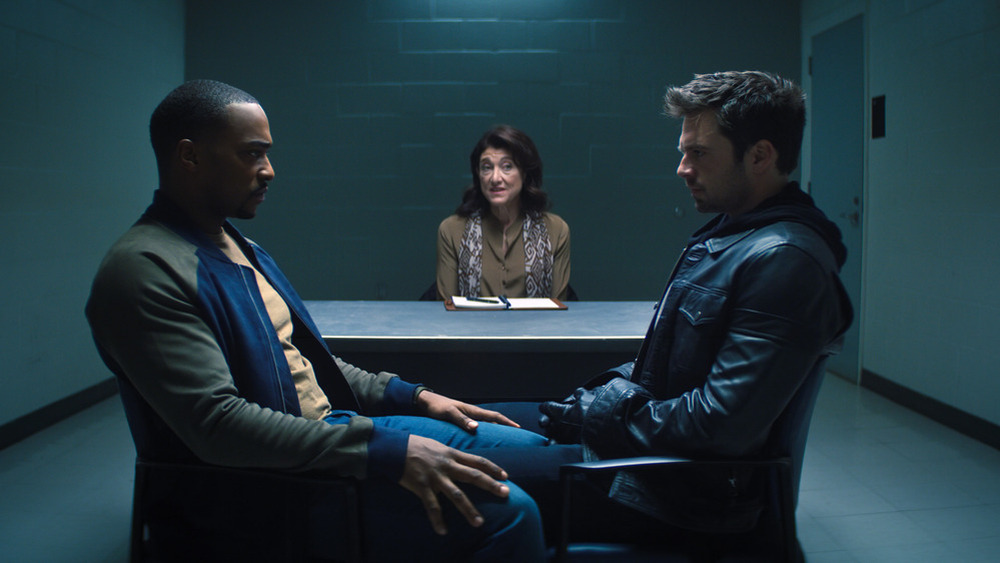 Marvel Studios/Disney+
On working with Anthony Mackie and Sebastian Stan, Aquino had nothing but nice things to say. "They were lovely. We had not had a chance to meet beforehand, and they could not have been sweeter, more welcoming, [or] more helpful. And then they were just delightful and funny," she said. "Watching them together [was] super fun [and] it just made it very easy for me." Aquino added, "They were so naturally, so completely [and] thoroughly present. [They] have all this history already and just put it right out there. So I just got to go with the flow."
It's difficult to watch the couples therapy scene between Sam and Bucky without imagining the endless number of outtakes and shenanigans that had to have happened during that scene — and Aquino was quick to confirm that. "There was nothing but funny outtakes," she told Looper. "The biggest challenge of the couples therapy scene was knowing at what point I should interject and stop it because they were just [improvising] like crazy and on each other, and it was all this delightful stuff." 
As it turns out, Aquino had to step in as the chaperone and get the two goofballs back in line, but the party was fun while it lasted.
"At some point, we did need to get to the rest of the scene. [Kari Skogland] is an amazing director and knows when to kind of let things go and let the actors take control of things. But that was the big challenge. It was like, all right, just how much of this should we let go on before Dr. Raynor says, 'no, no, no'? Because Dr. Raynor is kind of enjoying it," Aquino said with a laugh. And who could blame her? What wouldn't Marvel fans give to be on a fly on the wall of set that day? 
Sam and Bucky's journey of self-healing (and kicking butt) continues on Fridays when The Falcon and the Winter Soldier airs new episodes on Disney+.