Jason Momoa Looks Quite Different In His Upcoming Netflix Film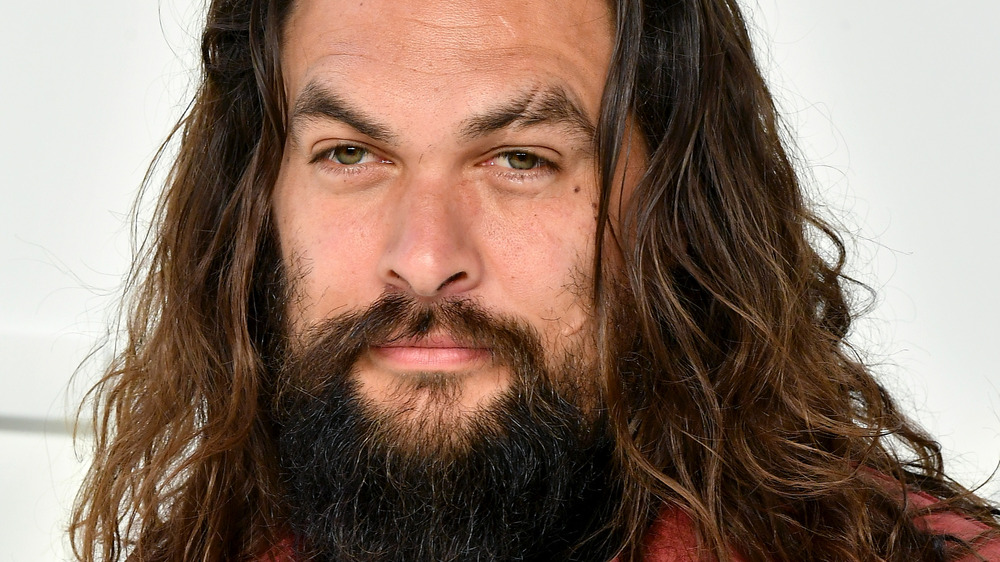 Amy Sussman/Getty Images
Chances are, if you follow movies or pop culture at all, then you know you have a picture in your head of what Jason Momoa looks like. 
The man has had a lot of visibility lately — whether he's appearing as Aquaman in his own solo movie, filling out the ensemble in multiple versions of Justice League, or dying way too early as Khal Drogo on Game of Thrones. Big guy, lots of muscles, lots of hair, often bearded — at least lately. His personality, as expressed in interviews and on talk shows, always shines. Momoa is clearly a fun-loving guy who embraces his wild-man image, even down to the occasional heavy metal performance. 
So when Netflix promises that Momoa is playing "an eccentric outlaw" in promotional materials for its upcoming movie Slumberland, it begs the question: What does "eccentric" even mean in the context of Jason Momoa? Did they give him a crew cut and a suit? 
First look at Jason Momoa in Netflix's Slumberland
Fortunately, Netflix provided its own photographic evidence of eccentric Momoa in a Tweet sent today about Slumberland. Long hair? Check. Beard? Check. Big? Compared to his young co-star Marlow Barkley, definitely check. All that's sort of standard, though. None of it really conveys eccentricity in the context of Momoa.
On the other hand, the purple top hat with feathers tucked into the brim? That's a start. You don one of those in any kind of secret dreamworld environment, and your audience is automatically going to connect you to the OG of crazy top hats, Lewis Carroll's Mad Hatter from Alice's Adventures in Wonderland. 
But it's the other photo provided by Netflix that gives you the full insight into the peculiarity of Momoa's character. A faded fuchsia coat with epaulets and assorted tarnished pins in the place where you might ordinarily find medals makes him look like he's just been fired from Sgt. Pepper's Lonely Hearts Club Band. His striped pants have been cuffed short. He wears purple boots and fingerless motorcycle gloves. And, ohh yes, he has a pair of giant, curling horns sprouting from top of his head — ones that look like they belong on a bighorn sheep (or on a Wreather from the Saga comic book series). It's fair to say this is no ordinary outlaw we're dealing with here. Netflix may have even been underplaying things with all this talk of eccentricity.
Who else will appear in Slumberland?
The nature of Slumberland's dreamworld is as yet unclear, though there are a few things that might be gleaned from the source material. The Hollywood Reporter says the film is based on cartoonist Winsor McCay's pioneering early 20th-century comic strip Little Nemo in Slumberland, which saw its child hero dragged off on different adventures in fantastical environments that ranged from intricately drawn palaces or cityscapes to the surface of Mars before awakening in his bed in the last panel each week. 
As for the film itself, in addition to Momoa and Barkley it's set to star Weruche Opia, India de Beaufort, Chris O'Dowd, and Kyle Chandler. (Here's hoping Chandler's playing an even more eccentric outlaw.) It's being directed by Francis Lawrence, who most recently helmed the 2018 Jennifer Lawrence-starring spy thriller Red Sparrow, and previously directed the three sequels in the Hunger Games series. Production was originally scheduled to start last year, but was delayed due to the COVID-19 pandemic. As far as a release date, Netflix's tweet says only that audiences can expect to see Slumberland in 2022.