The John Cena Instagram Post That Has My Hero Academia Fans Buzzing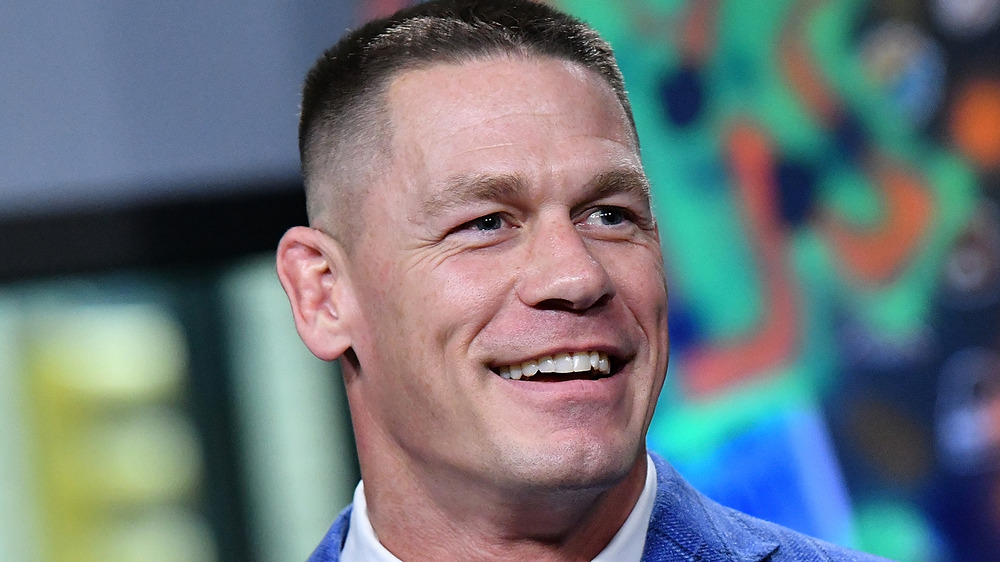 Slaven Vlasic/Getty Images
For those who aren't aware, My Hero Academia is one of the most popular Japanese manga and anime series out there, written and illustrated by Kōhei Horikoshi. The franchise began with weekly chapters released in the magazine Weekly Shōnen Jump in 2014, with the first collection of chapters in book format coming out in November of the same year (Anime News Network). From then on, the franchise and the fandom continued to build. An anime adaptation of My Hero Academia was announced in late 2015, and since then there have been four seasons — with a fifth on the way — and a handful of films (Otaku Tale).
In My Hero Academia, the series is set in a world filled with superheroes. The story focuses on a young boy named Izuku Midoriya who is born without superpowers, also known as "Quirks," but still dreams of being a superhero. He is soon recruited by All Might, the country's most beloved hero. All Might sees potential in the boy and grants Izuku his ability, naming him his successor and sending him to train at a superhero academy. 
The anime series has won awards and spawned many spinoffs, and My Hero Academia has many fans around the world — including John Cena. The professional wrestler has been known to be a fan of anime, and recently he got attention after a reference to Cena was included in a poster for the upcoming film, My Hero Academia: World Heroes' Mission. In the poster, one character is standing with their hand in front of them just like Cena's classic "You can't see me" gesture from his wrestling days, and Cena posted the image on his social media in acknowledgement. Now he's gone even further, with another recent Instagram post revving up fans of the anime and the actor.
John Cena posted a photo of My Hero Academia's All Might on Instagram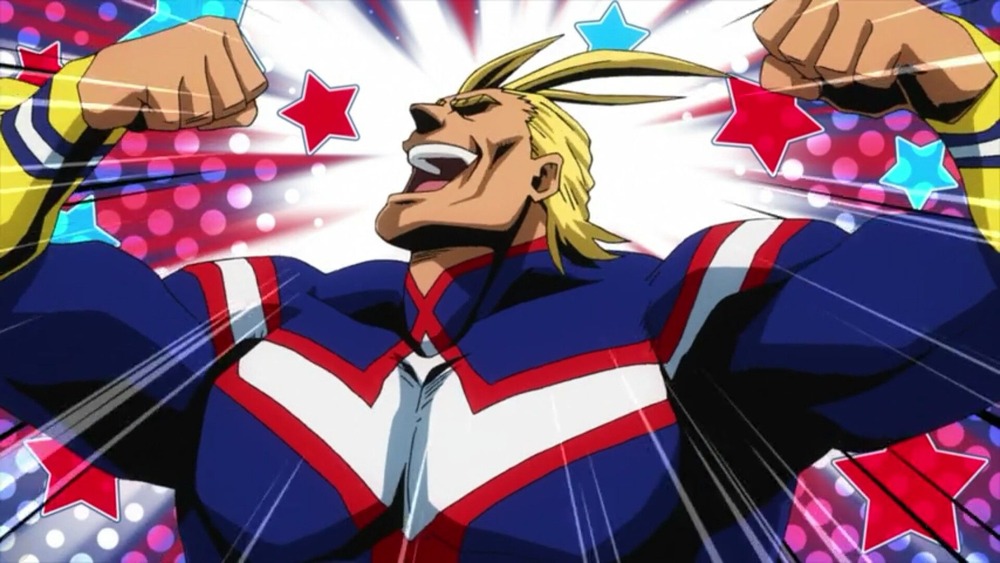 FUNimation Entertainment/Bones
After posting the poster of the My Hero Academia film, many fans thought it might be a sign that Cena could be lending his voice to an upcoming My Hero Academia project, or even acting in a possible live-action version, as Legendary Entertainment acquired the rights in 2018 (via Deadline). Now Cena is adding more fuel to the fire, posting another picture on his Instagram of All Might, the character many fans want him to play.
More likely than not, Cena probably just posted the picture in appreciation of the character and the anime, but who knows, as Cena left no comment on the post. Also, it's not that far of a stretch to say that All Might shares some characteristics with Cena's upcoming character Peacemaker, who will premiere in The Suicide Squad and have his own television series after. In My Hero Academia, All Might is often referred to as the "Symbol of Peace," and his costume shares the same base colors as Peacemaker's — blue, red, and gold. Knowing this, Cena seems like the perfect pick for a live-action version of the character, if there ever is one.
Cena is likely willing and definitely capable to take on the iconic anime character on screen, but that doesn't mean he is going to. For now, fans of Cena and My Hero Academia will have to survive on these little references, and the knowledge that Cena is just as much a fan of anime as they are.