Sopranos Actors You May Not Know Passed Away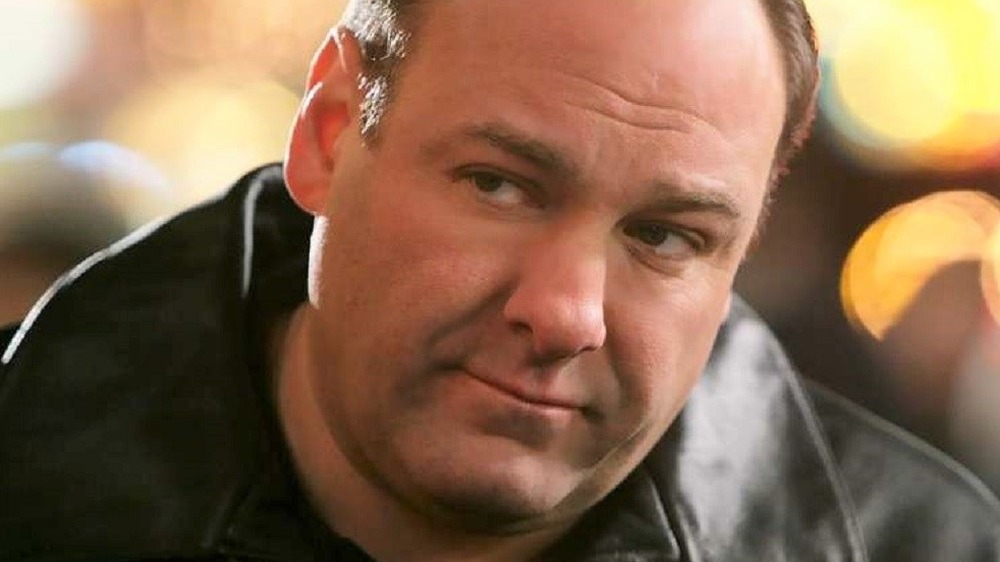 Decades after its debut in 1999, "The Sopranos" is still considered to be one of, if not the greatest television series of all time, and it's been credited with sparking the "Golden Age of Television" of the early 21st century. But while the show's legacy may live on forever, fans have been reminded all too often of the mortality of those who built it. Between the second and third season in 2000, Livia Soprano actress Nancy Marchand passed away from lung cancer at the age of 72, leading to a dramatically altered storyline for the third season. Then, six years after the conclusion of the series, beloved star James Gandolfini died suddenly of a heart attack at only 51 years old.
While the rest of the regular cast is, thankfully, still with us, the same can't be said for a number of the recurring guest actors whose characters inhabited the world of the North Jersey mafia and their rivals across the Hudson River. Shot primarily in New York and New Jersey, "The Sopranos" showcased actors from the comparably small East Coast television industry (the same talent pool that fed Dick Wolf's "Law & Order" empire), Broadway stage veterans, and also new faces discovered via local casting calls. With a cast as sprawling as "The Sopranos," it's understandable for news of an actor's passing to evade notice, so we've compiled a list of some of those we've lost since the series came to an end in 2007.
(Warning — there are spoilers below.)
John Costelloe left a lasting impression as Jim 'Johnny Cakes' Witowski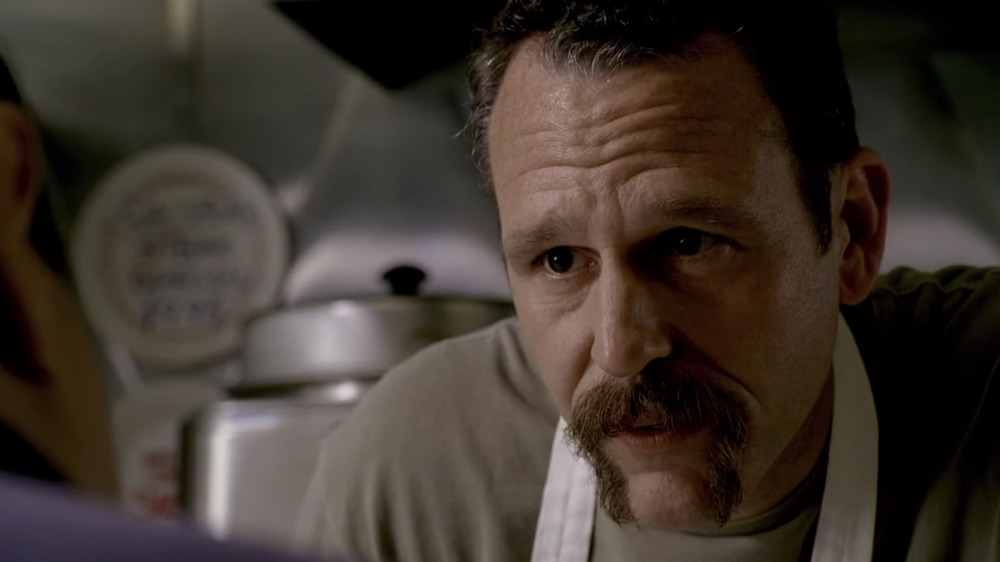 John Costelloe played a key role in the sixth season of "The Sopranos" as Jim "Johnny Cakes" Witowski, the short-order cook and volunteer firefighter with whom Soprano family capo Vito Spatafore (Joseph R. Gannascoli) falls in love while in hiding in New Hampshire. Johnny Cakes represents a fresh start for Vito, who's fled New Jersey after being outed as gay by his violently homophobic colleagues. Johnny Cakes is a warm, calming presence in Vito's life, and Vito even considers remaining in the sleepy New Hampshire town and building a new life with him. However, Vito becomes restless with rustic living and honest work, and ultimately, he decides to leave his love behind.
While appearing in only four episodes, John Costelloe leaves a lasting impression as one of the series' most memorable short-term guest stars. A native of Brooklyn, New York, Costelloe served the Fire Department of New York (alongside future "Sopranos" castmate Steve Buscemi) from 1987 to 1998, overlapping with his acting career. His other screen credits include small roles in "Die Hard 2" and "Doubt," as well as a recurring role as a crime boss on "New York Undercover." Sadly, in 2008, John Costelloe died at the age of 47 of a self-inflicted gunshot wound.

If you or someone you know is struggling or in crisis, help is available. Call or text 988 or chat 988lifeline.org
Denise Borino-Quinn stole the Sopranos spotlight as Ginny Sacrimoni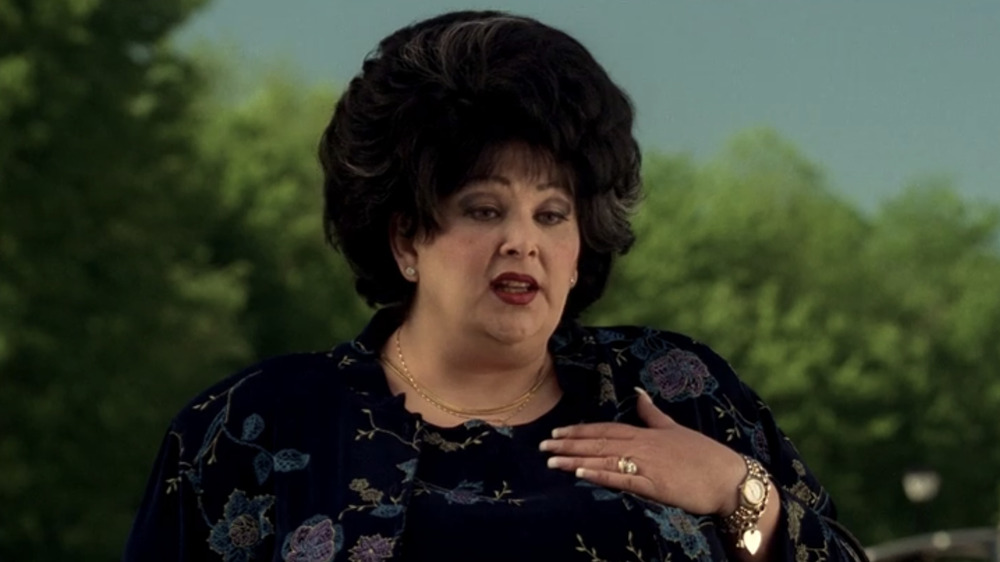 Denise Borino-Quinn appeared in 17 episodes of "The Sopranos" as Ginny Sacrimoni, wife of New York crime boss John "Johnny Sack" Sacrimoni (Vincent Curatola). Ginny is one of the audience's lenses into the everyday family lives of the mafia's higher echelons, as she and her husband move to New Jersey and begin to socialize more often with the Soprano crew. Ginny and Johnny Sack's relationship is most deeply explored in the episode "The Weight," in which Johnny nearly kills Ralph Cifaretto (Joe Pantoliano) for telling a joke about Ginny's weight. Ultimately, Johnny realizes that his extreme reaction merely plays into the cultural expectation that Ginny should be ashamed of her weight, which is a great hardship on her.
Prior to "The Sopranos," Denise Borino-Quinn had no previous acting experience, but she won the role of Ginny Sacrimoni unexpectedly at an open casting call for the series in 2000. She has no other screen acting credits. Borino-Quinn succumbed to liver cancer in 2010 at the tragically young age of 46.
Tom Aldredge played Hugh DeAngelis, Carmela Soprano's complicated dad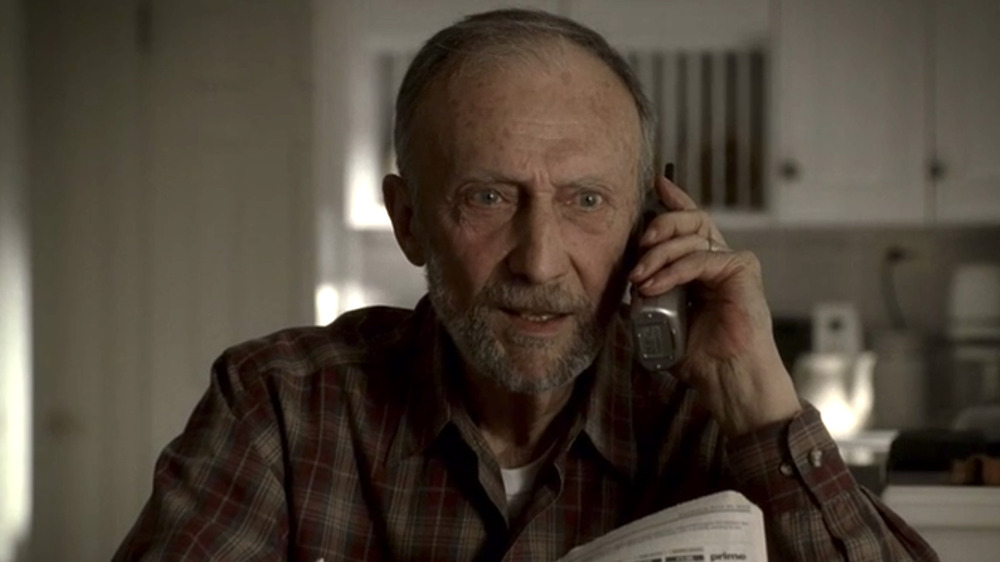 Tom Aldredge appears in 23 episodes of "The Sopranos" as Hugh DeAngelis, Carmela Soprano's father. Stubborn and argumentative, Hugh is an obstacle for Carmela (Edie Falco) as often as he's an ally. Though Carmela's marriage is tumultuous at best, Hugh is deferential towards Tony throughout the Sopranos' family squabbles. And when Carmela and Hugh become business partners in the building of a spec house, Hugh's use of substandard lumber nearly torpedoes the entire enterprise. Nevertheless, Hugh and Carmela always seem to patch things up eventually.
Tom Aldredge's career on film and television began in the early 1960s and saw a resurgence after his recurring role on The Sopranos, when he would make multiple appearances on "Boardwalk Empire" and "Damages." His greater legacy, however, is on Broadway, where he racked up five Tony nominations between 1972 and 2004, and he was part of the original casts of "Into the Woods" and "On Golden Pond." Aldredge died of lymphoma in 2011, at the age of 83.
Carmine Lupertazzi starred as Tony Lip before helping make Oscar history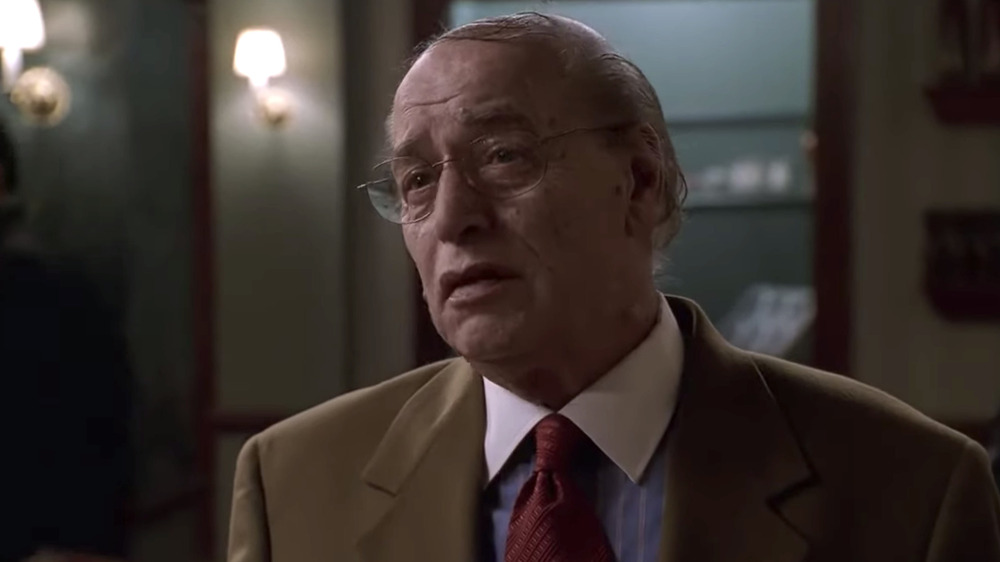 Frank Anthony Vallelonga, aka Tony Lip, portrayed Carmine Lupertazzi, head of the Lupertazzi Crime Family of New York, in 11 episodes of "The Sopranos." Like much of the New York mafia, Carmine can be a bit condescending towards his New Jersey neighbors, but he's also willing to make compromises in Tony's favor in the interests of keeping the wheels of their business turning. While generally a cunning gangster, Carmine fails to formally announce a successor and spends his final days grooming his clueless son, Little Carmine (Ray Abruzzo), rather than the better-qualified John Sacrimoni. This results in a bloody power struggle over control of the family after his death.
Prior to "The Sopranos," Tony Lip was already well known to fans of the gangster genre for his appearances in "Goodfellas" and "Donnie Brasco," and he even makes an uncredited appearance as a wedding guest in "The Godfather." Lip passed away at 82 in 2013, but his name became more famous after the release of "Green Book," a 2018 film co-written by his son Nick, based on accounts of Tony Lip working as a driver and bodyguard for pianist Don Shirley in the '60s. It should be noted, however, that the accuracy of their portrayals in the film (to say nothing of the quality of the film as a whole) is the subject of much controversy.
Robert Loggia was already a legend before playing 'Feech' La Manna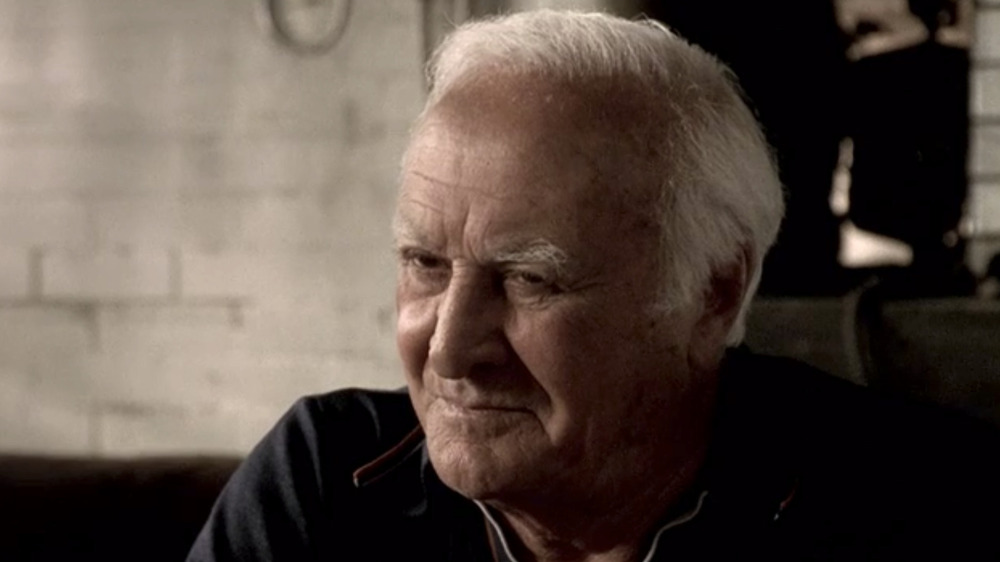 Michele "Feech Oogatz" La Manna, played by Robert Loggia, enters the story at the start of the fifth season, as he and a handful of other members of the North Jersey mob are released from prison and return to work. Feech, already an elder statesman at the start of his 20-year bit in 1984, has difficulty taking orders from Tony and, deliberately or not, starts to undermine his authority. Still wounded from the recent coup attempt by Richie Aprile (David Proval), Tony arranges to have Feech busted in possession of stolen goods and sent back to prison before his insubordination can become a bigger problem.
Robert Loggia had a storied acting career before his four-episode run on "The Sopranos," with memorable roles in such films as "An Officer and a Gentleman," "Scarface," and "Independence Day." Plus, he's the guy who famously played "Chopsticks" with Tom Hanks in "Big." His distinctive voice also led to roles in animation and video games, such as "Oliver & Company," "Grand Theft Auto III," and two appearances as himself on "Family Guy." Loggia died from Alzheimer's complications in 2015. He was 85 years old.
David Margulies played Neil Mink in The Sopranos and showed up in a great '80s comedy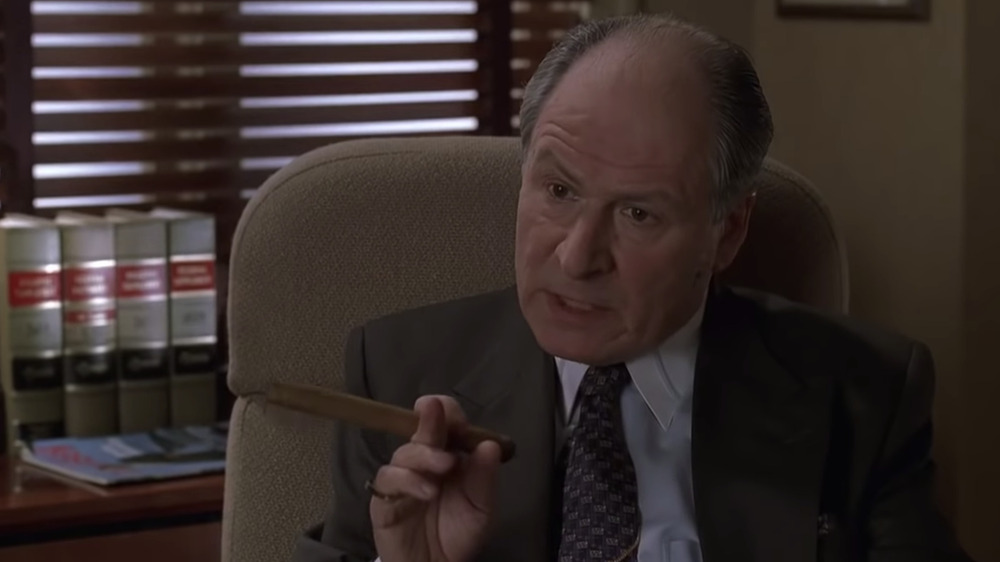 David Margulies appeared as Tony's attorney, Neil Mink, in eight episodes of "The Sopranos," spanning from the second season premiere all the way to the final episode. Neil is a reliable resource for Tony, and he remains one of the less contentious of Tony's business relationships throughout the series. His calm confidence in his own insight sometimes borders on aloofness, but he always manages to keep Tony out of prison, even as a parade of his colleagues get pinched.
After his feature debut in the 1972 indie film "Scarecrow in a Garden of Cucumbers," David Margulies appeared steadily on both the big and small screen between 1976 and his death from cancer in 2016. Margulies had a noteworthy Broadway career, as well, appearing in "Angels in America," "Conversations with My Father," and "The Iceman Cometh" (with "Sopranos" castmate Tom Aldredge). To moviegoers, he's perhaps best remembered as Mayor Lenny Clotch in 1984's "Ghostbusters" and its 1989 sequel. His final film role is in the micro-budget indie feature "Adam Bloom," which was released in 2020, four years after his death.
On The Sopranos, Joe Santos played gangster Angelo Garepe, but he usually played cops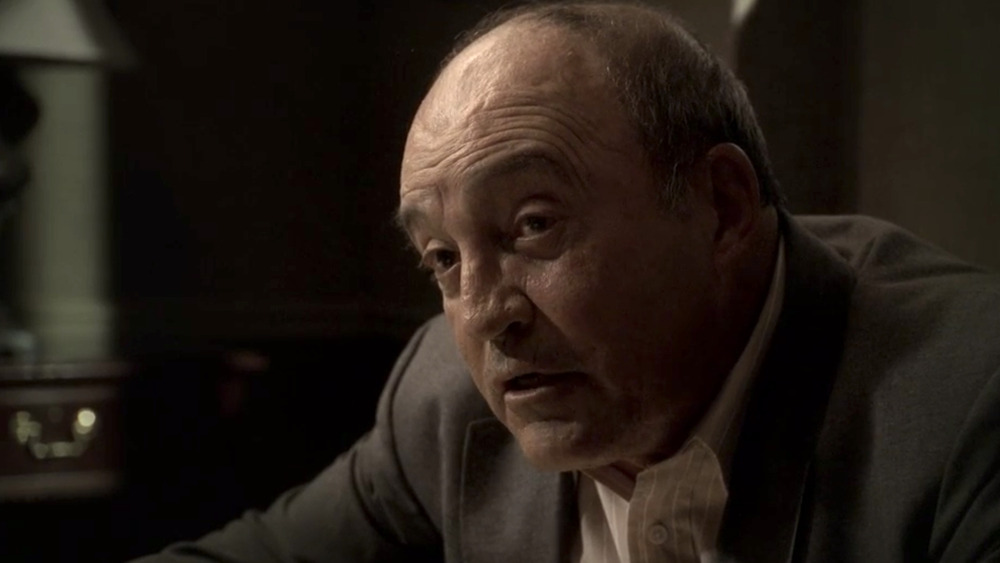 A member of the "Class of 2004," Angelo "Angie" Garepe was portrayed by actor Joe Santos in seven episodes of the fifth season of "The Sopranos." Angelo's joyful retirement is interrupted when Tony convinces him to intervene in the tug of war between John Sacrimoni and Little Carmine Lupertazzi over leadership of New York's most powerful crime family. Tony's proposed triumvirate crumbles, but Angelo remains in the business to back (and manipulate) Little Carmine, heating up the conflict between the factions. Angelo is killed by Sacrimoni underboss Phil Leotardo (Frank Vincent) as part of a long string of retaliatory hits.
While appearing as a gangster in "The Sopranos," Joe Santos spent most of his career playing cops on various procedurals. He recurred as police officers on "Police Story," "Hardcastle and McCormick," "Magnum, P.I.," and he made one-off appearances in uniform on several other series between 1978 and 2000. He's best known for his long tenure on "The Rockford Files," where he reprised the role of Sgt. Dennis Becker across six seasons and eight TV movies, spanning three decades. Santos died of a heart attack in 2016 at the age of 84.
As Frank Cubitoso, Frank Pellegrino was constantly trying to bust Tony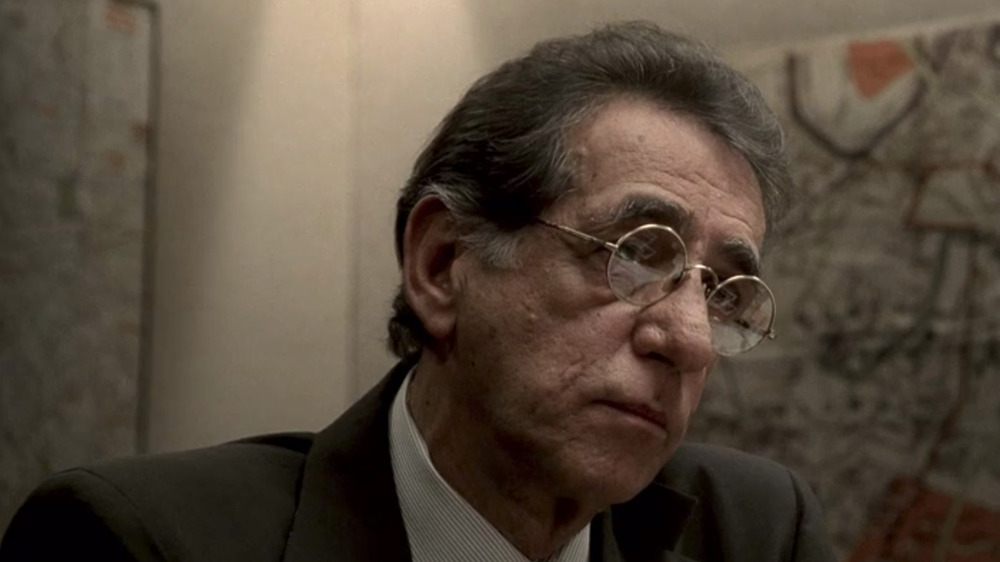 For 11 episodes between the first and fifth season of "The Sopranos," Frank Pellegrino recurs as FBI Station Chief Frank Cubitoso, the agent in charge of the federal investigation into the North Jersey mafia. Cubitoso oversees multiple attempts to gain actionable intelligence into the Soprano family's dealings, all of which are foiled. He arguably comes closest when he and Agent Deborah Ciccerone-Waldrup (Lola Glaudini) corner Adriana La Cerva (Drea de Matteo) into turning state's witness, but she's found out and killed before she can testify.
Frank Pellegrino was another in a long line of actors to find a home in the crime genre, playing both cops and robbers. He appeared as a gangster in both "Goodfellas" and "Mickey Blue Eyes," made multiple appearances in the "Law & Order" universe (including guest spots on the core series and "Criminal Intent"), and was a regular on the short-lived "New York Undercover." Aside from acting, Pellegrino also co-owned a restaurant in East Harlem, Rao's, which was a regular haunt of Martin Scorsese's. Pellegrino died of lung cancer in 2017.
In addition to playing Vin Makazian, John Heard starred in a classic Christmas series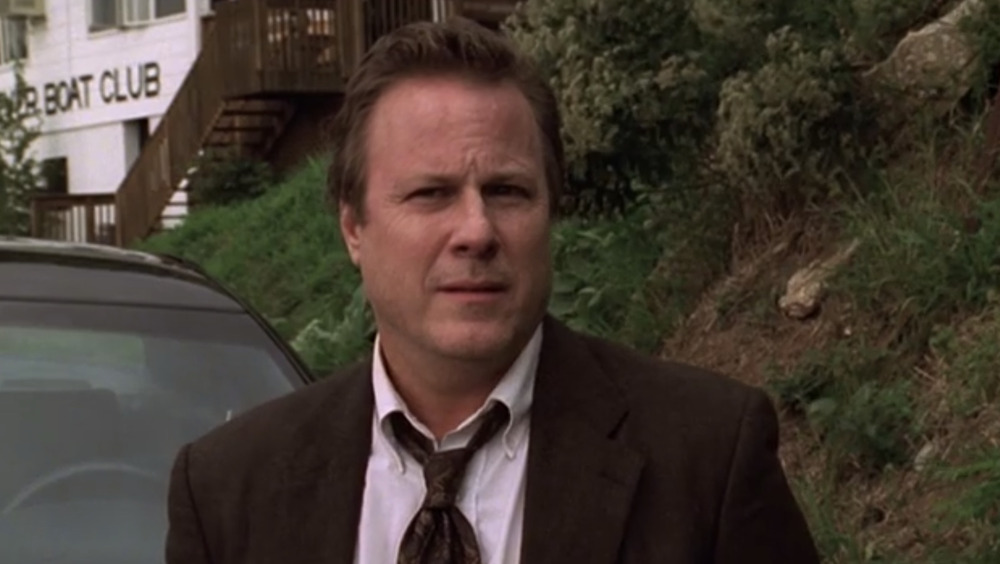 On the first season of "The Sopranos" (and one final appearance in Season 5), John Heard plays Vin Makazian, a police detective with a gambling problem who works for Tony on the side to pay off his debt to the mob. Tony assigns Det. Makazian to follow his psychiatrist Dr. Jennifer Melfi (Lorraine Bracco), who Makazian misinterprets as his mistress. As a result, he oversteps his orders by intimidating her and her dinner date. Makazian is the first person to warn Tony that his friend Salvatore Bonpensiero has become an FBI informant, but Tony distrusts Makazian and ignores him. After Makazian's death by suicide years later, Tony is befuddled to learn that Makazian — who he regards as a pathetic degenerate — always thought of him as a friend.
From the 1970s through the 2010s, John Heard appeared in a wide variety of screen projects ranging from procedural television series like "CSI: Miami" and "NCIS: Los Angeles" to cult films like "C.H.U.D." and "Sharknado." He also recurred as Governor Frank Tancredi across three seasons of the hit series "Prison Break." But, apart for his Emmy-nominated performance as Vin Makazian on "The Sopranos," Heard is certainly most recognizable as Peter, Kevin McCallister's father in "Home Alone" and "Home Alone 2: Lost in New York." In 2017, John Heard passed away while recovering from back surgery at the age of 71.
Frank Vincent was always great as mobsters, including Phil Leotardo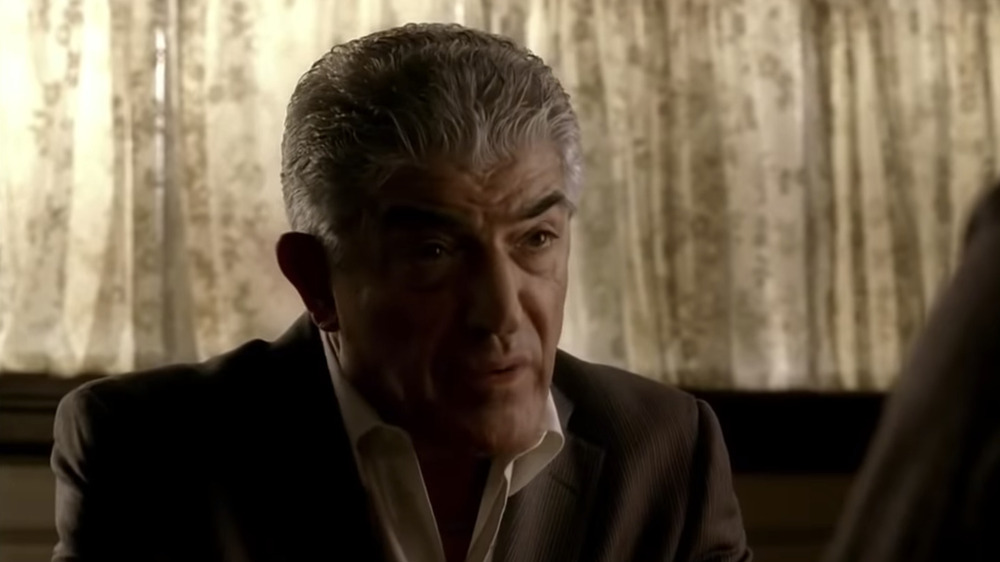 Phil Leotardo, portrayed by Frank Vincent, first appears in Season 5 and eventually becomes the primary antagonist of the sixths and final season of "The Sopranos." Initially reluctant to lead, Phil nevertheless ascends from capo under boss John Sacrimoni to acting boss during Johnny's prison stay to full-on boss after his death, growing more impulsive and vengeful with power. Phil orders the elimination of the entire Soprano family leadership, but when his assassins fail to kill Tony himself, he finds himself on the defensive and loses control of his own family.
Frank Vincent wore many hats over the course of his career as an entertainer. In the 1960s, he was a studio drummer in New York working for hire for popular acts like Paul Anka and Del Shannon. In the '70s, he was a comedian performing a double-act alongside Joe Pesci, which eventually took them to Hollywood where they were cast in "Death Collector," the first of many gangster movies in which they would appear. Alongside Pesci, Vincent became a mainstay of crime dramas such as Martin Scorsese's "Goodfellas" and "Casino," as well as parodies and pastiches like "Wise Guys," "Shark Tale," and the "Grand Theft Auto" video game series. Vincent died in 2017 after a heart attack at the age of 80.
Before playing Butch DeConcini, Greg Antonacci did a ton of sitcoms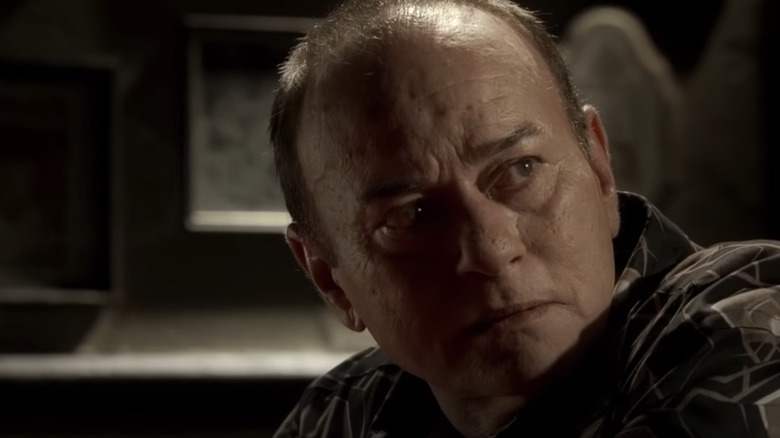 Introduced midway through the final season, Butch DeConcini is Phil Leotardo's right-hand man, played by Greg Antonacci. Though initially prodding Phil towards war against the Soprano crew, Butch changes his tune after the attempt to assassinate Tony fails, and he begins to worry about his own future with Phil. In the final "Sopranos" episode, Butch gives Tony his blessing to whack Phil and end the war.
Greg Antonacci had a varied Hollywood career both in front of and behind the camera, working mostly on sitcoms. During the 1970s and '80s, Antonacci was a recurring actor on "Laverne & Shirley" and "Soap," a director on "Herman's Head," a writer and producer on "It's a Living," a regular actor and writer on "Busting Loose," and a writer, producer, and director on "Brothers," just to name a few. His nine episodes on "The Sopranos" were Antonacci's first screen acting credits in nearly a decade, and that led to a larger role on "Boardwalk Empire" from 2010 to 2014. Antonacci died in 2017 at 70 years old.
We all remember Frances Esemplare as The Sopranos' Nucci Gualtieri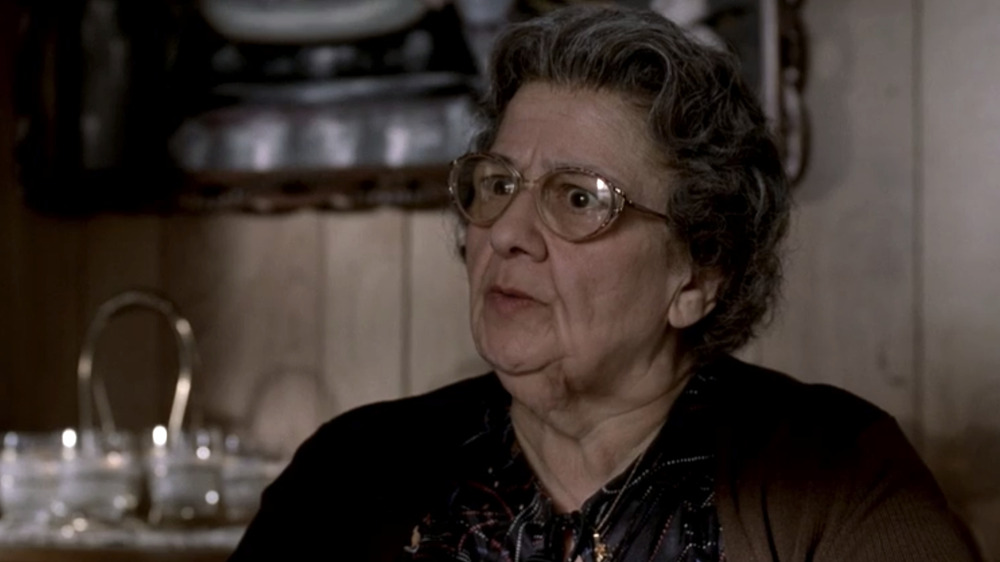 Frances Esemplare played Marianucci "Nucci" Gualtieri, mother of Paulie "Walnuts" Gualtieri (Tony Sirico) in eight episodes of "The Sopranos," from Season 3 through Season 4. Nucci is a sweet old lady who means no harm to anyone, practically the polar opposite of her psychopathic son, though they share a few traits — naivety and sensitivity. Paulie is very protective of Nucci, extorting other residents of her retirement community into befriending her and threatening to kill Ralph Cifaretto for frightening her with a prank phone call. However, Paulie's doting comes to an abrupt end when he discovers that Nucci is actually his aunt, not his mother, after which he refuses to speak to her.
Prior to "The Sopranos," Frances Esemplare had only a single screen credit, a small role in the 1997 independent film "Sue," which happens to co-star John Ventimiglia, aka Artie Bucco on "The Sopranos." During the run of "The Sopranos," Esemplare had a small role in the indie feature "The Immaculate Misconception," as well as the short film "The Hit" starring another "Sopranos" regular, Federico Castelluccio (Furio Giunta). Frances Esemplare passed away in 2017 at the age of 83.
Suzanne Shepherd brought mob movie credentials to the role of Carmela's mother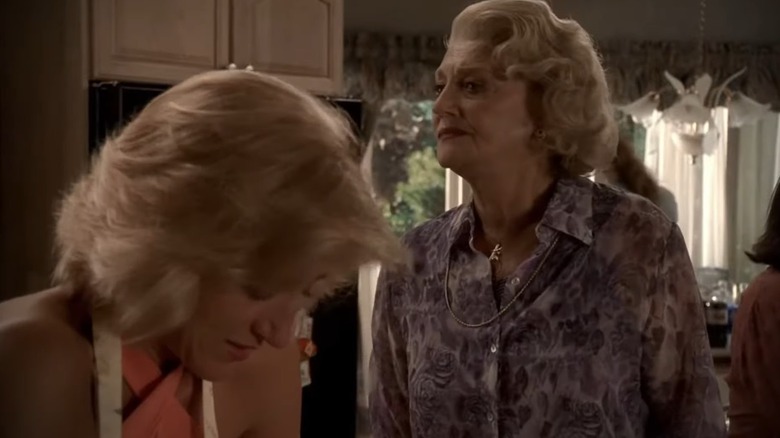 HBO
Suzanne Shepherd, who died at the age of 89, was best known to fans of "The Sopranos" for her role as Carmela's mom, Mary DeAngelis. Motherhood is a central theme of "The Sopranos," and Shepherd brought her talents to bear on one of the show's flawed matriarchs. She was particularly striking in her disapproval of the marriage between Carmela and Tony Soprano, who has plenty of mother issues of his own. 
Another key element of Shepherd's presence on the show (she appeared in 20 episodes) is her role in one of the mob movie classics that serves as a touchstone for "The Sopranos" — Martin Scorsese's "Goodfellas." Shepherd plays the mother of Karen Friedman Hill (fellow "Sopranos" alum Lorraine Bracco) in the film, which is probably her second-most widely seen role within the organized crime subgenre. Shepherd also appeared in series across the "Law & Order" franchise and in films like "Requiem for a Dream" and "A Dirty Shame" among many other credits over the course of her career.
Burt Young brought Bobby Bacala Sr. out of retirement for one last hit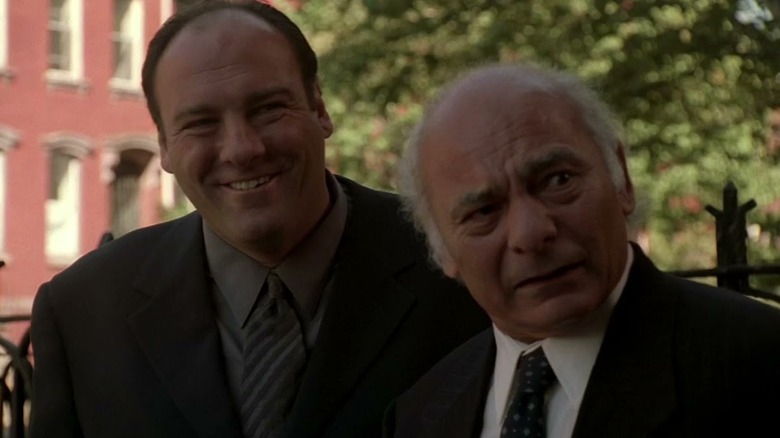 HBO
At the time of his death at age 83, Burt Young was remembered primarily for his role as Paulie Pennino in the "Rocky" movies. But in a single appearance on "The Sopranos," in Season 3, Episode 5, "Another Toothpick," Young made a very strong impression in the chilling role of Bobby Baccalieri Sr. The elder Bobby Bacala is in ill health with lung cancer but is brought out of retirement to pull off one last hit on behalf of Tony Soprano. 
Any fan of the series likely remembers the murders that ensue, as well as Bobby Sr.'s ultimate fate when, after the hit is carried out, he passes out during an especially nasty coughing episode and crashes his car. But it's possible that Young does his best acting in the episode when Bobby Sr. accepts the job and pleads his desire to be "useful for a change" in the criminal underworld in which he once thrived. Bobby Sr. came late in a career full of misfit tough guys for Young, and he definitely made the most of the opportunity.