How Much Rick Actually Paid For Lucille Ball's Necklace On Pawn Stars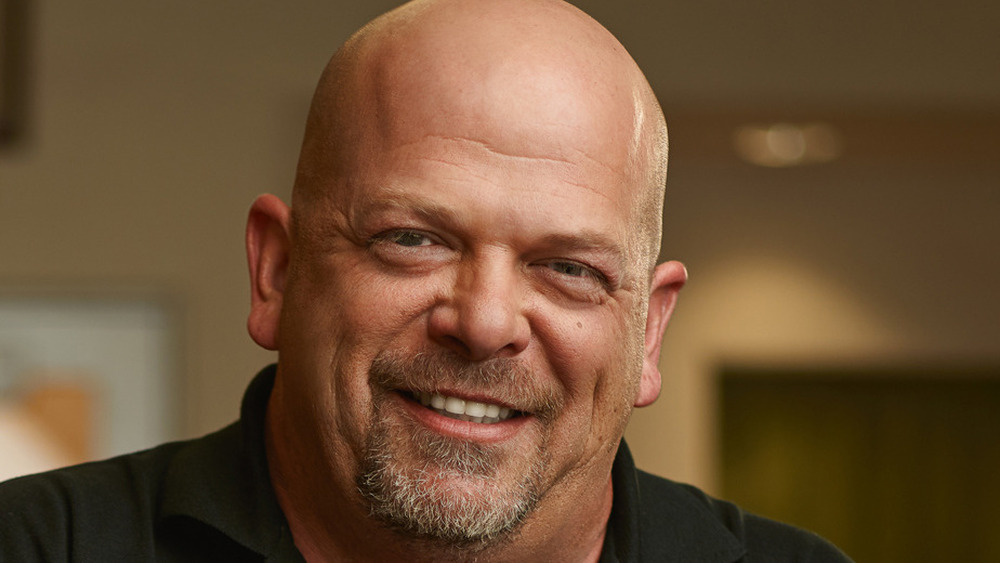 History
Since the show's 2009 premiere on History, Pawn Stars has attracted motivated sellers, unique items, and committed viewers eager to witness each transaction go down. Some of the most expensive pieces to cross the counter at the Harrison family's Gold & Silver Pawn Shop include an antique ship bell worth $15,000; an Egyptian mummy mask, purchased by Corey Harrison for $30,000; and original artwork for the Maurice Sendak children's book Where the Wild Things Are, purchased by Rick Harrison for $250,000.
Not surprisingly, celebrity connections often drive up prices. The Harrisons walked away from deals that would've given them ownership of The Beatles' original contract signed by the Fab Five (asking price $1 million) and Jimi Hendrix's 1963 Fender Stratocaster guitar (valued at between $750,000 and $1 million). Same for O.J. Simpson's white Ford Bronco — the getaway car from the infamous 1994 police chase — which was deemed out of reach at $1.25 million.
Knowing all of that, one seller, Vernon, certainly wasn't delusional when he walked into the shop hoping to fetch a decent price for a necklace owned and worn by actress and powerhouse producer Lucille Ball.
Rick was impressed by the Lucille Ball necklace
When Vernon entered the Gold & Silver Pawn Shop, he carried a faux double-strand pearl necklace with an ornate silver metal clasp and a picture of Lucille Ball wearing it. Rick Harrison was more than happy to take a look. Though Ball's fame hit before his time, Rick had to admit he was a fan — not only of her well-known work on I Love Lucy but of her other projects, too.
Rick remembered Ball for her roles in movies before the hit show as well as for her work producing other popular series. A pioneer for women in the entertainment industry, Ball started Desilu Productions with husband Desi Arnaz in 1950. When they divorced and he sold her his share of the company, she became the first female owner of a major Hollywood studio. She went on to produce The Andy Griffith Show, Star Trek, and other iconic series. "Everyone remembers Lucille Ball from I Love Lucy, but behind the scenes, she was a big Hollywood star with a lot of power," Rick said.
Vernon had to be wondering if that star power would translate into major cash. He even offered a certificate of authenticity for the necklace. "This has got to be, like, the cheapest certificate of authenticity I've ever seen in my life," Rick said. "I mean, he literally printed this on his computer at home." Still, Rick believed the certificate was legit, and Vernon was ready to sell. The bargaining started at $500, and in the end, Rick got the piece for $325. Ball's necklace wasn't going to make anyone rich, but the deal left both buyer and seller satisfied.