Grown-Ish Season 4 - What We Know So Far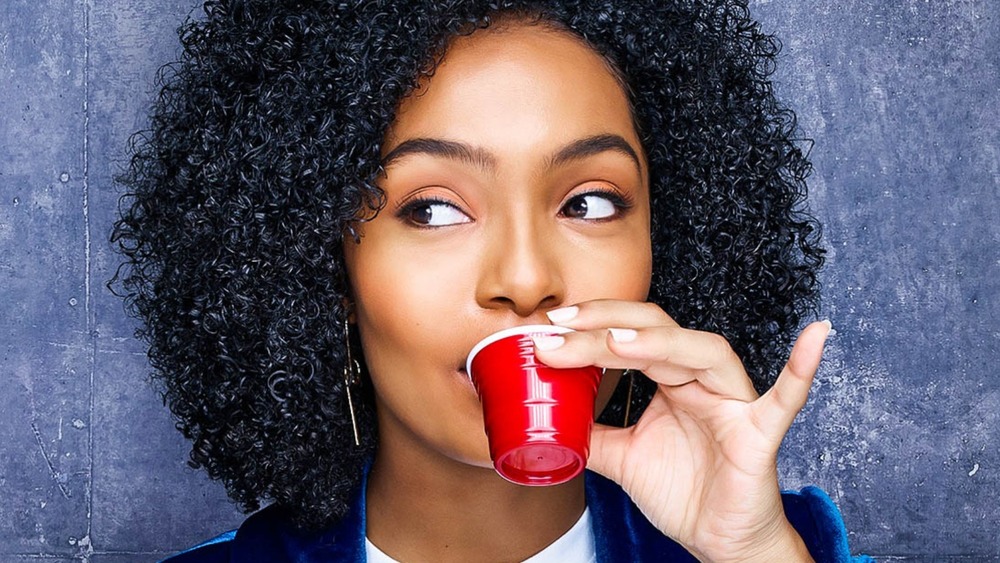 Freeform
The Freeform sitcom Grown-ish just aired the finale for its third season, which resumed in January 2021 after a lengthy hiatus related to COVID-19. But even though season 3 is still fresh on everyone's minds, it's never too early to start looking forward to season 4.
Grown-ish started as a spinoff of Kenya Barris' groundbreaking sitcom Black-ish, and both the show and its main character, Zoey Johnson, have grown along the way. The show began when Zoey left home for California University, finding herself in that familiar not-quite-adult, not-quite-child stage that many college students can relate to. Along the way she's made lots of new friends, indulged in various romances, and even dropped out of college entirely before (spoiler) deciding to return. 
If and when Grown-ish returns for a fourth season, it will find Zoey on the cusp of her next big phase: actual adulthood. But before she does that, there will no doubt be plenty more drama at college. Here's everything we know about Grown-ish season 4.
When will Grown-ish season 4 premiere?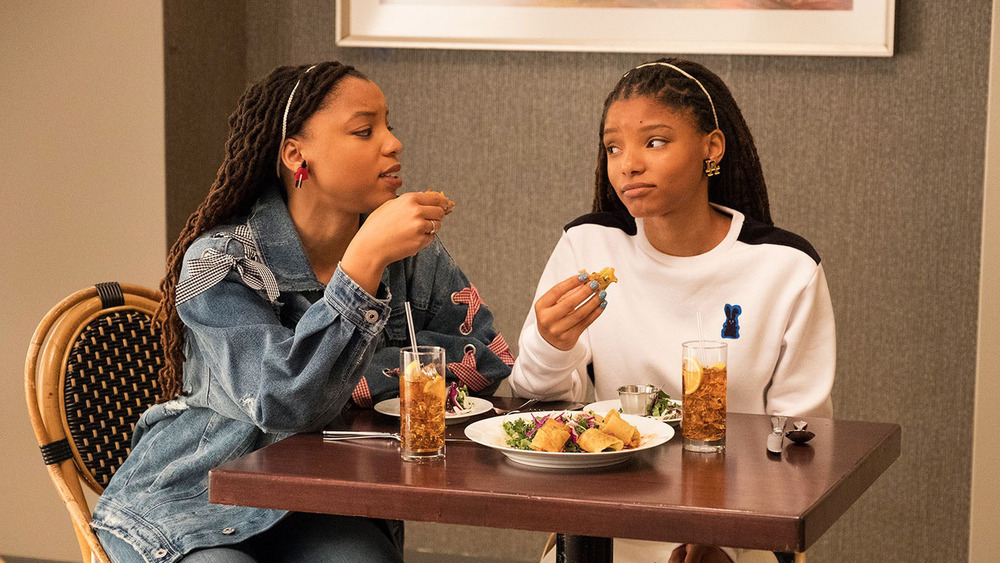 Freeform
Freeform hasn't yet announced a premiere date for the fourth season of Grown-ish.
The COVID-19 pandemic upended Grown-ish's production schedule, as it did to many TV and movie productions. Season 3 premiered on Jan. 16, 2020, but only aired eight episodes before going on a long hiatus in March. The back half of season 3, or "Season 3B," premiered on Jan. 21, 2021 and concluded on March 18.
As star Yara Shahidi told TV Line, some of the season 4 scripts were written and ready to go as of January 2021, but the show hadn't gotten the "green light" to begin production. However, on February 16, Shahidi posted an Instagram video from the set with a caption that said, "Let's gooo." 
Per Deadline, the third season's production began on July 8, 2019 and ended in "late 2019." That's three to four months to produce 17 episodes, with about another month in between before the show even premiered. Following this timeline, we can hope to see the fourth season premiere sometime in June or July of 2021.
Who's in the cast of Grown-ish season 4?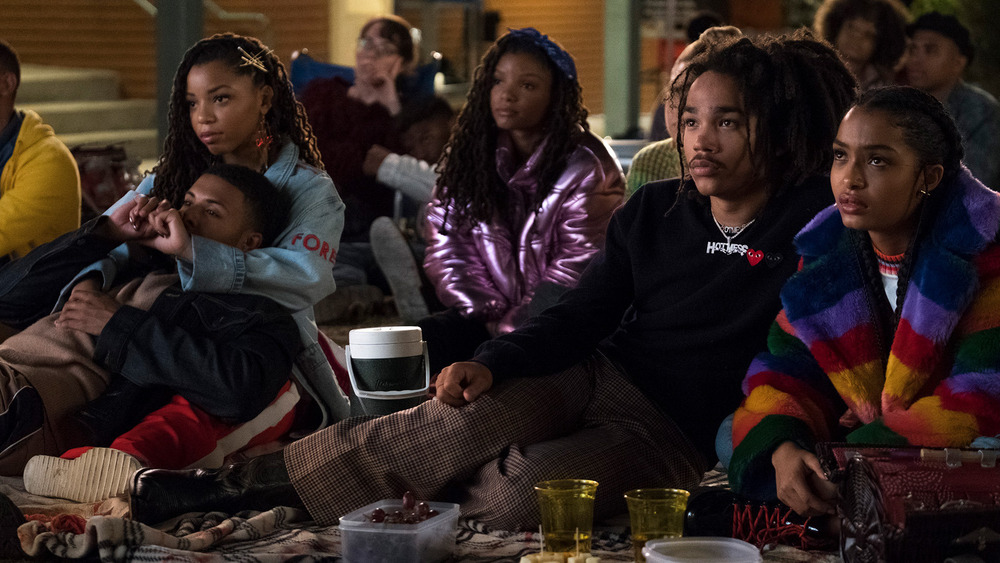 Freeform
Unfortunately, no announcements have been made about new additions to the cast just yet. There's also been no word about possible departures, nor whether or not any characters who were written off the show in the season 3 finale might return — although based on where Zoey's story ended up, there may be more than a few characters who won't be coming back.
However, the main cast will most likely be returning for season 4 — that includes star Yara Shahidi as Zoey Johnson, and Trevor Jackson as her on-again-off-again boyfriend Aaron. There's also Luka Sabbat who portrays Zoey's former boyfriend Luca, Francia Raisa as Zoey's roommate Ana, Emily Arlook as her friend Nomi, Chloe and Halle Bailey as twins Jazz and Sky Forster, and Diggy Simmons and Jordan Buhat as Aaron's friends Doug and Vivek. Raigan Harris and Ryan Destiny also joined the cast in season 3 as well, playing Rochelle and Jillian, respectively.
Since Zoey decided to quit her stylist job and return to school, odds are her two bosses, Joey Bada$$ and Indigo (Saweetie), won't return.
What will Grown-ish season 4 be about?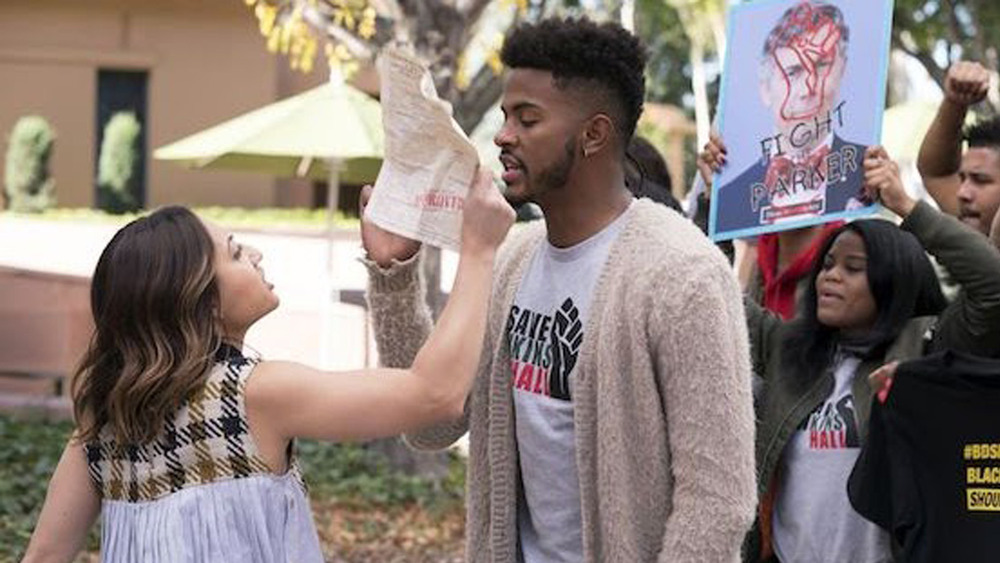 Freeform
A sign on Yara Shahidi's trailer indicated that season 4 would cover Zoey's senior year at Cal U, which will presumably resume pretty quickly given that she quit her stylist job in the previous season. As for Zoey's personal life, season 3 ended with her kissing Aaron, so it's likely that their on-again-off-again romance will be moving back to the "on" status. And overall, it appears things might finally come full-circle for Zoey in the upcoming season.
As for Aaron, in season 3 he led a successful protest against Cal U's investment in private prisons, which ended with the university divesting itself. Activism continues to be a big and recurring theme on the show, so it's likely that he's just getting started.
Otherwise, many of the supporting characters are having problems of their own. Vivek was just pulled over and found with drugs in his car. Doug and Sky broke up. Javier is being unfaithful to Ana. And Nomi is coming back to college with a brand new baby. Regardless of what the upcoming season holds, we're confident that there's still a lot more drama in store.