Why You Rarely Hear About Nikki Reed Anymore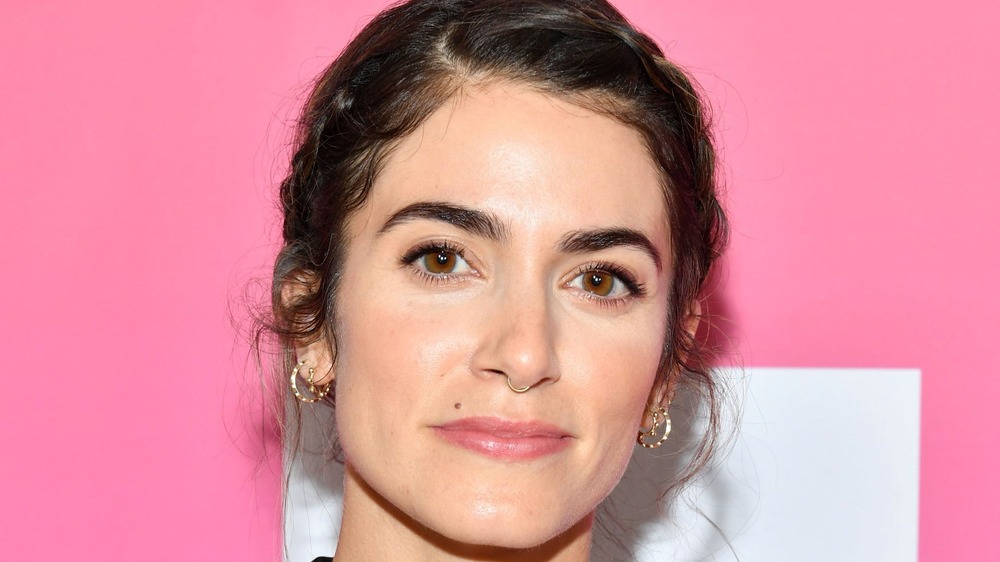 Amy Sussman/Getty Images
It can be hard to get your career started and stay sane when you break into Hollywood at a young age. Add a huge blockbuster franchise into the mix, and the situation comes with even more pressure.  
Nikki Reed, who went from starring in edgy indie films to becoming a face of the juggernaut Twilight franchise alongside Kristen Stewart and Robert Pattinson, can surely attest to that. After a once-in-a-generation industry breakthrough when she was a teenager, Reed became a Hollywood starlet in large part due to the young adult vampire movies, ascending to household-name status as the rare combination of independent-minded/blockbuster-proficient movie star.
However, in the years since the Twilight films came to an end, Reed has largely disappeared from both the big and small screens, leaving her fans in the lurch after a rapid ascent to stardom. There are plenty of reasons as to why Reed hasn't stepped out in the public eye as of late — here's why you don't hear much about Nikki Reed anymore.
Nikki Reed's first role was pretty risqué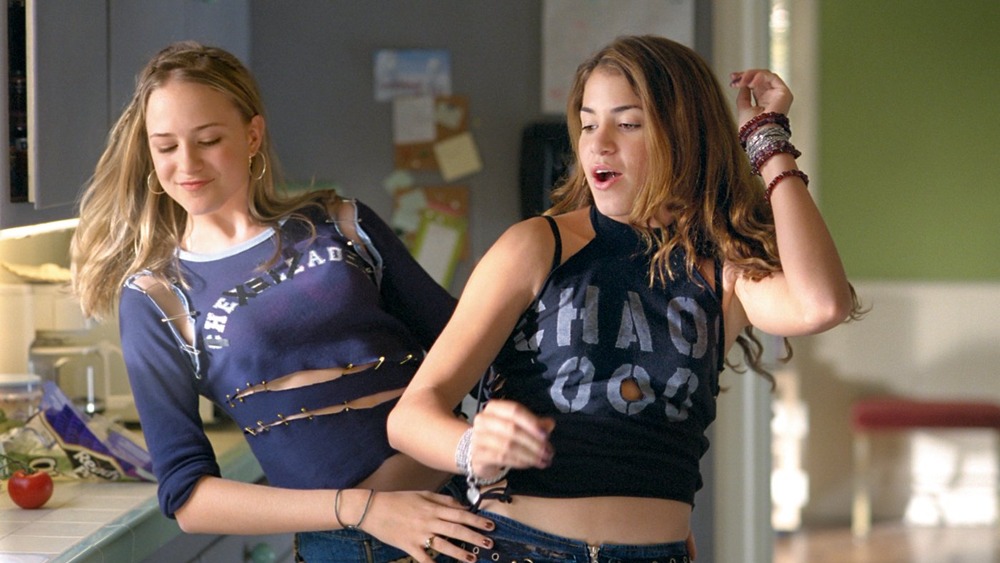 Fox Searchlight
At just fifteen years old, Reed — who was born and raised in West Los Angeles — broke onto the scene in a huge way with her daring independent film Thirteen. The Sundance Film Festival breakout was helmed by director Catherine Hardwicke (who would later direct her again in Twilight) and put her alongside Holly Hunter and Evan Rachel Wood. Reed broke out as the popular, beautiful Evie, whose secret life centers around drugs, sex, and partying...and whose intense aura draws impressionable Tracy (Wood) into her web.
Reed didn't just appear as Evie — she actually wrote the script alongside Hardwicke. Together, they crafted the loosely autobiographical film, which contained real details from Reed's troubled teenage years.  
As Hardwicke told the BBC, "I've known Nikki since she was five-years-old. When she turned 13, there was this tumultuous change in her. [...] She used to be this fun, cool, great kid, and now she was trouble and she hated everybody. I thought I had to get her interested in something, so I found her an acting coach. I told her that good actors write their own material, and that we should write our own script together. We decided to write about the real stuff that was happening to her and her friends, not the fake, sugar-coated version." It was the role of a lifetime for Reed, but there's little denying that it was a difficult project that required a tremendous personal investment.
Education and privacy have always been important to Nikki Reed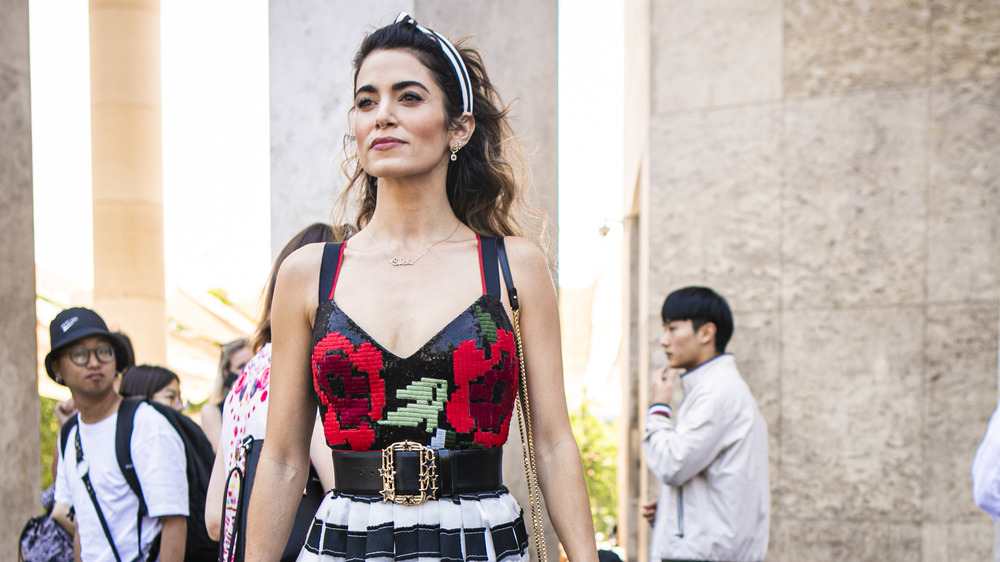 Claudio Lavenia/Getty Images
Unfortunately for Reed, despite the fact that she returned to high school after Thirteen, her early education proved difficult as the film followed her; in fact, she later revealed that mothers would show up at school unprompted to scold her about the movie. As a result, she turned to homeschooling, but later in her career, she said that her education was a huge priority.
As Reed told Yahoo! in 2016, while she valued her career, she couldn't let it come first all the time. "I was in the public eye at such a young age, but I made a conscious decision for many years, actually, to keep myself very removed from being in the public," Reed said. "So for example, after Thirteen, I actually went back to regular high school, and then I ended up graduating two years early and I got my GED. And then not long after that, when I was shooting the Twilight films, I made a conscious decision between films: Instead of staying in town and capitalizing on the momentum and all that, I put my life, my desire to explore and go on adventures, and to develop myself, all before my actual career." 
It couldn't have been easy for Reed to lose so much privacy at such a young age. But clearly, she had a handle on the situation when all was said and done.
Twilight put a ton of pressure on Nikki Reed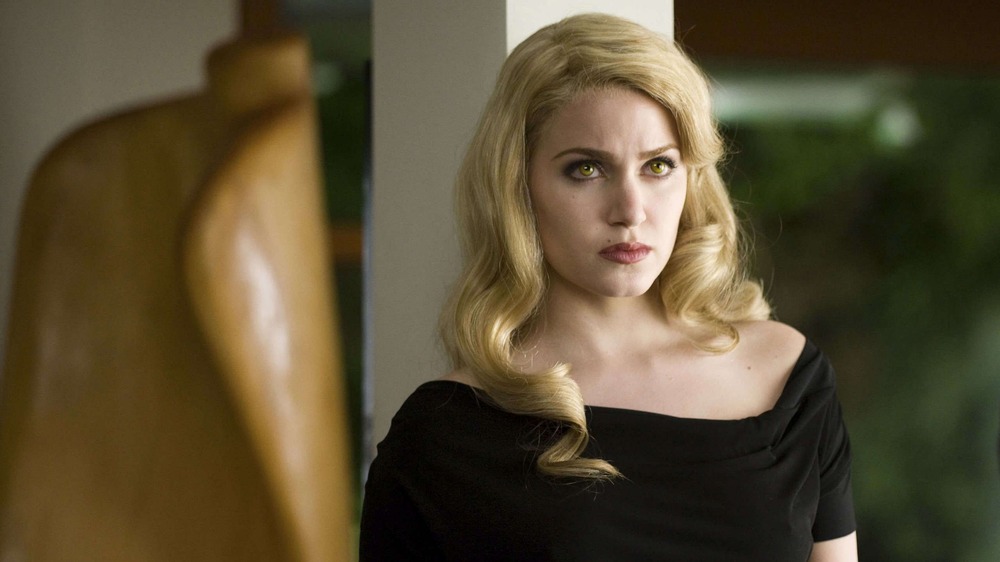 Summit Entertainment
Throughout the entire Twilight franchise Reed played the beautiful, icy Rosalie Hale — adopted sister to Robert Pattinson's Edward Cullen, and part of a family of ageless vampires residing in the gray, rainy town of Forks, Washington. However, when it came to playing the ethereally beautiful Rosalie, there were some unexpected challenges involved.
When asked by Yahoo! about maintaining healthy self esteem in Hollywood, Reed revealed that the role of Rosalie actually made her feel worse. "It's all about finding other ways to feel beautiful, otherwise you're just chasing something forever," Reed said. "I experienced this a lot when I played Rosalie in Twilight. If you're not familiar, this role was supposed to be characterized as the 'most beautiful woman in the world.' That's how the part was written.
"And when you're cast to play that character with that description, there's an inevitable amount of external and internal criticism," she continued. "Suddenly, you're wondering if you're able to play that, and you're listening to the rest of the world say, 'That's not who I would describe as the most beautiful woman!' I had to find myself — and I was only 19 when I first starred in those movies — and I remember thinking to myself, I need to write my own story about what that meant to be the most beautiful woman in the world." 
Despite the Twilight franchise's success, it's obvious that the role of Rosalie was a burden in its own way.
Nikki Reed's post-Twilight career just never took off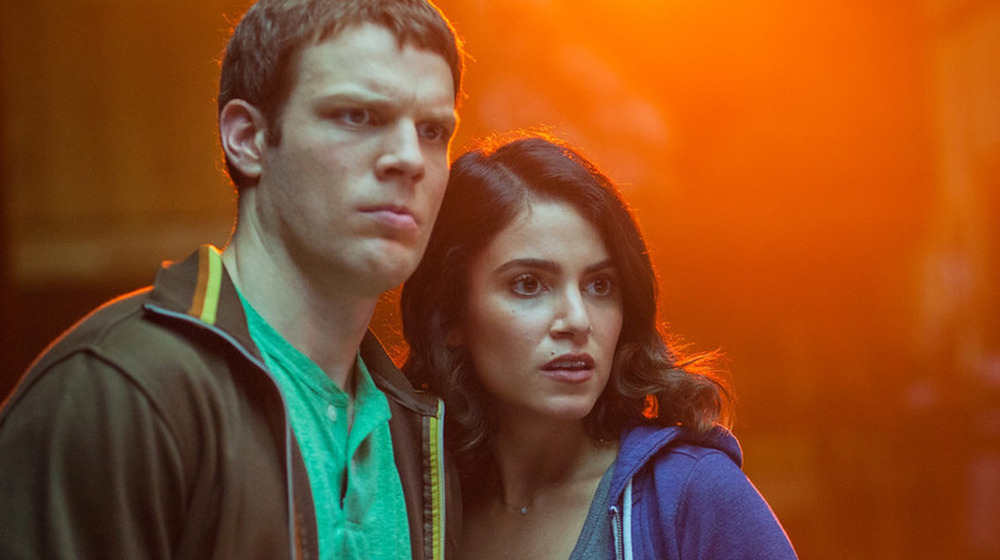 Metro-Goldwyn-Meyer
Despite the overwhelming financial success of the Twilight films, Reed's career hit a wall once the movies wrapped up in 2012 with the two-part adaptation of Breaking Dawn. One year later, Reed starred in the drama Empire State with Liam Hemsworth, which ended up going directly to a DVD release, followed by Pawn and Enter the Dangerous Mind, both of which were barely noticed by critics or audiences.
As it turned out, Reed's string of flops had only just begun. The 2014 sports comedy Balls Out performed well with critics, but didn't make a dent in the box office. The came 2014's In Your Eyes and Murder of a Cat, 2015's About Scout and 2016's Jack Goes Home, none of which set the world on fire.
As of this writing, Reed's last film role was in 2016, in the tiny independent flick A Sunday Horse. Though it might seem crazy to be essentially retired from the film industry after a successful four-film franchise, Reed's post-Twilight work seems to have taken her off the table as a bankable Hollywood star.
There's not a lot of television work on Nikki Reed's resume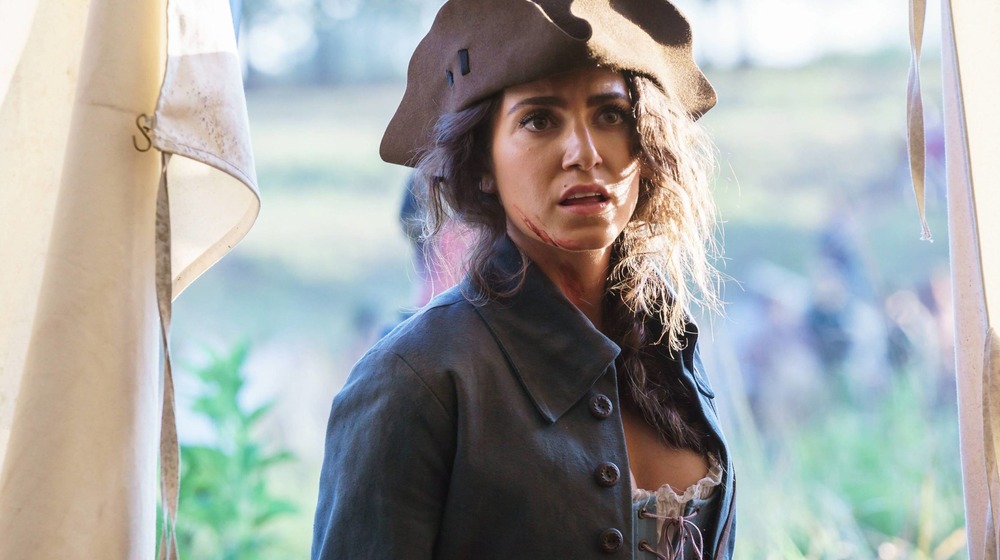 Fox
Reed has a pretty extensive film resume — but when it comes to the small screen, she really hasn't done much work at all.
Before her days bring Stephenie Meyer's literary legacy to the silver screen, she appeared opposite future Twilight co-stars Jackson Rathbone and Cam Gigandet in the third season of The O.C. in 2006. That same year, she appeared in a single episode of Jeffrey Bruckheimer's legal drama Justice.
After a fifteen-episode streak on Fox's Sleepy Hollow as American flag-maker Betsy Ross from 2015 to 2016, Reed took a bit of a break from television; she later appeared in a single episode of Hulu's Dollface in 2019. She then appeared in the Netflix series V Wars, a 2019 sci-fi anthology executive produced and starring hubby Ian Somerhalder, but her TV troubles continued as that show was cancelled just a few months after its debut.
Nikki Reed has her own sustainable jewelry line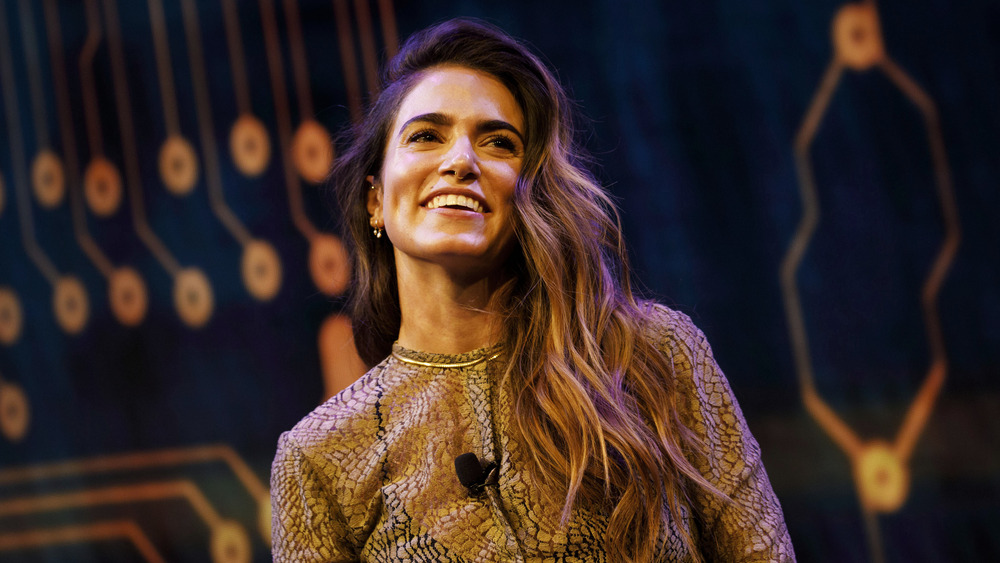 Bloomberg/Getty Images
Though she hasn't been acting in high-profile projects for a while, Reed has plenty of other things to occupy her time, one of which is a line of sustainable jewelry. In 2017 Reed founded BaYou with Love, and a year later she spoke to PEOPLE about her new pop-up store and the heartfelt inspiration behind the brand.
Reed had a yearning for jewelry made with sustainable materials, conflict-free diamonds, and mostly female designers, so she decided to do it herself. 
"When you're dealing with all of these new keywords — like ethical, sustainable, recycled, chemical-free, organic —that I think are becoming more and more common in people's lexicons, it's really nice to have people touch things and see them in person because I think there's a misconception that sustainable goods are somehow considered, at times, less than," Reed told the magazine. "There's the illusion of luxury with virgin materials, which I think is becoming less and less common, which is great. But it's wonderful to see people pick up a diamond ring that's made from recycled gold and go, 'Oh wow, this doesn't feel any less luxurious than any other diamond ring that I would pick up.'" 
BaYou with Love is still going strong four years later, with Reed's well-intentioned entrepreneurial efforts keeping her busy off the big screen.
Nikki Reed is a fervent animal rights activist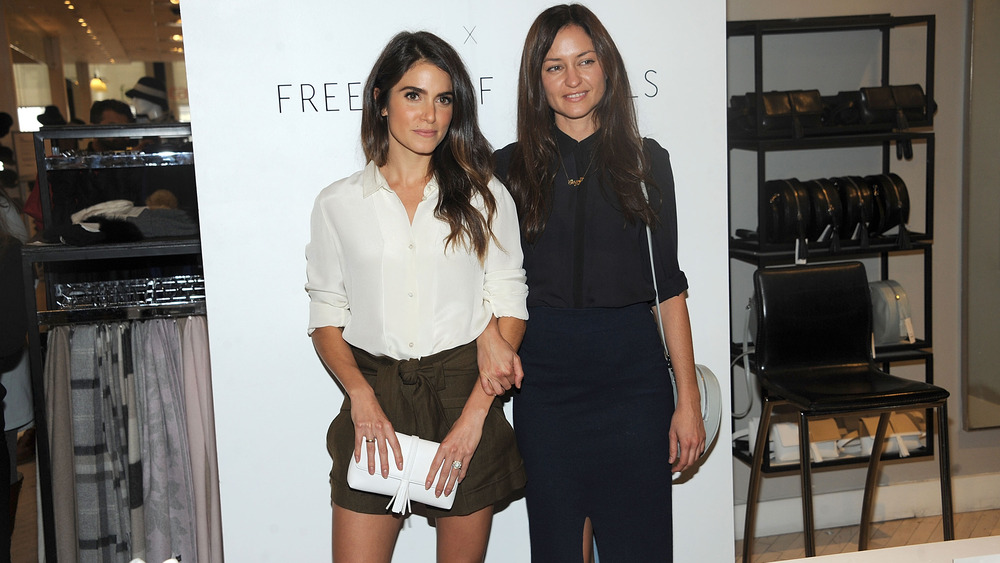 Brad Barket/Getty Images
Aside from her acting career, Reed has nurtured another passion for a long time: animal welfare and activism. 
As she told Yahoo! in 2016, she volunteers at shelters frequently, because she feels most centered around animals: "It's a language that doesn't need words. I find there's such an ability to connect that's based on feeling. And I think that we as a culture are now so fast-paced — what can I read, what can I see, what can I scroll through on my Facebook page? — and I think there's something really peaceful about the connection that we have with animals that doesn't require words."
In 2015, Reed also teamed up with cruelty-free handbag line Freedom of Animals to help promote the brand alongside founder Morgan Bogle, making a capsule collection for the line. "I am an animal rights activist and most of what I have focused on for the past 10 years falls into that," Reed told Forbes at the collection's launch. "I am all for education, and also understanding of the journey. It's not about being perfect, it's not about being extreme, it's about knowing there are options out there to help us reduce our need for products made from animals, and increase our demand for US-made products."
Nikki Reed also enjoys making music — as well as music videos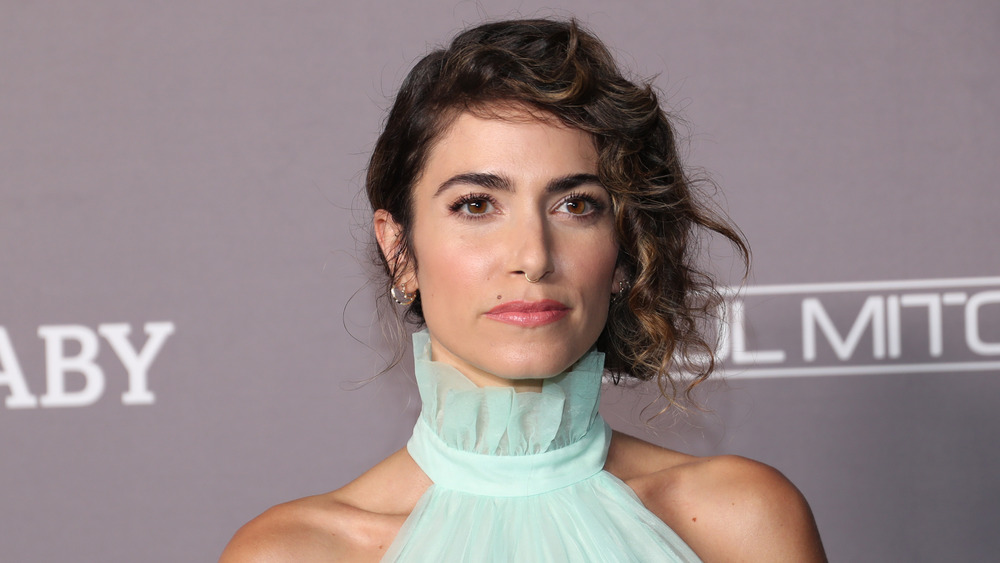 Rich Polk/Getty Images
During her marriage to former American Idol contestant Paul McDonald and beyond, Reed dabbled in the music world. 
Showing off a new facet to her talents, Reed contributed a song to the soundtrack for Twilight: Breaking Dawn titled "All I've Ever Needed" in 2012. The Hollywood Reporter reported at the time that Reed was "nervous" about the song's debut, but director Bill Condon had nothing but praise, saying: "It really gets under your skin, it's got a great hook." That same year Reed and McDonald would duet on "Now That I've Found You," releasing a steamy musical video, but the couple would soon part ways.
In addition to her own brief singing career, Reed has appeared in multiple music videos — even emoting alongside the vocals of Steven Tyler for Santana's 2005 video "Just Feel Better." After appearing in the videos for her own ditties with McDonald, Reed joined Hanson to MMMAct in their video for "Get the Girl Back" circa 2013.
Continuing to foster her second career as a video vixen, Reed briefly graced Lady Gaga's powerful survivor anthem "Til It Happens to You" in 2015, and the Black Eyed Peas' revisiting of "Where's the Love?" (to benefit an educational non-profit) in 2016.
Ian Somerhalder and Nikki Reed are raising a family together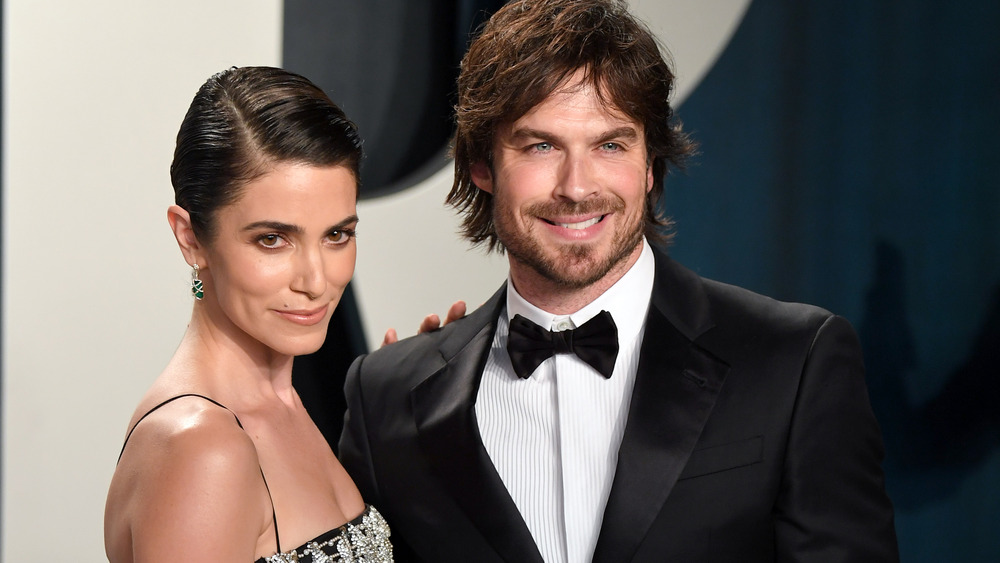 Karwai Tang/Getty Images
In 2014, before her divorce was finalized, Reed struck up a relationship with Vampire Diaries stalwart Ian Somerhalder, and the two were engaged and married by April of 2015. Just two years later the couple had an announcement to make: Reed was pregnant with their first child.
Reed, overjoyed at her pregnancy, took to Instagram to express her joy, writing, "I know you, but only because I feel you. How is it possible to love someone so much already? All I know for sure is it's the strongest feeling I've ever felt. We've been sharing this body for quite some time, and we've already experienced so much together. We can't wait to meet you...Love your parents." 
Ultimately, Reed and Somerhalder welcomed their daughter — named Bodhi Soleil Reed Somerhalder — in July of 2017. With a young child at home, it makes sense that Reed would step back from acting to build her family with Somerhalder. Reed seems to be loving motherhood as she recently, lightheartedly revealed that she'd given at-home COVID haircuts to her husband and daughter. Perhaps this could lead to another newfound offshoot of Nikki's career: hairdresser.
Ian Somerhalder and Nikki Reed are making art together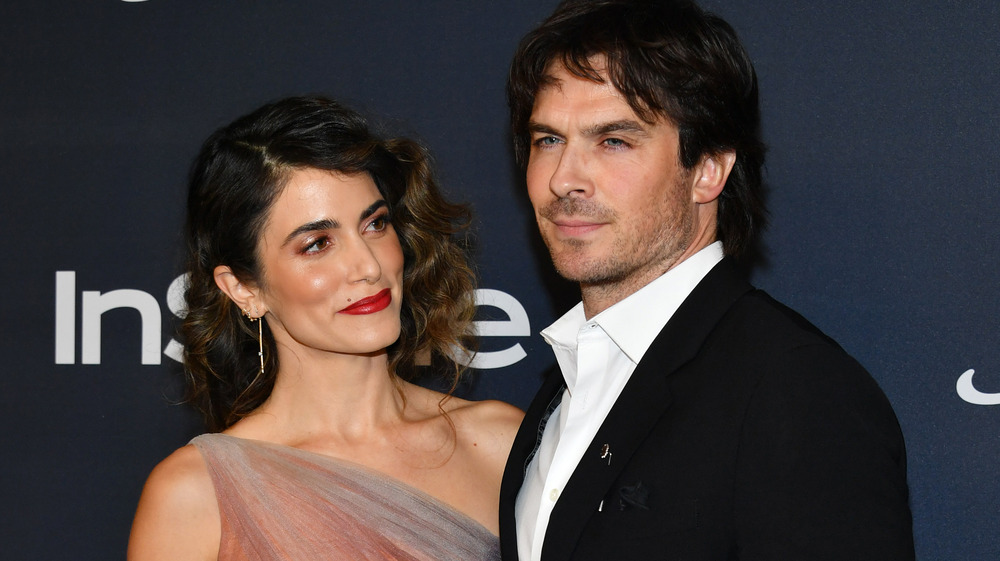 Amy Sussman/Getty Images
Despite starting a family, Reed and Somerhalder have been keeping busy — albeit, sometimes behind the scenes. In 2016 the duo announced that they had inked a deal between their production company Rare Bird Productions and WBTV, the studio that made the Vampire Diaries such a huge hit for the CW. Thus far, the deal has only manifested itself in the aforementioned V-Wars. 
These days, Reed is also indulging her aspirations as an amateur photographer. Staying true to her sustainable mission, Nikki sells her prints on eco-friendly, tree-free, fiber renewable paper. Her Insta is overflowing with beautiful imagery, punctuated by the occasional glimpse of life alongside Ian.
Fans of both actors will continue to be on the lookout for them, their COVID haircuts, and whatever they select next for their  next adventures on the big, small and streaming screens. Here's hoping we see more of Nikki in front of the camera again soon.