The James Marsden Comedy Flop Getting A Second Chance And Taking Off On Netflix
Universal
Who doesn't love a good holiday movie? While the most celebrated holidays like Halloween and Christmas have a much larger selection to choose from, there are a handful of movies that do their best to shout out the underdog holidays.
Enter James Marsden (Enchanted), the star of the live-action comedy Hop. The Easter tale is about a human named Fred O'Hare (Marsden) who's stuck in a rut in life and living with his parents. Meanwhile, on Easter Island, when E.B. (Russell Brand) — the son of the Easter Bunny — decides he doesn't want to follow in his father's footsteps, he scurries off to Los Angeles to follow his dreams of becoming a drummer. When Fred accidentally runs into E.B., he takes E.B. into his home to help him heal, à la The Santa Clause. Little do the new friends know that while the bunnies are away, the chicks will play, and a power-hungry chick named Carlos (Hank Azaria) does everything he can to take over Easter.
While Hop didn't do well in the eyes of reviewers, it did relatively well at the box office, grossing $185 million against a $63 million budget (via Box Office Mojo). Currently, it's taking off on Netflix, holding on to a spot in the Top 10 movies on the steaming platform — just in time for the Easter season.
A good movie for the entire family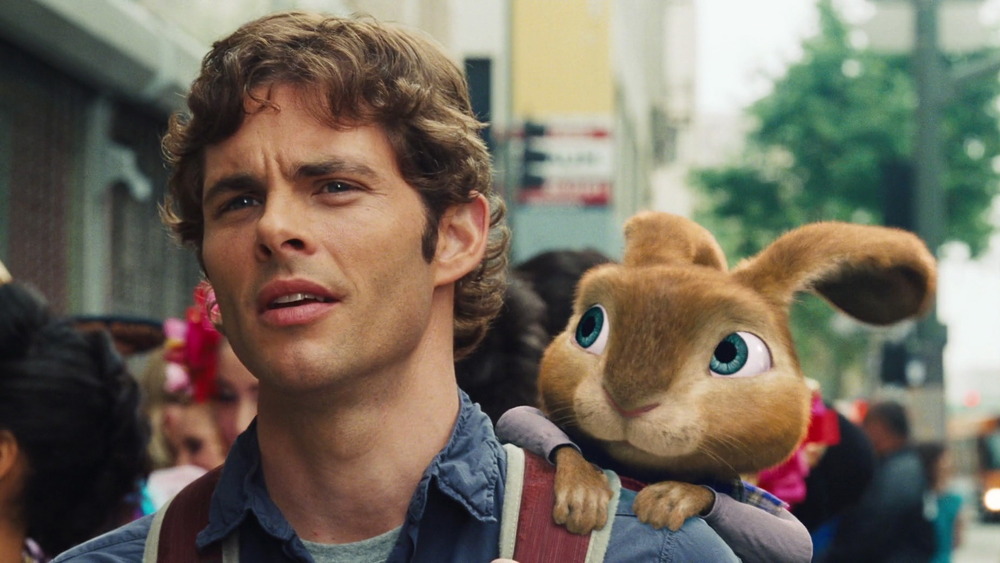 Universal
Even negative critics typically had positive things to say about the animation in Hop, with the Rotten Tomatoes Critics Consensus being, "It's impressively animated, but Hop's script is so uninspired that not even James Marsden's frantic mugging can give it any bounce." It also has a 24 percent Tomatometer rating as well as a 53 percent audience score, which more accurately represents the split opinion on the family friendly holiday flick.
Though some critics weren't fans of the childish plotline, others noted that it was a children's movie, and it did its job. Louise Keller of Urban Cinefile thought it was "an ultra cute family film catering for the under 12 set, Hop combines live action with the colorful animated world of the Easter bunny as it tells a happy story about families, expectations, and dreams." 
If you're looking for something to watch while you're dying Easter eggs, or you're just in the mood for a lighthearted family movie, hop over to Netflix.