The Dynasty Twist That Had Fans' Heads Spinning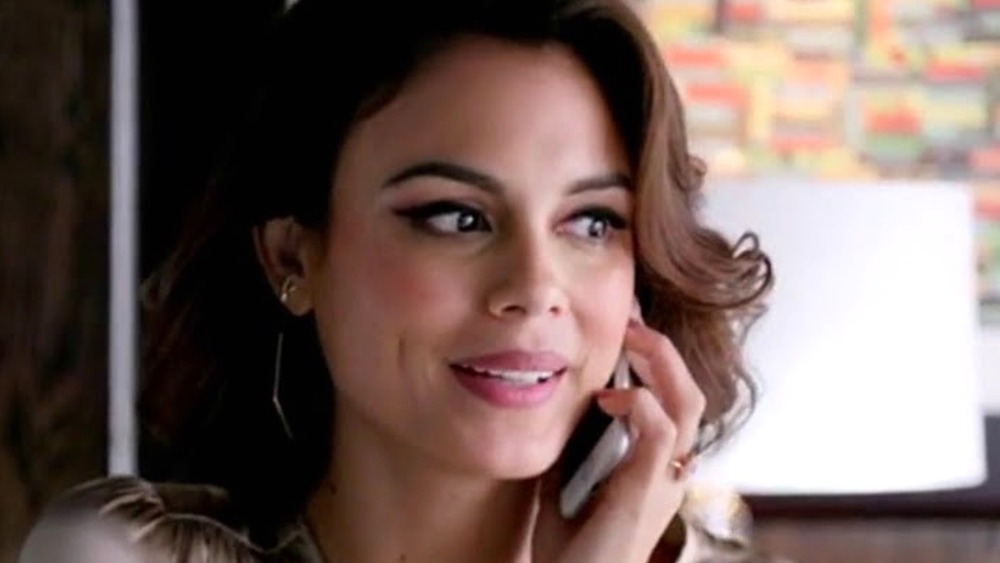 The CW
With The CW's reboot of Dynasty's fourth season set to air in May and a fifth one already renewed by the network, there's never been a better time to binge the show on Netflix if you're not already familiar with it. Like its 1980s predecessor, the fan-favorite series has been full of soap opera drama, including plenty of twists that have left viewers' heads spinning throughout the three seasons that have aired. While the last episode of season 3 left fans begging for more and hoping for answers to unresolved plot lines, the reveal that Sam married a stripper while intoxicated in Las Vegas for Fallon's bachelorette party is hardly the most scandalous twist that has been thrown at viewers.
There are plenty of contenders for shocking moments on the show. These include the emergence of Blake's long-lost son Adam, the reveal that Steven wasn't Blake's biological son, and the twist that Dominique Deveraux is Blake's half-sister — meaning Fallon almost married her cousin Jeff. However, few scenes have sent fans reeling as much as season 1's reveal that Blake's new wife Cristal was an impostor, setting off a series of recastings that continue to impact the show, according to Newsweek.
The twist seemingly wasn't planned
Cristal Jennings, who was portrayed by Nathalie Kelley, was a major character on Dynasty in its first season. A former employee at Carrington Atlantic, Cristal fell in love with and eventually married multi-millionaire Blake Carrington (played by Grant Show). At the end of the season, Cristal was shot and trapped in a house that had been set on fire. Her death was not the most shocking reveal going into season 2. Instead, Blake learned that the woman he'd married had been an impostor whose real name was Celia Mochada. The real Cristal, played in season 2 by Ana Brenda Contreras, had given Celia her identity to help the young woman escape poverty in Mexico. 
Kelley later revealed to TV Insider that she hadn't been up to the challenge of acting on a nighttime soap opera and the network decided to recast the role, saying, "That's obviously a hard phone call to get as an actor [telling me I was not returning]. It took me by surprise." The show's writers rebooted the character by introducing the real Cristal, who joined Blake in grieving for Celia. Of course, it didn't take long for their bond to turn romantic. 
Cristal had a new face but familiar storyline
After the real Cristal's introduction in season 2, the feud between Cristal and Blake's ex-wife Alexis heated up, similarly to the '80s version of Dynasty. Kind-hearted Cristal fell in love with Blake and accepted his marriage proposal despite Alexis' efforts to discredit her in his eyes. She eventually became pregnant but wasn't certain whether the father was Blake or her ex-husband, Mark Jennings. When Mark visited for a paternity test, he and Cristal were riding horses when Alexis saw them and fired a gun at her rival, accidentally killing Mark and causing Cristal to suffer a miscarriage. Hardened by the loss, Cristal and Blake killed the man Alexis framed for the crime, for which Blake was eventually arrested. 
In season 3, the role was recast again, and actress Daniella Alonso brought a new face to Cristal after Ana Brenda Contreras left the show due to health reasons, according to Newsweek. The recasting seemed to allow writers to take Cristal's character in a new direction. While Cristal married Blake in a rushed ceremony to avoid testifying against him, she became bitter and consumed by revenge when they learned Alexis was actually responsible. Cristal hired a hitman to kill Blake's ex and later coerced her brother into the act. Although her brother failed, this drove a wedge between Blake and Cristal and led to him having an affair. In another shocking twist, Cristal cheated on Blake by sleeping with a priest to whom she'd grown close to after opening a veterans' clinic in Atlanta. 
As for what the future holds for the character, only time and a new season will tell.