How The Cast Of Young Rock Really Pulled Off That Battle Royal Scene - Exclusive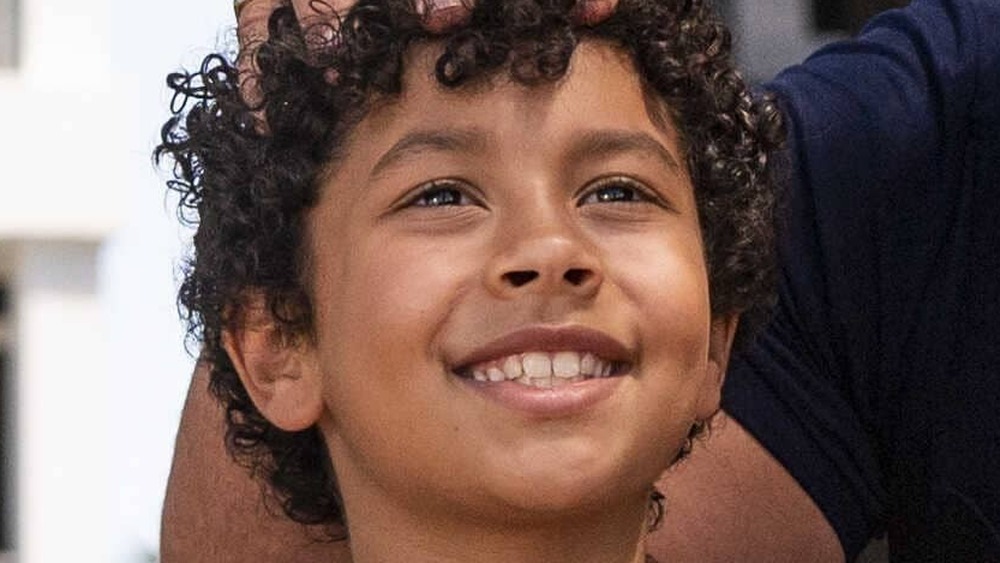 NBC
Contains spoilers for Young Rock episode 6, "My Day with Andre"
The March 30, 2021 episode of Young Rock featured the show's most intense in-ring work yet: a battle royal for a championship belt. It was an exciting scene, and Looper spoke with two actors involved — Matthew Willig, who plays real-life wrestler Andre the Giant, and Joseph Lee Anderson, who portrays Dwayne Johnson's father Rocky — to get a behind-the-scenes look at how they pulled it off.
Veteran wrestler Chavo Guerrero Jr. is the trainer and fight coordinator for Young Rock, a role he also filled on Netflix's GLOW. Anderson said with a smile, "Chavo is one of the boys. He's so dope." He added, "Chavo had to teach me everything. [He] taught me the drop kick. I'd never done a somersault in my life — he taught me that. The sunset flip. Everything you saw was taught by him." 
Willig called Guerrero "an outstanding guy" whose passion for wrestling is infectious. "If you ever got the ring and you weren't really ready to go, or just were warming up and practicing, his energy brought you up," he told Looper. 
Willig played for the Atlanta Falcons from 1996 through 1997, and during his time in the city, he would occasionally run into talent that worked for the now-defunct World Championship Wrestling, Inc., at the time America's most popular wrestling promotion. WCW employees would often they'd encourage Willing to take up wrestling, though he decided against it. "The physicality that those guys have to go through, I think in some ways it actually is harder than football," he told Looper. "It's like if I was to do a play in football for ten minutes straight." 
Two decades and a new career later, here he is in a ring in Young Rock. During our conversation, Willig broke down what really went into the show's battle royal scene
Shooting the battle royal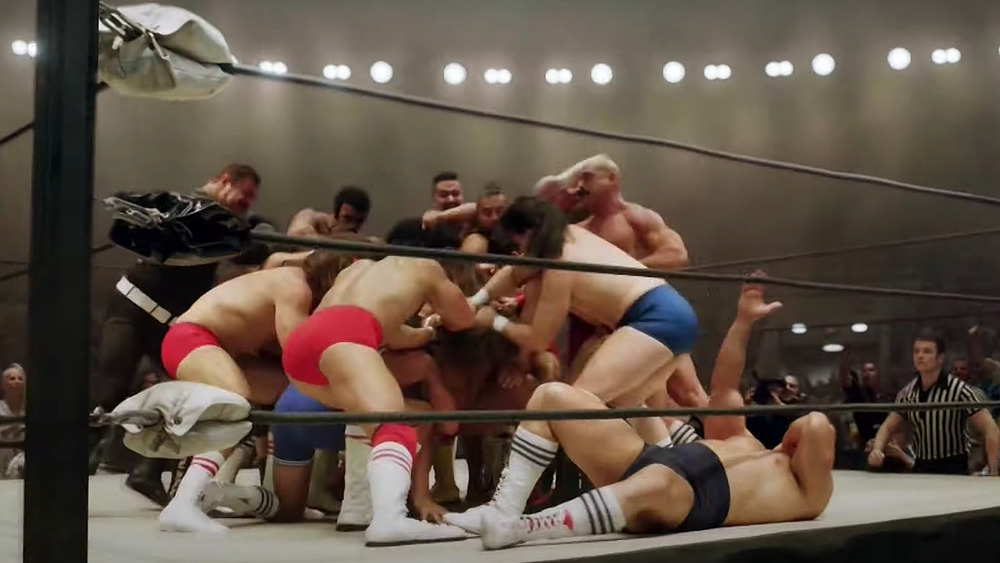 NBC
As Willig explained, "We had rehearsal things, but never really rehearsed with the extra guys — the jobbers, as they call them, the guys who were going to get out real quick. So we did that in basically a little more than half of a day — we shot that." He also gave credit to one special person for ensuring that no one got hurt while shooting the physically demanding scene: "To do that, and [to have] nobody really get hurt, to go off without a hitch and have 25 guys in a ring, most of whom you met literally a couple hours ago, and to have pulled that off again – kudos to Chavo and what he did for us."
Willig reminisced fondly about his action in the ring. "I got to do things like pick up a guy over my head and throw him out of the ring. You look over and you get to see Macho Man jumping off the ropes. Just things like that. It was such an amazing day," he shared with Looper. He added that some actors were concerned about the risk of injury, but Willig's resilience about ability to ease any and all worries helped create a fun environment. "The Wild Samoans were worried about hitting me too hard. And it really is one of those things where if you hit a guy in the right place, it doesn't hurt too much. And so, I said, 'No. Go, man. Let at it.' So they really hit me pretty hard," Willig said. "It was a lot of fun, and that was just part of it."
From Anderson's perspective, filming was tough but rewarding: "That was a long day. I mean, physically, it was just brutal. It gives you a new respect for all those wrestlers. It's tough."
Catch new episodes of Young Rock on Tuesdays at 8 PM, 7 Central on NBC. Stay tuned to Looper for more exclusive Young Rock coverage.