Flash Actor Dishes On Whether Chester And Cisco Will Get Along - Exclusive
The CW
Going into its seventh season, Team Flash has changed. Nash Wells (Tom Cavanagh) — along with all the other Wells iterations we'd gotten used to over the years — is gone. Ralph Dibney (Hartley Sawyer) and Sue Dearbon (Natalie Dreyfuss) are both out of the loop, too. And, of course, there's the very recent revelation that Caitlin Snow and Killer Frost (Danielle Panabaker) can split up — at least for now.
But the dark-horse big news for this season of The Flash is that Chester P. Runk (Brandon McKnight) is now a series regular. While we've seen Runk exhibit his own, unique meta powers at least on one occasion, there's a question we've been wondering about: How are he and Cisco Ramon (Carlos Valdes) going to get along? They occupy a similar space — they're both nerdy, they both do science, and they both know how to rock a nostalgic pop culture t-shirt — so will Cisco and Chester love each other or hate each other? 
Looper sat down with Brandon McKnight to find out how two of The Flash's biggest nerds will play together.
The mentor relationship between Cisco and Chester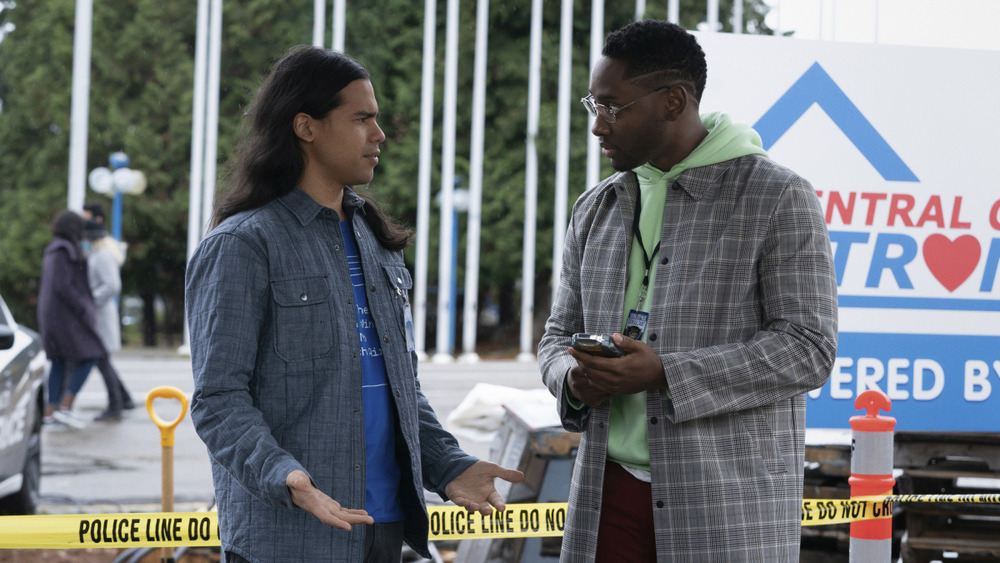 The CW
The good news is that there doesn't seem to be much in the way of angry competition between Cisco and Chester. It's quite the opposite, in fact. 
"I love shooting scenes with Carlos [Valdes], especially because both of the characters build this friendship and they're both these big nerds and they both just relate to each other," says McKnight. "Carlos and I both have a great deal of energy when we're on set as well. So it's always fun shooting those scenes, and I can't wait for people to see a lot more of that stuff because it's just two nerds nerding out and having a ball doing it."
Not only are they fast friends, but there's also a lot of respect between Cisco and Chester. "They're both in awe of each other, and they're both very much so impressed with each other," McKnight tells Looper. "Chester's impressed with Cisco, for obvious reasons. The guy's a genius and he's been helming this team since the beginning. And here's Chester coming in with all this knowledge that he doesn't even really know what to do with, and all these talents that he doesn't really know what to do with. And so Cisco really helps him fine tune his brilliance — and instead of just making things with trash, now I get to make things with billion-dollar technology and tools and stuff like that."
Inspiration is a two-way street, though. "On the flip side of that, Cisco can now see trash or will be able to see trash and see that, 'Oh, you know what? This isn't trash. We can create something very helpful with these products that I otherwise would have thrown out,'" explains McKnight. "So they definitely feed off of each other, but it's definitely much more of a mentorship type of role that Cisco takes on for Chester."
The Flash airs new episodes on Tuesdays on the CW. The newest episode — season 7, episode 5, "Fear Me" — airs tonight, March 30, at 8 PM ET.