Why Cole From Concrete Cowboy Looks So Familiar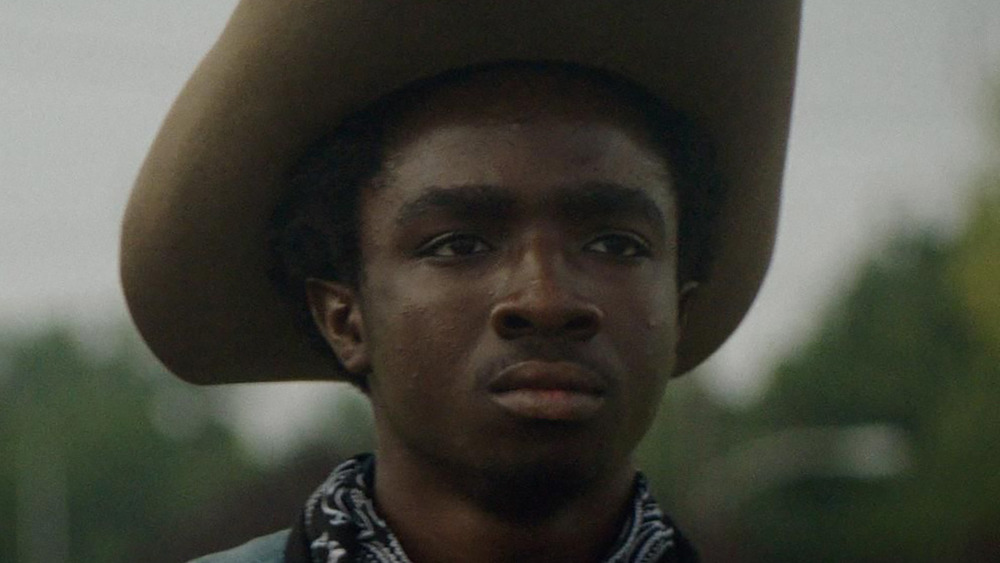 Netflix
The 2021 Netflix drama Concrete Cowboy, set to be released on April 2, centers on a teenage boy named Cole, who discovers horseback riding when he moves in with his estranged father, Harp, played by Idris Elba. The movie is based on the real-life Fletcher Street Urban Riding Club, located in North Philadelphia, which is a cowboy subculture, and a safe place for local families who suffer from poverty, violence, and gentrification. The movie centers on Cole's journey, and the trials and tribulations he goes through with his friends, his Dad, and his eventual love for riding.
Considering that Cole is the heart of Concrete Cowboy, you might be wondering why the young actor playing him looks so familiar. As it happens, Caleb McLaughlin is an up-and-comer in the Hollywood industry, who might be more familiar than you think. Before you watch this real-life tale, check out some of the other roles the young performer has been in so far.
Caleb McLaughlin started small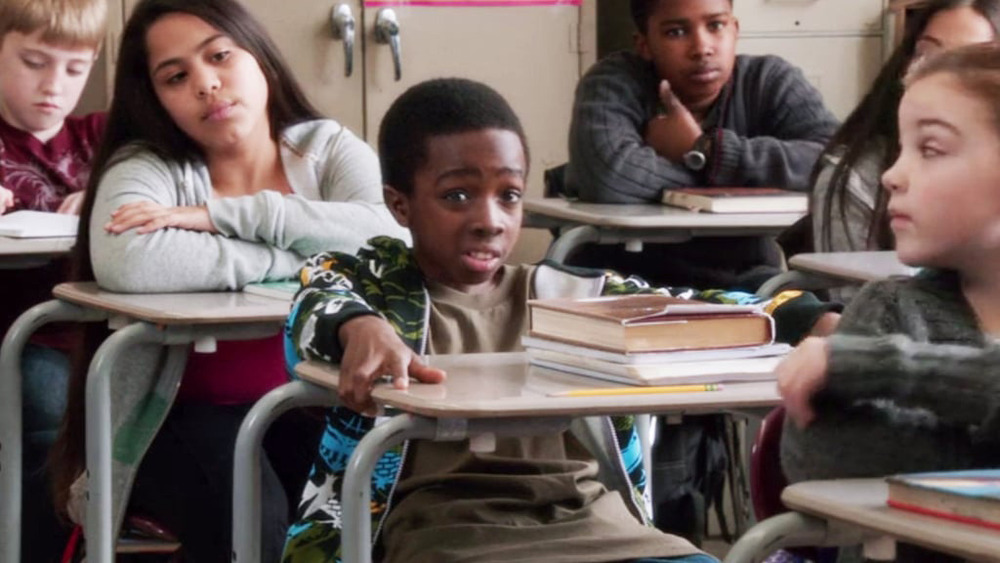 NBCUniversal
Caleb McLaughlin has been onscreen since 2012, and the first time cameras caught him was in the short film Noah Dreams of Origami Fortunes, where he played a boy named Noah. From that point on, McLaughlin landed small roles in successful television shows like Law & Order: Special Victims Unit (pictured above), followed by him playing an older brother in Unforgettable. He was in Forever as a boy named Alejandro, as well as What Would You Do? as the role of a foster child, and Jay-Jay in Shades of Blue.
Even though these were small roles, these were opportunities for McLaughlin to get his foot in the door in Hollywood. Best of all, his early years of hopping from one tiny appearance to another led him to the role that instantly shot him into stardom in 2016.
Caleb McLaughlin's breakout role was in Stranger Things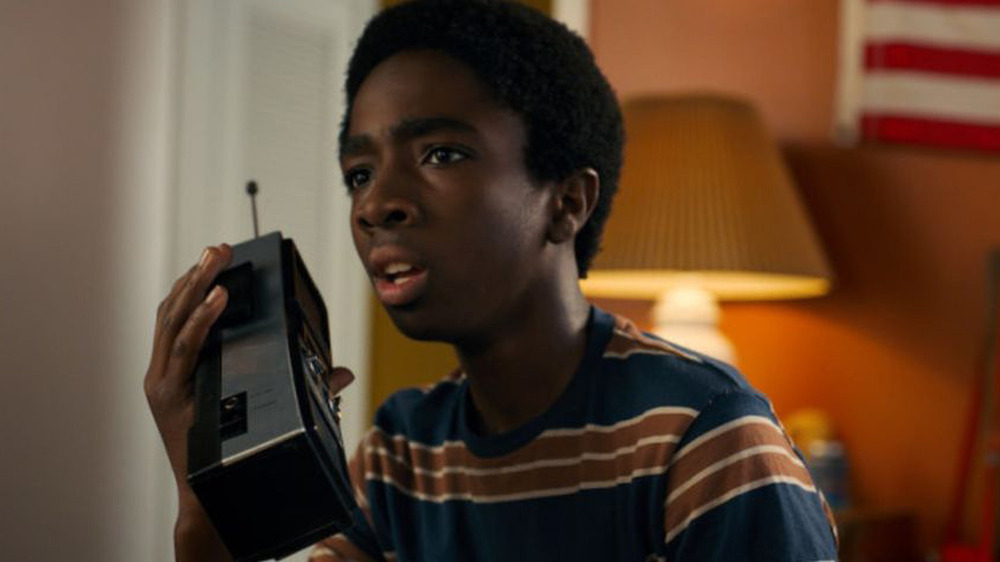 Netflix
When the first season of Stranger Things was released on Netflix in 2016, it instantly became a cult classic, for its strong cast, scary monsters, and nostalgic atmosphere. McLoughlin was cast as Lucas Sinclair, Mike Wheeler's (Finn Wolfhard) best friend, along with funny man Dustin Henderson (Gaten Matarazzo), and Will Byers (Noah Schnapp). When Will goes missing, the boys, along with Will's mother Joyce (Winona Ryder) and big brother Jonathan (Charlie Heaton), go on a mission to find him, encountering supernatural menaces along the way. The four boys also meet an odd girl their age named Eleven (Millie Bobby Brown), who Mike wants to keep safe and out of danger.  
After three seasons, Stranger Things is going strong, with a fourth season set to be released in 2021 — and the young cast is growing up right before the eyes of viewers. McLaughlin has shined in each and every season, and when they put more focus on his fictional little sister, Erica (Priah Ferguson), it further enhanced the show. While some of the cast is there for comedic relief, Lucas is levelheaded and serious, which is an excellent choice for McLaughlin, as it allows him to really show his acting chops.
Caleb McLaughlin played Darius in High Flying Bird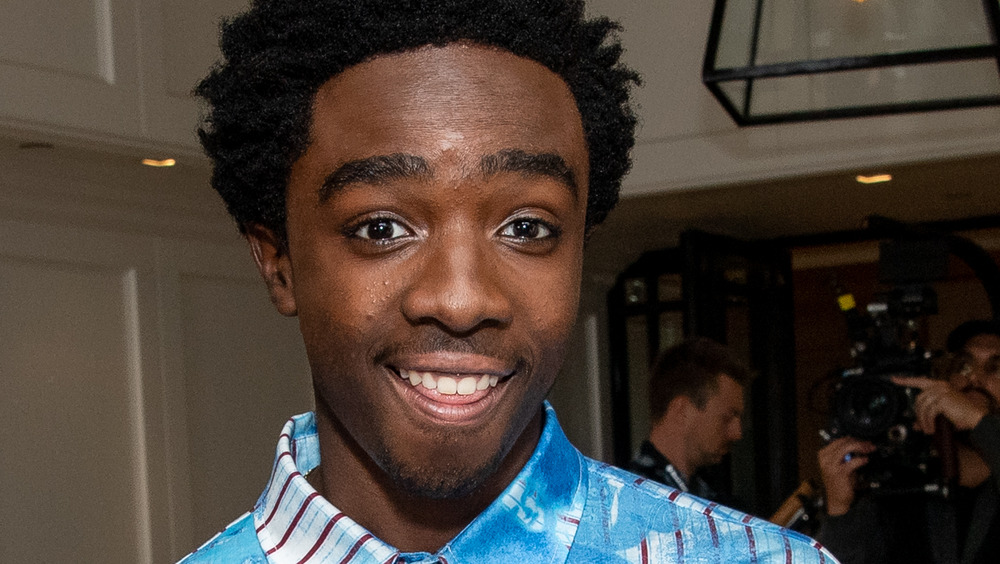 Emma Mcintyre/Getty Images
In 2019, with a few seasons of Stranger Things behind him, Caleb McLaughlin jumped from TV to movies with the Steven Soderbergh sports drama High Flying Bird – a film shot entirely on an iPhone (via The Verge), and released on Netflix. Also starring André Holland, Melvin Gregg, and Eddie Tavares, High Flying Bird tells a story about an NBA lockout that leaves a sports agent without his star player, leaving him just 72 hours to pull off a plan that, if he succeeds, will change the game of basketball forever. Caleb McLaughlin, while not the star of the film, appears as a boy named Darius, and the film further elevated his career: following High Flying Bird's release, it scored a 91 percent from critics on Rotten Tomatoes. 
It's clear that, for Caleb McLaughlin – following a slew of small TV parts, his major role on Stranger Things, and his big star turn in Concrete Cowboys – at this point, the world is his oyster, and there's no doubt he'll have a successful career as a young man, and as an adult. Keep an eye out for his future roles.