What David Collins From Dark Shadows Looks Like Today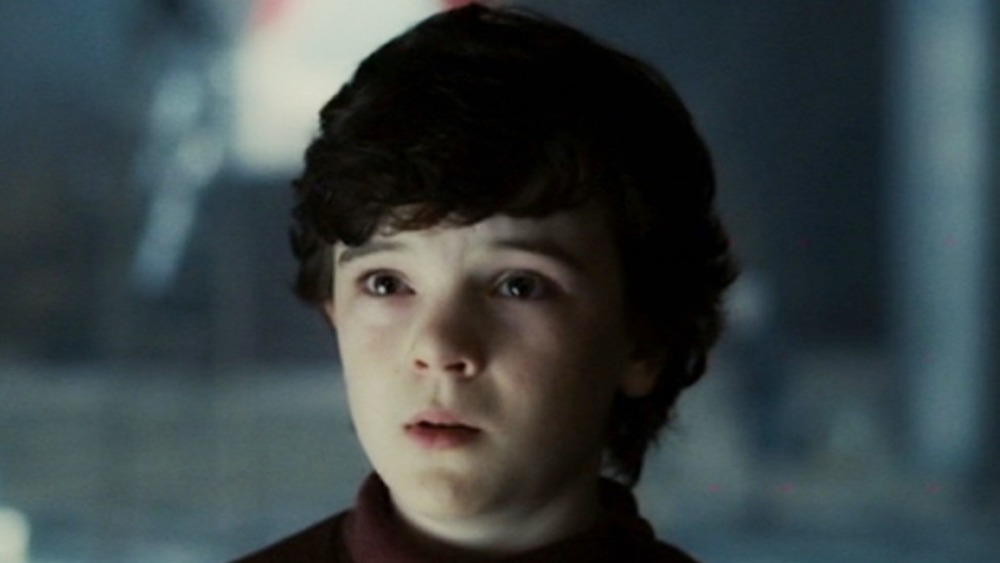 Warner Bros.
Johnny Depp has been in the news a lot lately for the unfortunate reason of a bitter divorce involving accusations of libel abuse traded between him and wife Amber Heard. Before this intense situation arose, however, you'd mostly hear Depp's name in the news simply for whatever new movie he was in. That meant you heard his name plenty, because Depp has been an acting machine, appearing in multiple projects (movies and shows) almost every year since his career began in 1984.
With such productivity, he's naturally had a substantial mix of both hits — e.g., Edward Scissorhands, Finding Neverland, Sweeney Todd: The Demon Barber of Fleet Street, and Pirates of the Caribbean — and misses. One quasi-miss came out almost nine years ago, a 2012 vampire comedy called Dark Shadows. Based on a popular television series of the same name from the late 1960s, the film was one of the nearly dozen films Depp has done with director Tim Burton (see half of the above-mentioned hits, for a sample). It told the story of vampire Barnabas Collins who, after being freed from the tomb in which a scorned woman buried him alive two centuries prior, returns to his grand estate to find it full of his descendants. The film didn't do well with critics. Yet, if nothing else, it boasted an A-list cast with Depp's co-stars, including frequent Depp/Burton collaborator Helena Bonham Carter, the legendary Michelle Pfeiffer, and actresses Eva Green and Chloë Grace Moretz, who both had career breakthroughs in the years surrounding Dark Shadows.
Also in the mix was a relative newcomer, Australian actor Gulliver McGrath, a then-13-year-old who, with only five prior credits to his name, had to hold his own with such professionals. McGrath charmed, though, as the youngest relative David Collins. As the youngest cast member, it's natural McGrath might be the most unrecognizable of his Dark Shadow peers. In honor of his ability to not faint while working with the superstar that is Johnny Depp, let's take a walk down oddball sci-fi family comedy movie lane and see what David Collins looks like today.
Gulliver McGrath has quietly grown up in the last decade
Gulliver McGrath's Dark Shadows character was a boy dealing with the loss of his mother and being left with only a not-so-great father. The vampire Barnabas becomes quite fond of David and that dynamic winds up costing Barnabas one of his secrets. As David, McGrath sported long brown hair that cascaded over his forehead just above his brown eyes. The shaggy cut only served to play up his quite literally boyish face and absolute adorableness. Today, based on his last Twitter and IMDb photos, McGrath still has dark brown hair and a boyish face — looking even younger than his mere 22 years — but he sports a much more mature cut. Most significantly, he's changed his professional name. Whereas for Dark Shadows and his earlier roles, he actually was credited as Gully McGrath, everything since has been Gulliver. Presumably, he wanted a more mature name as he got older and sought new roles.
Surprisingly, though, Gulliver McGrath doesn't have many credits to his name. The same year as Dark Shadows, McGrath did appear in the esteemed historical drama Lincoln. However, afterward, he appeared in just three more projects. His most recent was the 2016 Australian thriller Boys in the Trees, which is about two teenagers who embark on a creepy and surreal adventure through their memories, dreams, and fears on Halloween in 1997. According to Twitter posts, McGrath was still pursuing acting as of 2017, but he's mostly gone quiet on social media, as he hasn't posted on Twitter since 2018.
As such, we can't be certain what McGrath is up to now, but we can guess what his Dark Shadows character might be up to. Based on the ending — spoiler alert — in which his cousin is revealed to be a werewolf, an ancient witch revealed she's responsible for his mother's death, his mother's ghost attacks the witch, and his family narrowly avoids burning alive, he's probably in therapy.
Let's hope McGrath is doing far better.