Grace And Frankie Season 7 Release Date, Cast And Plot - What We Know So Far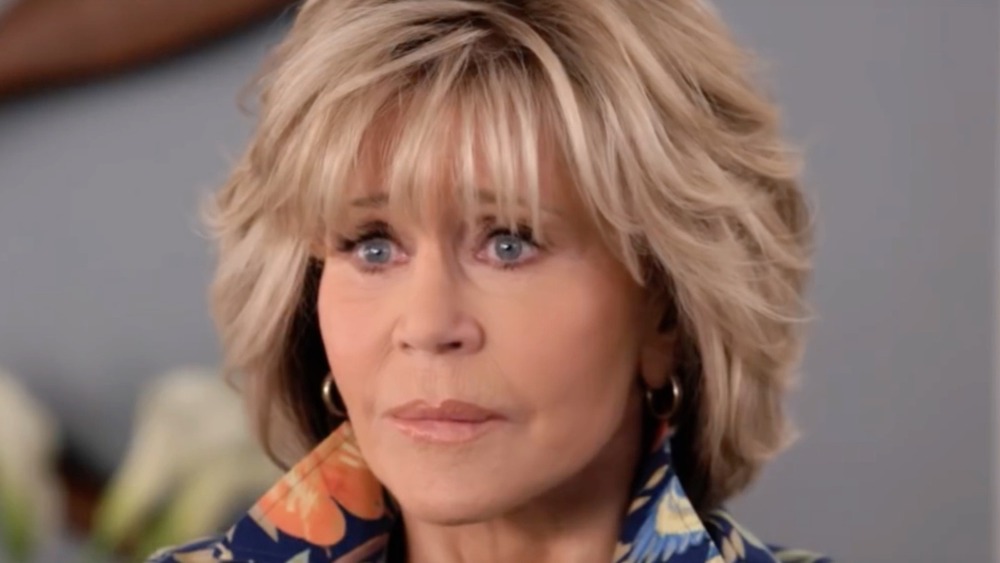 Netflix
The Netflix sitcom Grace and Frankie, created by Marta Kauffman and Howard J. Morris, has turned out to be one of the streamer's most dependable original shows, still sailing smoothly with critics and audiences six years into its run, with stories about friendship, family, and the realities of old age. The show's many devoted fans have been eagerly awaiting its return ever since Season 6 ended on a major cliffhanger for the central quartet of Grace (Jane Fonda), Frankie (Lily Tomlin), Robert (Martin Sheen), and Sol (Sam Waterston).
Unfortunately, Grace and Frankie is among the many productions that have been halted by the global COVID-19 pandemic, the challenges of which are especially difficult to navigate in this case, as all four main actors are over 80 years old. After being renewed for a seventh and final season in September 2019, the show had its production interrupted in early 2020, rendering the previous three seasons' steady record of late January release dates all but impossible to match again as the pandemic wore on.
In an interview with Today last September, Jane Fonda gave fans hope that filming might at least resume as early as January 2021. But even that possibility has been since left up in the air. So where do we stand now on Grace and Frankie season 7? Read on to find out.
When does season 7 of Grace and Frankie come out?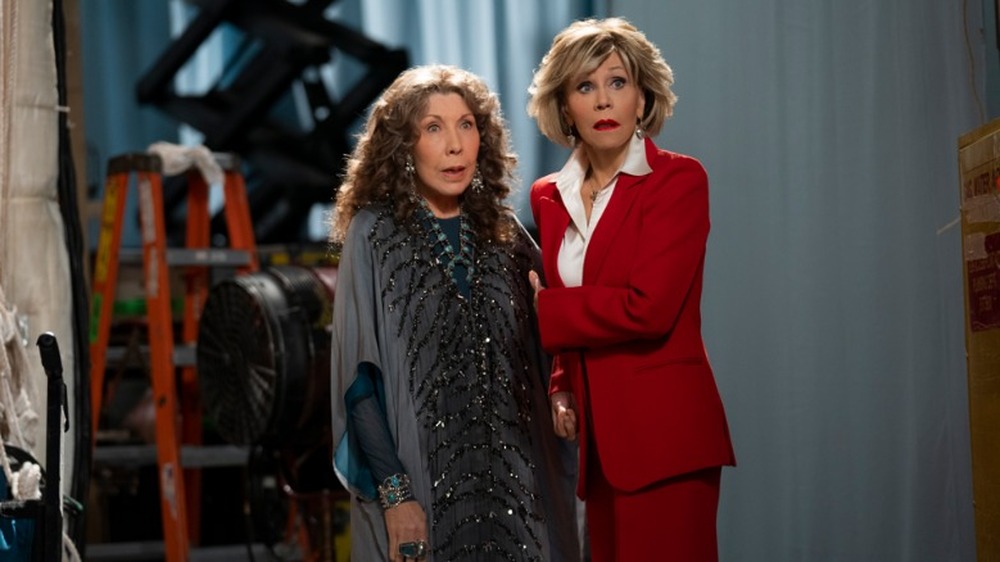 Netflix
In a post on her personal blog in November 2020, Jane Fonda finally gave us some reasonably solid intel on the new timetable for Grace and Frankie's closing season. "We've gotten word that 'Grace & Frankie' will continue filming our 7th and final season in early June of 2021," the actress wrote. "A long time to wait but, given the age and vulnerability of the 4 leads, it's best."
There's no word on a release date for season 7 yet, but, given that this season will be longer than usual at 16 episodes, and that each of the previous seasons took several months to release even after the wrap on filming, it's unlikely we'll be getting new Grace and Frankie before 2022, unless Netflix really speeds up the production process.
If the post-production on season 7 is more like season 2, which wrapped in November 2014 (via JaneFonda.com) and hit Netflix just four months later, there could still be a chance of the show sticking to its traditional January timeslot, albeit with a one-year difference. But if it's more like season 6, which was shot in the first few months of 2019 (via What's On Netflix) and didn't come out until 2020, we might have to wait until summer 2022 to dive back into Netflix's longest-running comedy.
Who will be in season 7 of Grace and Frankie?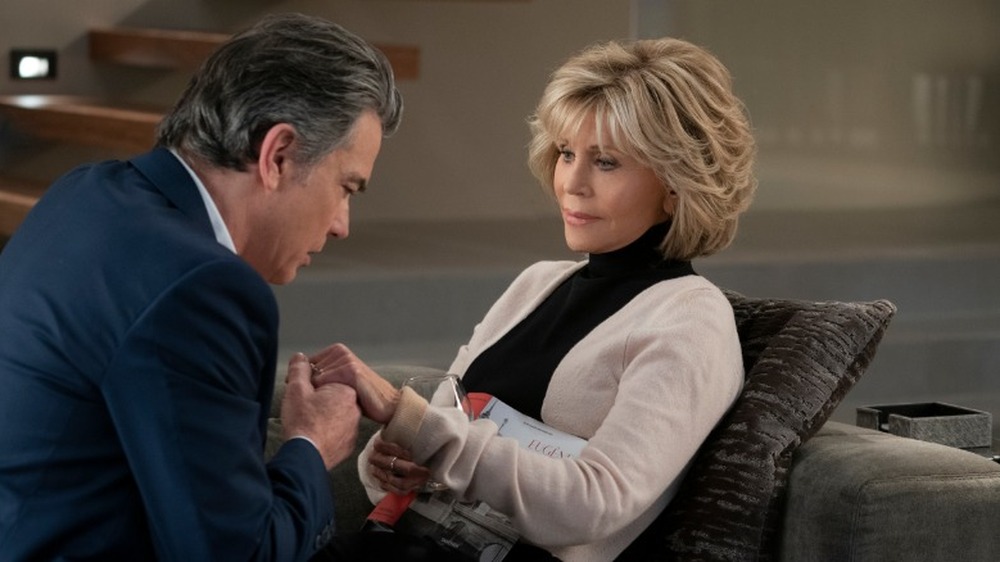 Netflix
In addition to stars Fonda, Tomlin, Sheen and Waterston, as well as Brooklyn Decker, Ethan Embry, June Diane Raphael, and Baron Vaughn rounding out the series regulars of the Hanson and Bergstein family, we can expect some exciting guest stars to make an appearance in the show's farewell bow.
Two actors have already been confirmed, thanks to the live table read of the season premiere screenplay the cast did back in April: Michael Charles Roman, who plays Adam, and Tony Award nominee Cora Vander Broek, who plays Karen Fischer, a character introduced in the Season 6 finale as the FBI agent arresting Grace's husband Nick (Peter Gallagher). Gallagher himself has confirmed in a tweet that he'll be returning in episode 2 of the new season.
The big guest star you can expect to see in season 7, however, is someone new to the Grace and Frankie world, much as it might feel like she already belonged. In a February 11 interview on British morning show Lorraine (via NME), singer-songwriter, actress, and all-around icon Dolly Parton stated that she'll be finally joining Fonda and Tomlin for a guest spot on Grace and Frankie, more than four decades after the trio's legendary work in 9 to 5. "I have been trying to do Grace and Frankie for years," Parton said. "We have been trying to write me in somehow so when it is safe to actually do a production, I will probably get around to doing that."
What will season 7 of Grace and Frankie be about?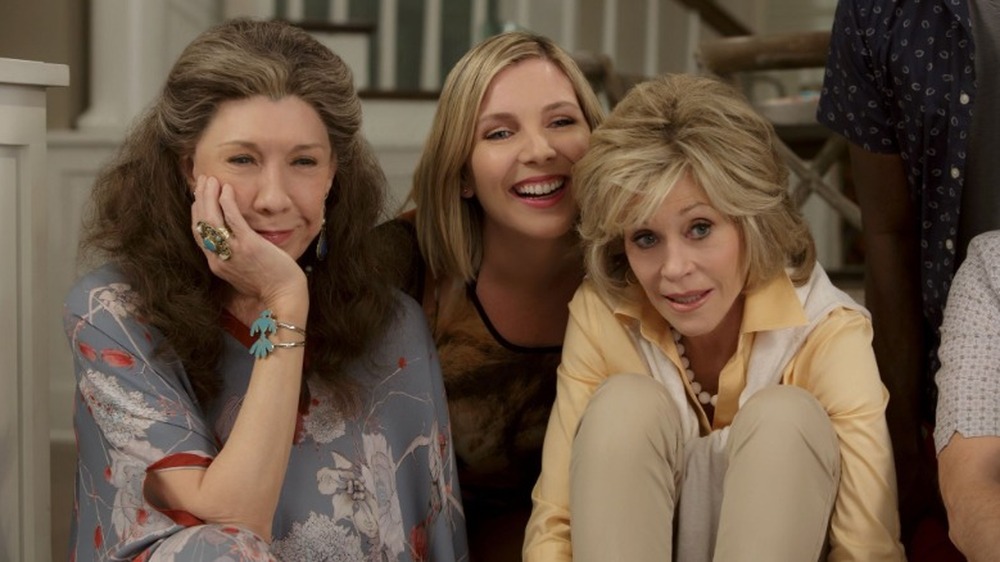 Netflix
Warning: Spoilers for season 6 of Grace and Frankie abound from here on out.
No official plot details on Season 7 of Grace and Frankie have been released yet. However, we can take a good guess as to what direction the show will be going in, based on the table read of the season's first episode, appropriately titled "The Fallout."
After learning about Nick's shady business dealings, watching him get dragged off to jail, and finding a pile of $50,000 in cash hidden inside his penthouse sofa, Grace and Frankie's immediate challenge is to find a way to make off with the money without tipping off the FBI agents closing in on them — especially the ruthless Agent Karen, a former acquaintance of Nick's. If they succeed, it might just prove to be stroke of dumb luck they needed to finally jumpstart their Rise Up toilet project. It also may be Grace's big chance to figure out what she really wants out of life, as she starts over husband-free, yet again, at 81 years old.
However, while struggling to hold onto the cash, the ladies also have to deal with another tribulation as Sol and Robert, having had their house flooded by the Rise Up prototype and their savings decimated by an ill-advised donation, are forced to move in with their ex-wives. The first episode appears to set up a lot of hilarious possible conflicts as Grace and Frankie get re-acclimated to the men's presence around the house. At the same time, the question of who will compensate for Robert and Sol's financial ruin hangs in the air, since their home was destroyed by Grace and Frankie's invention.
All in all, working with the season's three-episode bonus, showrunners Kauffman and Morris seem more interested than ever in exploring the tensions and complexities of the characters' decades-long relationships, dreams and frustrations, for both comedy and pathos. As a lighthearted show that's never shied away from the harsh realities of love and time, it would certainly be fitting for Grace and Frankie to spend its final run considering what really matters for these people, and what life ultimately means.