The Story Behind Rick's Car On Trailer Park Boys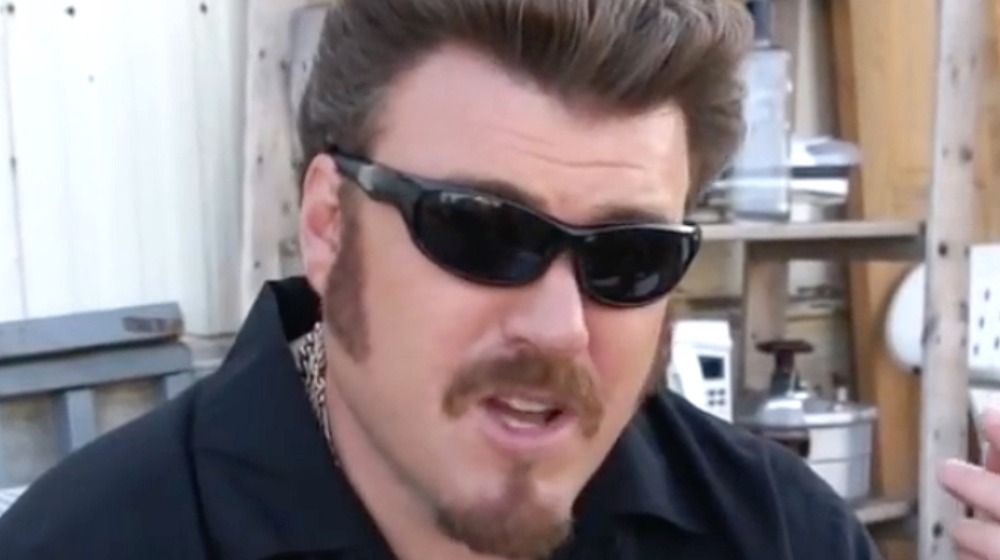 Entertainment One
Canadian television show Trailer Park Boys has become a cult favorite, running for seven seasons on Showcase, moving to Netflix for two, and spawning a film trilogy. The mockumentary showcases a trio of friends — Julian (John Paul Tremblay), Ricky (Robb Wells), and Bubbles (Mike Smith) — and their neighbors in their natural habitat: the Sunnyvale trailer park in Dartmouth, Nova Scotia. The guys are always looking for their next get-rich-quick scheme, which always lands them in worse circumstances than before.
A case in point is Ricky, who regularly lives out of his car, nicknamed the Sh*tmobile by everyone in the neighborhood. The car is so well known that many fans consider it to be its own character. The stars all have their own adventures with the junker, both on and off the screen, adding to the car's seemingly immortal presence. It may be missing doors and most of its windows, but Ricky always manages to get the car to work in his favor. Besides being featured in nearly every episode of the show, the car has a rich backstory that begins before Trailer Park Boys premiered.
Mike Clattenburg originally owned Rick's car on Trailer Park Boys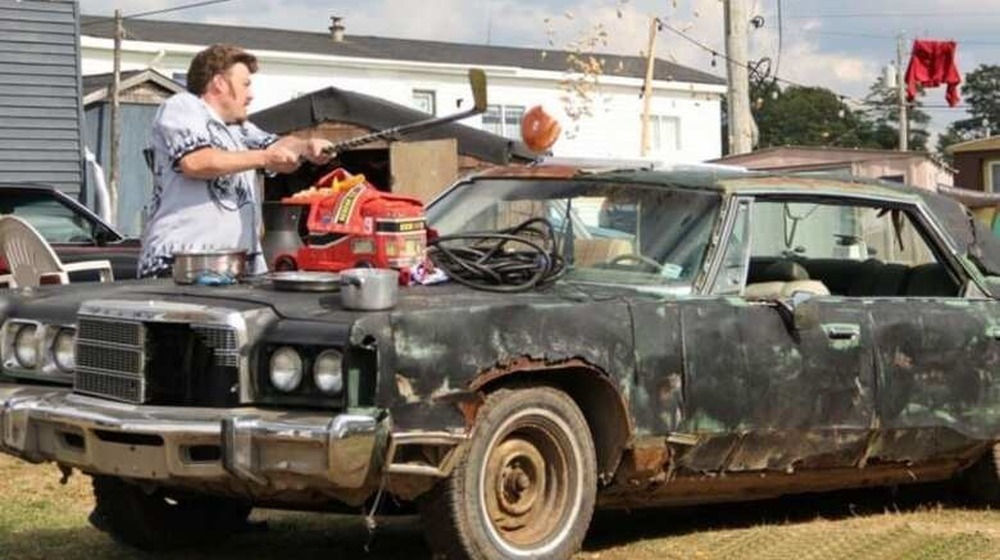 Entertainment One
TPB creator Mike Clattenburg owned the 1975 Chrysler New Yorker for the initial run of the show. In an interview with Auto Trader, actor Mike Smith detailed that the car was in mint condition and required some real elbow grease to get that junkyard feel. "It took a long time to do with axes and sledgehammers. It was hard to dent it. There's so much iron in the thing," he told the magazine.
He also recalled one of his favorite driving moments, which happened to be with the Sh*tmobile. Like the car, Bubbles' coke bottle glasses are the real deal, which made it difficult for him to see. He recalled a time in season 2 before they had any safety representatives on the set. "I'd have a walkie-talkie sitting on the seat. If I was going to crash into something they'd yell, STOP! STOP! STOP!"
The Chrysler seemed to cause some very risky moments. John Paul Tremblay's favorite trip down memory lane is also in the seat of the car. In his Auto Trader interview, Tremblay recalled a scene where the gas pedal stuck as they went around a corner. Tremblay nearly fell out of the open hole on the passenger side, but he credits co-star Robb Wells for avoiding the incident by being an excellent driver.
Clattenburg gifted the car to the show after season 2, after his wife complained that it was too ugly to keep in their driveway. According to Smith, the car still works and will "do a break stand to this day."