Zack Snyder Reveals How Warner Bros. Really Feels About Batman V Superman
HBO Max/DC Entertainment
If you click a link and buy a product or service from a merchant, we may be paid an affiliate commission.
The four-hour long director's cut of Zack Snyder's Justice League finally arrived on HBO Max earlier this month to intense hype after an infamously rocky road to release. Despite critics still being mixed on Snyder's approach to the superhero genre overall, the "Snyder Cut" has received praise for its grandeur and originality compared to the theatrical release helmed by Joss Whedon.
But while the director planned to make five DC Extended Universe films culminating in Darkseid's invasion of Earth, his dream fell through after the polarized reaction to his brooding, violent Batman v Superman: Dawn of Justice. Snyder certainly has a distinctive vision as an action filmmaker, but the movie's super-serious tone inspired endless parodies ("Do you bleed?" jokes were wildly overused in 2016), and Warner Bros. began to question the wisdom of a dark, ultra-gritty superhero universe — especially as Warner execs gazed longingly across town at the colorful and comparatively lighthearted MCU.
In a recent interview with SFX Magazine, Snyder discussed his ideas for future DC films, as well as how the studio's reaction to Batman v Superman affected the original shoot for Justice League. The director had this to say about the attitude of studio executives during the production.
Warner Bros. execs didn't hide their distaste for the gritty world of Batman v Superman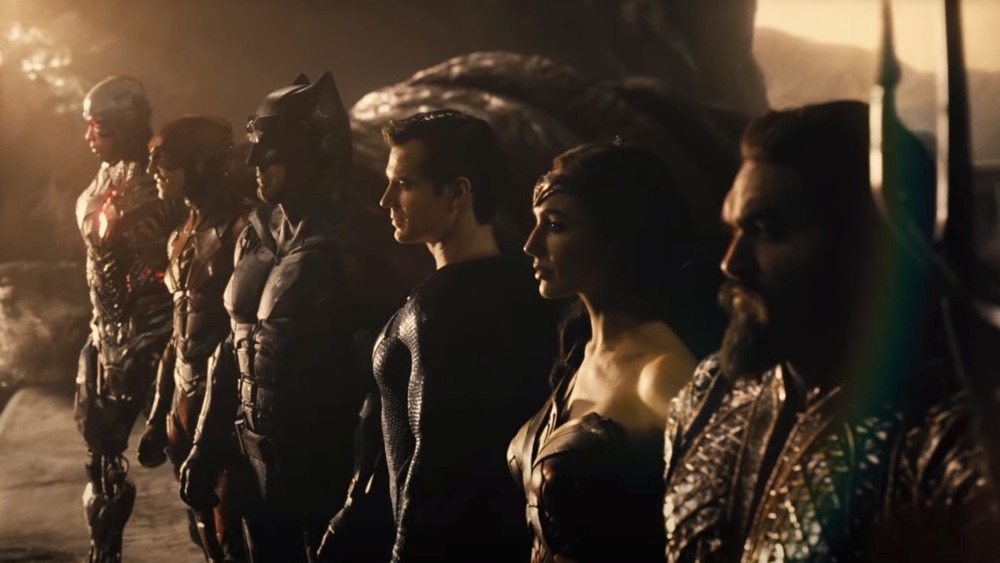 HBO Max/DC Entertainment
Snyder noted in his interview that the studio's disdain for Batman v Superman led to further clashes between the director and executives over the tone of future DCEU films.
"I feel like the studio had this hatred for Batman v Superman," Snyder told the magazine. "There was this pressure on me to divorce [Justice League] from Batman v Superman, which I didn't want to do, and which I didn't do. Frankly, it's a trilogy of movies, so it continues the story. The narrative is affected by the things that have gone before it and that way it's able to realize this world that sets up the Darkseid invasion, for what was planned to be a five-movie arc. It definitely finishes with this version of the film, with our heroes having mended their personal wounds and joined together as a family."
The director tried to stick to his guns in the face of a nervous studio, but it likely only resulted in his ousting from future DC films. Still, at least fans have his complete Justice League film to treasure and scrutinize for Easter eggs, even if the studio still won't greenlight any official sequels.