The Zack Snyder Film That Ruined This Actor's Body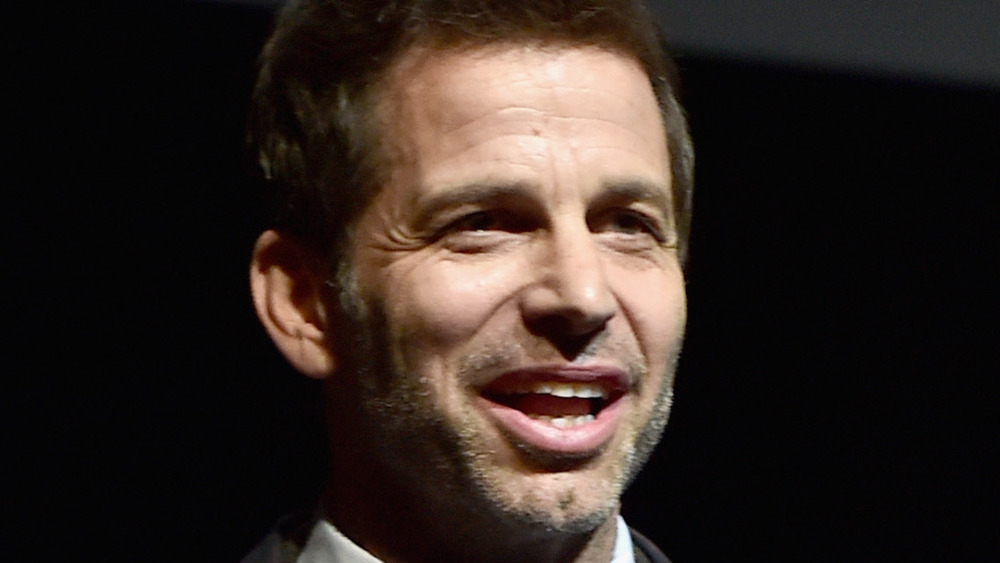 Alberto E. Rodriguez/Getty Images
Before 2006, Zack Snyder's name had only been attached to a single feature-length film that saw theatrical release: his 2004 remake of Dawn of the Dead. Prior to that, his filmography — courtesy of IMDb — consisted of being credited as the second assistant director for a 2002 direct-to-video feature entitled Silence, starring Kristy Swanson, in addition to directing eight music videos for various artists and a straight-to-video documentary short called Michael Jordan's Playground for the NBA's Hardwood Classics series. At that point, Snyder had not yet fully established his reputation through films like Watchmen and the recently released director's cut, Zack Snyder's Justice League. However, Snyder's name would soon become ubiquitous through another comic book-inspired action film called 300, an adaptation of the famous Frank Miller/Lynn Varley graphic novel of the same name.
The movie received mixed reception upon its release and has a 61% critics score on Rotten Tomatoes — though the audience score is a much higher 89%. Critic Roger Ebert bashed the film for its overuse of special effects and predilection towards style over substance in a review with the admittedly clever title "Spartan Special at CGI Friday's." Still, the film contained some visually striking and entertaining action sequences filled with the flavor of gore we can enjoy once we let go of the particulars and just enjoy the ride. But for all the CGI Snyder and his crew put into the film (which was almost entirely shot in front of a chromakey screen), you can't ignore all the hard work they put into it. That goes especially for the project's lead actor, Gerard Butler, who worked hard to look the part and, according to a recent interview, felt he was "ruining" his body in the process.
Gerard Butler worked out for six hours a day to get in shape for 300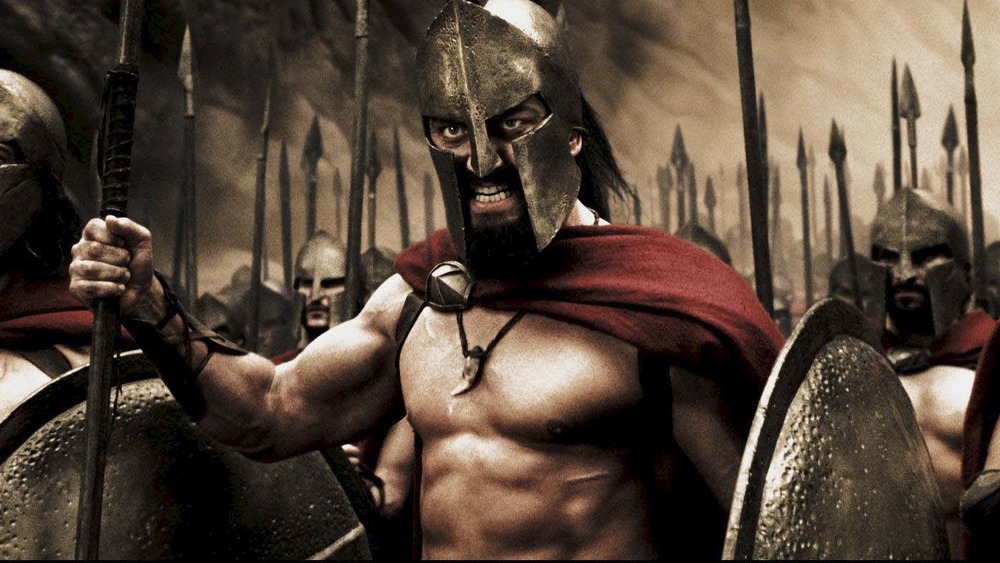 Warner Bros. Pictures
Everyone remembers how buff all of 300's Spartan Warriors were. The army trounced about wearing pretty much nothing but their helmets, red capes, and leather shorts, proudly (yet inaccurately from a historical perspective) displaying their strength as fighters through their muscles. You wouldn't be blamed for assuming much of this musculature was enhanced or created via makeup and digital effects. Still, at least some of it was the genuine article, especially where Gerard Butler is concerned. Butler opened up to The Hollywood Reporter about how he came to land the role of Sparta's King Leonidas, first meeting with Zack Snyder to discuss the part. "I came in like a force of nature, but I was met with an equal force of nature, and the two of us came together like a whirlwind," Butler said, describing the pair's first meeting at a San Fernando Valley Starbucks. The actor said he marched back and forth outside the coffee shop to show Snyder how he thought his character's gait, "the Spartan walk," should look. "And Zack's jumping up and down and going, 'Yeah! That's awesome!' We bonded from the start," Butler added. 
Of course, that wasn't the end of his physicality, in relation to the role. Butler took his role as King Leonidas of Sparta very seriously, and wanted his character's physical appearance to match that. He told THR that he worked out for a grueling six hours a day, including two hours each of a "CrossFit-style training," bodybuilding, and fight choreography. "That was the best shape I'd ever been in in my life," Butler said. "In some ways I was ruining my body, but I was looking amazing doing it."
Butler also opened up about his motivation to work so hard in an interview with Chuck the Movie Guy.
Unfortunately the gains didn't last forever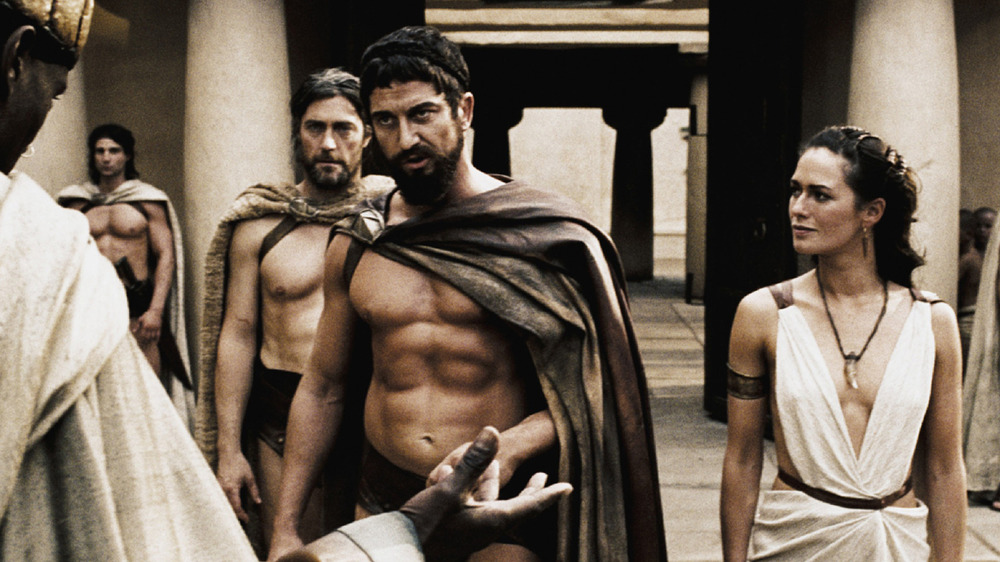 Warner Bros. Pictures
In an interview with Chuck The Movie Guy, Gerard Butler explained that competition with the movie's already-jacked stunt team motivated his training for the role. "They're amazing, but they're nuts," Butler said. "But I wanted them to go 'he's even more nuts'...And I felt it. When I stood up there, I owned my physical presence and I felt like a lion, like a warrior, like an animal." Butler even took to exercising between takes just to stay pumped and confident for every scene. Obviously, this paid off because Butler looks as ripped as any of the movie's pro stuntmen.
Butler was also very candid about his workout routine after 300 was all wrapped up. Despite seemingly enjoying the process of getting fit to fit in Leonidas' sandals, Butler didn't keep up his new gym schedule forever. Apparently, the Scottish actor fell off the gym mat and jumped on the gravy train "immediately." "I didn't go back in the gym once. And I did say to myself 'well, at least watch your diet....' I kinda went back to my old ways a little too quickly," Butler joked.
It's hard to blame Butler; he worked hard enough for the movie that he should be able to enjoy himself at least a little bit. In 300's behind-the-scenes featurette, Butler revealed that he began training for the film roughly four months before they even started filming. He kept this routine up for the duration of the film's shooting process — 60 days, according to SuperHeroHype — meaning Butler endured his intense routine for around half a year.